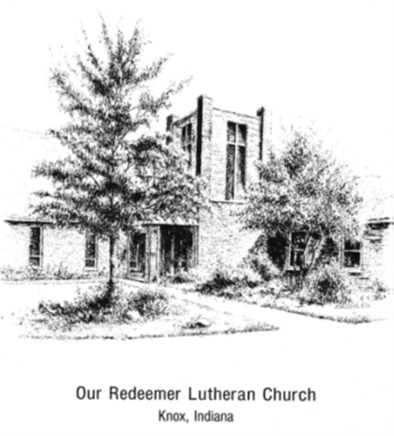 The Redeemer Reporter
Monthly Newsletter of Our Redeemer Lutheran Church Knox, IN
From the Pastor...
Welcome to the "new normal"! COVID-19 has forced a lot of changes on us all and made it almost impossible to live the way we did before its onset. The way we interact with each other, the way we work, the way we enjoy entertainment, the way we enjoy going out for meals, the way we educate our children, and the way we practice our religion – all of these have been impacted by COVID and changed the ways we engage in these activities. It's been quite a year, and the bad news is that COVID isn't over! Things have improved considerably compared to this time last year; vaccines have made it possible for us to see the light at the end of the tunnel. Yet the social changes brought about by the pandemic are probably permanent, as we adjust to life in a world where the virus is always with us.
One of the changes brought about by COVID for Christians has been its impact on the way we worship. When churches, including Our Redeemer, shut down we tried to help people remain faithful in Worship through online streaming Services. The technology that allowed us to do that (and to continue to do that) is and was a blessing from God.
Influential Christian leaders in the country did warn pastors about one important unintended consequence of COVID on congregations – we would lose people. People would become used to sleeping in on Sundays, or opt to continue watching Worship Services online. Behavior repeated over a period of time can easily become a habit, and not going to church will become a habit for some people. So went the warning.
So let me offer a reminder to us all why coming to church is so important. While this might seem self-serving, as if I'm mainly concerned about numbers, this reminder comes from genuine concern about people's spiritual well-being.
We don't come to church for worship because we are obligated to, as if God is keeping track of our attendance. No one gets into heaven because of their church attendance record.
We come to church because that is where God has promised to come to us with His gifts of Word and Sacrament that create and sustain saving faith!
Lutherans do not believe that faith is something we do, a decision that we make to "believe." That would make faith/belief a good work and no one is saved by good works. Lutherans believe that faith is a gift given to us by God through His Word and Sacraments. Look at these three passages from the Bible:
"For by grace you have been saved through faith; and that not of yourselves, it is the gift of God; not as a result of works, so that no one may boast." (Ephesians 2:8–9)
"So faith comes from hearing, that is, hearing the Good News about Christ." (Romans 10:17)
"I am not ashamed of the gospel, because it is the power of God for the salvation of everyone who believes..." (Romans 1:16)
So, saving faith/belief is an capacity that we receive as a gift from God when we hear the Gospel (the Good News about free salvation in Jesus), because God uses the Gospel not just to deliver information to us, but to deliver the Holy Spirit to us, and the Spirit gives us the capacity to trust in Jesus as our Savior.
Saving faith is 100% dependent on hearing God's Word and receiving the Sacraments. Without regularly receiving them faith withers and fades and eventually dies. Think of it like this: faith is something that needs to be fed, constantly.
When we start skipping church on a regular basis, we are beginning the process of starving our faith. The result could be spiritually catastrophic.
So, we don't go to church because we "have to," or because God needs our worship; we go to church because that's where God creates, strengthens, and feeds our faith. It's where He comes to serve us by giving us the forgiveness won by Jesus's death and resurrection.
Certainly, missing church on occasion is not a problem. The problem comes when we willingly and willfully avoid attending church on a consistent basis.
COVID-19's disruption to our normal pattern of weekly worship may have offered you the idea that staying home from church is desirable for various reasons. It may also have offered you the temptation of thinking that watching Worship online as a steady diet is a perfectly acceptable option.
Don't give in to the temptation that the pandemic offers you! Come to church! Not because you have to, but because you need to. The Lord has good gifts to give you at church!
Yours in Christ,
Pastor Eric Gawura
From the DCE
Have you ever wondered, "how can I use my gifts and talents to glorify God and serve Him?" That is a question we can all be asking ourselves and one we can often re-evaluate. It was wonderful to see our volunteers using their talents for God with this year's VBS program. From constructing the large fish that swallowed Jonah to making and serving snacks, there were many hands that worked together to make VBS possible. I have recently had a few people ask me what there is for them to do to serve God here at Our Redeemer. One individual, Maria Wrezinski, has quite a talent for proclaiming God's message of love and grace through her talents in coloring and cartooning. Maria has been so graciously coloring encouraging Bible verse pictures and creating a new Christian cartoon each week for us to enjoy and benefit from. I encourage you each week to check out the bulletin board in the hallway outside the church office and copier room and enjoy these wonderful gifts of love from Maria. Here is a sample of what she has previously shared; in case you have missed them…
Bass Lake Worship at 8 a.m. at the Melody Drive-In
Our summer worship at the drive-in has been in full swing since Memorial Day weekend. The service has been averaging about 90 people each Sunday morning. So far, we have only hosted 1 service out there this season and look forward to hosting 3 more on the following dates: July 18, August 1, and August 29. We look forward to seeing you here at Our Redeemer and out at the Bass Lake service!
S.W.A.G. Youth Group Preschool (4 yrs) thru 6th Grade (Saved With Amazing Grace)
August SWAG Events:
Sunday, August 15: SWAG event in youth room & FLC from 10:00 a.m. – 11:30 a.m.
Vacation Bible School Re-Cap…
What a wonderful adventure was had by all as we experienced God's love through our "Anchored in Christ" VBS! With 22 volunteers and 50+ students, the Bible came to life with amazing props and scenery created by Jerri Cole and Shelley McGinley, Bible accounts shared via video and the students re-enacting the stories as they were read from the Bible, engaging music time, delicious snacks, creative crafts, and great games!
We would like to say a HUGE THANK YOU to all of those who helped make this year's VBS possible…
Co-Directors: Elaine Browne, Diane Cruz, Jana Hazelton
Scenery: Jerri Cole & Shelley McGinley
Craft Leader: Elaine Browne
Craft Volunteers: Becky Wirebaugh, Cassie Meyers, Denise Doig, Dawn Cauffman
Music Leaders: Joyce Anderson & Jana Hazelton
Snack Leader & Helper: Margaret Koch & Sharon Krick
Game Leaders: Jerri Cole & Shelley McGinley
Class Group Leaders: Autumn Ferch, Debbie Godines, Debbie Bell, Char Geisler, Shandee Michel
Group Helpers: Ava Brammer, Dawn Cauffman, Harper Hazelton, Lauryn Snyder, & Casey Vargo
Openings/Closings/Storyteller: Diane Cruz
Daily Family Newsletter/Mission Offering: Pastor Eric
Puppet Friends: Fiona the Fish & Fibi the Fish (Jerri Cole & Shelley McGinley)
Scenery Set-Up & Tear Down: Jerri Cole, Shelley McGinley, Shandee Michel, Mike McGinley, Elaine Browne
Registration Table: Denise Doig & Pastor Eric
From the Parish Nurse
LOOKIING FORWARD TO FALL MONTHS
I hope that all of you are ready to get back to doing some of our 'normal' things here at the church!!
I am planning to start some classes on educational topics or cooking classes or exercise classes or CPR classes.
But I need your input!!!
Please let me know either through email or phone or at church your preferences for topics and classes. Here are some examples:
- End of life topics /living wills
- Cooking classses
- CPR (may be a fee)
- Exercise classes
- Mediterranean Way of Eating (this helps with weight control, heart health, cholestrol control, brain health)
- Blood pressure screenings
- Glucose screenings
- Your ideas
PLEASE either email me – skrick@embarqmail.com or call me 219-205-0033 with your suggestions. THANK YOU! Sharon Krick, Parish Nurse
HOW TO MAXIMIZE YOUR WALK
Walking is one of the best ways to get exercise into your daily routine. Listen to music or pray during your walk!!
WALKING POSTURE:
Head up…back straight…swing arms but don't clutch hands….abdomen flat….toes pointed forward….eyes focused ahead
ALWAYS WARM UP WITH STRETCHES FIRST: Bend down to touch toes each side….knee bends…..swing arms….. for 5 minutes before starting walk
INVEST IN GOOD WALKING SHOES:
1) Allow thumbnail length between end of shoe and top of longest toe
2) Shoe should fit comfortably without stretching sides of shoe
3) Heel should not slip up and down
4) A shoe store employee who can measure and fit your shoes is ideal.
USE A PEDOMETER TO TRACK STEPS:
Aim for 10,000 steps per day
DON'T FORGET TO DO COOL-DOWN EXERCISES:
Use same exercises and stretches you used to warm up for walk
MOST IMPORTANTLY ENJOY YOUR WALK!!!!
New "Suggestion Box"
A suggestion box is now available for your use! If you have a suggestion that will help Our Redeemer reach out to people in a positive way then please fill out one of the "Suggestion" forms next to the box and drop it into the slot on the box. The suggestion box is shaped like a church and is located in the Fellowship Hall next to the doors that lead into the sanctuary.
Dave Ramsey's Financial Peace University coming soon!
Starting Wednesday, October 6 @ 6:00 p.m.! Financial Peace University is a nine-lesson course that teaches you how to save for emergencies, pay off debt fast, spend wisely, and invest for your future. And no financial blah blah blah over here. For over 25 years, Dave Ramsey's been teaching commonsense, biblical money principles that work. Every time. Each session consists of video-based teaching by Dave, group discussion, and take-home exercises.
Worship Insights
In Pastor's main article he talked about the importance of worship for our spiritual well-being. But let's be honest. Sometimes, maybe even oftentimes, it's hard to get out of bed early to come to church because church can seem so boring (at times). Why don't Lutherans worship in more of the upbeat way that some other churches do?
Well, two things: First, even churches with the flashiest worship services deal with the problem of people skipping worship, do it doesn't seem to be the style of worship that really matters. Secondly, Lutherans don't do a very good job of explaining why we worship the way we do. Understanding our style of worship can help us to get a lot more out of it. So this article begins a series of newsletter article that will focus on a part of our worship service and highlighting what's going on. So without further ado, here's this month's worship insights:
We are a Liturgical Church
All churches follow an order in their worship services. Even those who pride themselves on being creative every week will repeat patterns of worship week after week. So everyone uses and "Order" (capital "O"). Lutherans belong to the vast majority of Christian denominations that are called liturgical. That is, we follow a Liturgy as our Order of Service. Rather than creating a new Order every week, we follow a format for worship that has been in use for nearly 2,000 years and that has been time tested.
The Liturgy that we use is centered around what God is doing for us in Jesus Christ, rather than what we are doing for God. That is, we believe the main thing about worship is receiving God's Word and Sacraments, and only secondarily the praise and adoration that we offer to God as a response. So the Word and Sacraments are the center of worship, and we see that in the formal outline of our Order of Service. There are two main parts – the Service of the Word, which concentrates on the Scripture Readings and the Sermon, and the Service of the Sacrament, which reaches its climax in the distribution and reception of Holy Communion.
The first Sacrament that we receive in our lives is Baptism. So each of our Services begins by recalling that Sacrament in the words of the INVOCATION. We call on the name that we received at Baptism: "In the name of the Father, and of the Son, and of the Holy Spirit." So the invocation reminds us that we are gathered as the baptized children of God to receive His gifts of Word and Sacrament. Dad feeding His kids.
Next month: Why does every service begin with a Confession of sins?
Connecting people to Christ for eternity
Our address is: 1600 S Heaton St, Knox, Indiana 64534