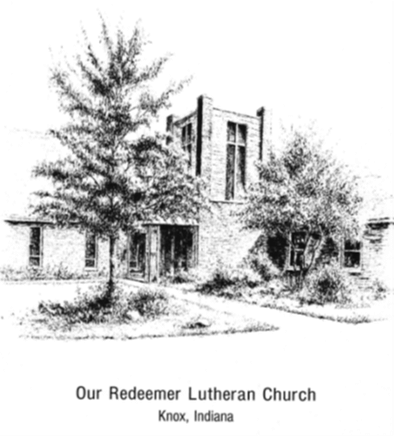 The Redeemer Reporter
Monthly Newsletter of Our Redeemer Lutheran Church Knox, IN
From the Pastor
Dear Partners in Ministry at Our Redeemer,
Grace, mercy, and peace be to you from God our Father and our Lord and Savior Jesus Christ!
It's hard to believe that we've been living under the scourge of the COVID-19 pandemic for over a year now. Last year Our Redeemer closed down all of its in-person activities for four months, which meant that all of our Holy Week and Easter Services were moved online and to Bass Lake. It was depressing!
Our Redeemer opened for in-person worship services at the end of June 2020 and we've been opened since, including for certain meetings and for all Bible study groups and for youth events. Attendance at weekend Services is about 70% of our pre-pandemic levels, and Bible studies are back to "normal" attendance levels. Many of our Partners in Ministry are still choosing to stay home during the pandemic. Online Services are a blessing for them and others, as it allows folks who can't join us to worship our great God and Savior!
Holy Week and Easter Services will be held in-person this year, Praise the Lord! Lent will be a tad different, as there will be NO mid-week Services or dinners. Our theme for Sundays in Lent is Journey to the Cross. Each week will focus on a different aspect of what it means to "take up your cross" and follow Jesus to His cross.
Each week we will make daily devotions for the coming week available. The weekday readings and devotions will follow the theme of that Sunday's theme.
We're already planning some special things for our Easter Sunday celebration, too. We want it to be a real celebration. We can all use that after the year that we've lived through, and the one we're living through right now, too!
You can prepare for our Easter Sunday worship, too, by choosing a noise-maker to bring to church with you. It could be a bell, a whistle, a drum, or a party noise-maker; anything that makes a joyous noise and adds to a festive mood.
Our Lent, Holy Week, and Easter Schedule is as follows:
Ash Wednesday, with the imposition of ashes – February 17 @ 6:30 p.m.
Sundays in Lent (February 21, 28; March 7, 14, 21) @ 9:00 a.m.
Saturday Night Service (Feb. 20, 27; March 6, 13, 20) @ 5:00 p.m.
Palm Sunday – March 28th at 9:00 a.m.
Maundy Thursday, with the solemn Stripping of the Altar – April 1st @ 7:00 p.m.
Good Friday – April 2 at 12:00 p.m. and the traditional Tenebrae Service @ 7:00 p.m.
Holy Saturday – April 3rd @ 5:00 p.m. The Great Vigil of Easter.
Easter Sunday – April 4th @ 9:00 a.m. with Easter Egg hunt following the Service. (There will be no Sunrise Service this year to encourage greater attendance at the 9:00 a.m. Easter Celebration).
There will be NO Easter Breakfast this year due to the COVID-19 pandemic.
All of our Services are also live-streamed on Facebook Live and recorded for posting on Facebook for anytime access.
I look forward to sharing this year's Lenten Journey to the Cross, Holy Week, and Easter with you all! May our wonderful God make our journey fruitful and meaningful!
With You in His Grip,
Pastor Eric Gawura
"For it is by grace you have been saved, through faith—and this is not from yourselves, it is the gift of God—not by works, so that no one can boast." (Ephesians 2:8–9, NIV)
TOO BUSY NOT TO PRAY
A Four Week Bible training course on prayer, based on the best-selling book of the same title.
YOU can become a person of prayer. YOU -- just as you are today, with your upbringing, your knowledge, your values system, your quirks and foible and fears -- can be a person of prayer; someone who talks to and listens to God. You don't have to go back to school or go on a diet. Your don't have to get older or get richer or get wiser. You don't have be be better or be stronger or be anything, anyone, other than who you are right now, today. To be a person of prayer all you have to do is decide
Decide that prayer matters.
Decide that your prayers matter.
Decide that there really is a God who is willing and able to help yo in your time of need.
And then pray.
Sessions Include:
Why Pray?
Our Part of the Deal
When Prayer Feels Hard
People of Prayer
MEETS MONDAYS, MARCH 1, 8, 15, 22 AT 11:00 A.M @ CHURCH
See Pastor Eric for more information
Sunday School News
Reflections:
Our Sunday School continues to meet each Sunday morning mid-way through the worship service. As the children are excused from the Children's Message each week, they head off to Sunday School where they have been learning about Noah and the Flood, Abraham and Isaac, and more. We would love to have all the children join us during this special time to grow in faith and the knowledge of our Lord. To help in maintaining social distancing, we have been meeting in the Family Life Center for our lessons.
Upcoming News:
Sometime in March/April the Sunday School children will be singing a very special song for you during one of our worship services. We will let you know the exact date in our March Newsletter.
Beginning in March, we will start a new class for our 4th graders on up. This class will meet after the worship service on Sunday mornings and will meet for 1 hour from 10:15 a.m. – 11:15 a.m. We will begin by exploring the life and purpose of Jesus and what He means for us. We hope to have all our youth join us for this time to grow in faith and the knowledge of our Lord! Please contact Diane Cruz with questions: 219-363-4750.
SWAG News
It is our goal to provide opportunities for the youth of our congregation to grow in faith in our Lord and in fellowship with one another. One way of doing this is by providing events like SWAG Sundays each month where the children gather together to play, learn, and grow all in the love of our Lord Jesus. We meet the 3rd Sunday of each month for an event or activity. The time is usually from 10:30 a.m. to noon but may vary depending on the type of activities planned. However, with holidays and inclement weather, this may at times have to be altered. Please see Diane (219-363-4750) with any questions or if you ever need clarification of an event or its details.
February Events for SWAG:
Sunday, February 21: SWAG Event at Church 10:30 a.m. – noon
YAC News
The acronym YAC stands for Young Allies for Christ and is the name of our current youth group for our 4th graders on up. This group meets 1x per month; usually the 4th Sunday of the month. The events are usually off-site from the church campus. Last year we were only able to have a few events due to COVID. Amidst the chaos of 2020 we still managed to go ice skating, see a movie, have a bicycle event, and go see Casting Crowns in concert at The Melody Drive-In.
We are looking forward to many more faith-filled adventures to come during the rest of 2021.
Diane will text, call, and Facebook invite youth to these events, so parents please contact her with your contact info. if you think or know that she does not have it.
February Events for YAC:
Sunday, February 21: SWAG (which includes YAC youth) at Church 10:30 a.m.–Noon
Sunday, February 28: YAC event (details will be texted to parents)
Vacation Bible School…
Mark your calendars and get ready for a week of adventure during the summer of 2021! We WILL be having Vacation Bible School this year! We are beginning our planning and ask you to please be a part of this amazing ministry. Following, you will find the current details:
What: Vacation Bible School 2021
When: June 14-18, 2021 in the afternoons
Where: Our Redeemer
How You Can Participate: PRAY for the planning, VOLUNTEER your time, DONATE needed items, and ADVERTISE by getting the word out to your family, neighbors, and friends.
Grief Share Groups at Our Redeemer…
There are currently 2 separate Grief Share groups being hosted at Our Redeemer. The first one that began meeting in early January meets each Thursday at 6 p.m. and is approximately half-way through the 13-session series. The second group began on Feb. 4 and meets at 1 p.m. each Thursday so it is just getting going.
Whether at the beginning, mid-way, or near the end, new group members are always welcome and encouraged to join. That is one of the great things about Grief Share: whatever you miss, you can always come to the next series and attend the sessions you missed the first time around.
In having personal experience attending Grief Share, I can say it is a true blessing to those who attend. The group offers Christian support, knowledge, and caring people who can relate to what you are going through and feeling as they too are experiencing great loss.
You do not need to call or register. Just simply show up at 1 p.m. or 6 p.m. on Thursday and join one of our groups.
Mark Your Calendars for a… "Church Camping Event"
Do you love God's great outdoors? Walking? Biking? Kayaking or Canoeing? Campfires? Fishing? Or just relaxing in the sun or shade? If so, then how about…
CAMPING!!!
Let's get together and enjoy a weekend in God's beautiful creation through a camping trip at Potato Creek State Park!!! See the event details below:
What: Our Redeemer Camping Event
When: Friday, June 4 – Sunday, Jun 6, 2021
Where: Potato Creek State Park
How: Families or groups that plan to camp together reserve their own campsite
Cost to You: Campsite cost ($30 per night = $60), $7 car entrance fee unless you have a
State Park Pass, cost to rent bikes or kayaks from park if you do not have own & want to use.
To Bring: You are on your own for camping so you will need a tent or camper, food for the weekend, and all the necessary amenities for your own campsite.
Church Group Sponsored Activities Throughout the Weekend:
1. Campfire Devotions / Singing / Sharing
2. Group Games with Prizes on Saturday (cornhole tournament, scavenger hunt, etc.)
3. Group Hikes
4. Worship Service Sunday Morning
5. Pitch In Dinner Saturday Night (bring a dish to share)
What if, I want to participate; but I am just not up for camping?
Rent a cabin. As I write this article, there is currently 1 family cabin that has not been rented yet for that weekend. The cabin is 1400 sq. feet and sleeps 7 to 8 people and is $90 per night.
~OR~
Come out for some fun for the day on Saturday. You can join us for lunch and an afternoon of relaxing or play some games or enjoy the campfire, etc. and then go home to sleep in you own warm bed.
PLEASE sign up on the Fellowship Hall bulletin board lists to let us know who to expect for participation in the weekend or just for Saturday.
PLEASE REMEMBER that you are responsible for booking your own campsite and you will want to do it soon before the sites fill up. Summer camping is a very popular activity at Potato Creek.
Please contact Diane (219-363-4750) with questions and to see what loop to book your campsite in.
Memory Verse of the Month
Setting the Word of God in your mind and heart so that it is available to you in any circumstance and any place is one of the great rewards of intentional memorizing Bible passages.
Each month we'll include a verse for you to read and memorize. You've got a whole month to work on it, so why not give it a try!
Connecting people to Christ for eternity
Our address is: 1600 S Heaton St, Knox, Indiana 64534