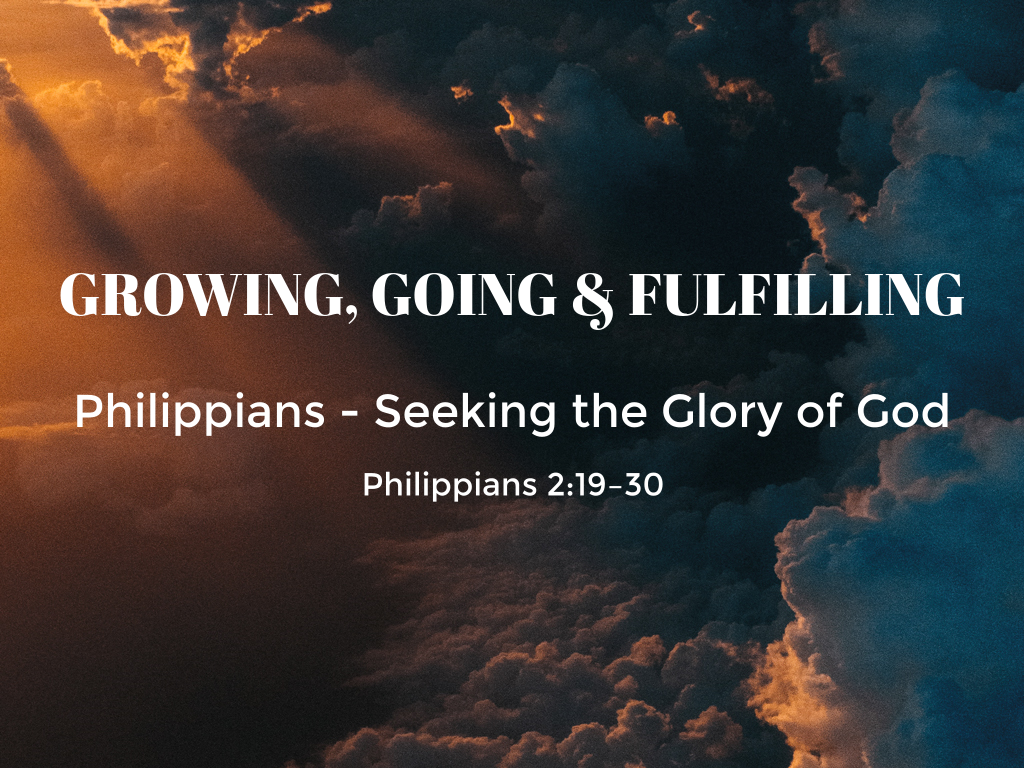 Overisel CRC
June 30, 2019 AM
Welcome to
Overisel CRC
We are glad you are here today!
June 30, 2019
Our Church Mission Statement
Revealing the Glory of God through authentic worship
Gospel centered preaching & transformed living
Morning Service 9:30 AM – Pastor Ron
Welcome
*Call to Worship
*Blessed Assurance #345:1-3
*Greeting
A Moment of Reflection
*As the Deer
Congregational Prayer
Offering: General Fund
*O Church Arise
Hearing from God's Word
Scripture: Philippians 2:19-30
Sermon: "Growing, Going & Fulfilling"
*Take My Life and Let it Be #379:1,3,5,6
*Parting Blessing
*My Friends May You Grow in Grace"
*Moment of Silence
People involved at Overisel today:
Greeters: Eleanor Nyhof - AM
Marian Brinkhuis - PM
Music: Karen Boersema
Nursery: Kathy De Weerd & Andrea / Lauren Essenburg
Next week – July 7
Preaching: Chris Timmer – AM
Combined worship at Overisel Reformed - PM
Greeters: Ken & Eleanor Overweg - AM
Music: Bev Grotenhuis
Nursery: Mary Becksvoort & Lori Scholten
*Please stand if you are able
Evening Service 5:00 PM – Pastor Ron
Welcome
*Call to Worship
*He is Here / Surely the Presence of the Lord
We Confess our Faith
*Our World Belongs to God
*I Cast all My Cares
Hearing from God's Word
Scripture: Genesis 17
Sermon: "Covenanting & Trusting"
*Tis So Sweet to Trust in Jesus #350:1,3,4
Offering: General Fund
Sharing & Prayer
*Parting Blessing
*Praise God from Whom All Blessings Flow
*Moment of Silence
This week @ Overisel CRC
Tuesday 11:00 AM Coffee & Conversation
Thursday 11:00 AM Coffee & Conversation
OUR CHURCH FAMILIY
Remember and pray for our elderly and shut ins who cannot worship with us regularly. Mary De Weerdt, Bob & Helen Haveman, Joanne Klaasen, Bert Kreuze, Ken Wolters
ANNOUNCEMENTS
Next Sunday evening we will have a combined worship at the Overisel Reformed church.
Overisel Community VBS: ROAR! GOD IS WILD ABOUT YOU! Please join us for a wild week of VBS July 8 - 11 from 6:15 to 8:15. You can register your kids online by going to https://vbspro.events/p/events/Obe450. Adults, if you would like to get involved, just call the ORC office at 751-8744
Advance Notice: Overisel Community Picnic is August 17. If you would like to volunteer in any way, please see Pastor Ron for more details.
Philippians 2:19–30NIV2011

Take My Life And Let It Be

My Friends May you grow in Grace
Let us get to know you!
Please take a moment to send us your information so that we may stay connected with you. Your information is carefully managed and protected.
How did you hear about us?