This week Sept. 6, 2020
First EC Church's Sunday Worship at 10:15AM
Hebrews - The Journey of Faith
Join Zoom Meeting by clicking this link: https://us02web.zoom.us/j/84715284318?pwd=N29rQTU4L3N0NEh1MG4vSk8rcDA3UT09
Or use this info to enter into Zoom:
Meeting ID: 847 1528 4318
Password: 316
Or, from a phone, dial this number and use the Meeting ID & Password (929)-205-6099
Meeting ID: 847 1528 4318
Password: 316
Missionary Support Team Fundraiser
Sycamore Spring Orchard "Apple Dumplings"
Thursday, Oct. 8, 2020
Regular or Sugar free $5.50 ea.
Please "see" or "call" Donna or Carroll Rodgers at 717-832-0381 to place your order. Checks payable to Palmyra 1St EC church AMF and note on the bottom of the check "apple dumplings" Your checks should be given to the Rodger's or mailed to Mr. & Mrs. Carroll Rodgers, 317 W. Spruce St., Palmyra PA 17078. Please make sure they received your order and check/money by Sunday, Sept., 27, 2020. Pick up is Thursday Oct. 8th. In the church fellowship hall between 4:30 and 6:30pm. Masks must be worn when entering the church. Call Donna if you have any question. Thank you for your support of our missionaries.
Missionary Support Team - Georgine Berger
Faithlife
Join us on Faithlife for updates, prayer requests, digital bulletins and much more!
Follow this link to get to it and register yourself.
Coffee Shop Theology
We will returning to our Tuesday mornings of coffee and fellowship starting Sept 8th, at 9am.
First EC Wednesday Fellowship & Bible at 6:30PM
Join us Wednesdays at 6:30pm for our weekly Bible study. Lead by Pastor Charles.
Join Zoom Meeting by clicking this link: https://us02web.zoom.us/j/83469514060?pwd=dU9MV05SdVExRnRyNFZmY0JlUG40QT09
Or use this info to enter into Zoom:
Meeting ID: 834 6951 4060
Password: 316
Or, from a phone, dial this number and use the Meeting ID & Password (929)-205-6099
Meeting ID: 834 6951 4060
Password: 316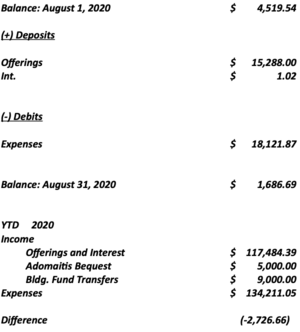 Living for Christ 365
Our address is: 55 W. Main St. Palmyra, Pa 17978