The Frontline Report - August 2021
Onward toward Initial Skills
Working together with him, then, we appeal to you not to receive the grace of God in vain.
-2 Corinthians 6:1 (English Standard Version)

Greetings,
A boy of around the age of 10 was in Avevete one day while the Carwile children were practicing writing the alphabet in the dirt in front of houses. This boy began to write with excellent letter formation:
digiceltopaphia
Brenda realized he was copying what little of the alphabet he could readily see, from a market stall not five feet away; a cell-phone ad, "digicel top ap hia" the only writing visible from the center of town.
Seeing words and letters shouldn't be a rare thing, but in Avevete it is. A "print culture" has to be cultivated. Part of making the written word available to Pamosu speakers involves small, conscious, public actions. The house where the Carwile family lives has Bible verses in Pamosu written on it. In church the order of service is written on a blackboard at the front of the sanctuary. Efforts such as the hanging library are vital to providing access to literature. And the way to improving reading and writing is through practice.
Practice and exposure also make for good language learning and teaching.
It is common among the Pamosu speakers to relax around a fire after a hard day of work and talk together and tell stories. But those trying to teach Jason Pamosu as they sat around the fire quickly ran out of new words and phrases to share. One man said, "I have no more words to teach you."
There is another way to learn.
Two of Jason's language teachers have started using alternative teaching methods.
Mambe brought Jason along to clear some land for making a garden. When Mambe started using the axe in different ways and describing the different kinds of trees and the different methods used in different situations, Jason was quickly overwhelmed with the number of new words and concepts. Fortunately Jason could record all this new knowledge on his cell phone. Later Mambe and Jason went again to the same garden and Mambe's excitement was visible as Jason acquired more and more of the Pamosu language.
Ovokare made a similar realization concerning the availability of language-learning topics in the fire-circle setting and decided on another solution. He took his cell phone and began taking pictures and videos while out doing normal activities. Then he brought the material and discussed it with Jason on the days they met. This too is broadening the range of words and topics that can be talked about to a dramatic degree.
As we, as team members, start to understand and make revelations about language learning, everyone is encouraged. Jason's mastery of the Pamosu language benefits from varied methods, and the Pamosu translators perspective on their own language learning approach and abilities alters, making learning English and later Greek/Hebrew less work and more fun!
Now at the mission center, Ukarumpa, we have been encouraged as plans for the training courses the Pamosu translators will attend in October continue. Jason has been asked to teach at the October course and two subsequent courses. He will act on a consultant basis for a course that is currently underway.
Praise God for the freedom and opportunity to learn these translation methods, grow in knowledge, and learn more of who Christ is!
May God be glorified,
Jason & Brenda Carwile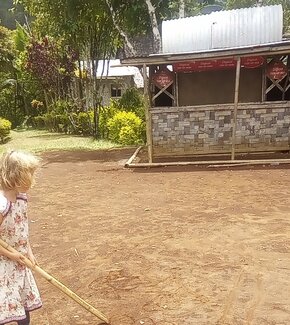 Drawing in the dirt of the town square.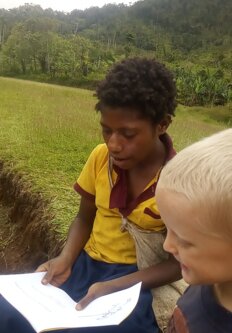 Ninaku reading a book out of the hanging library to Norman Carwile.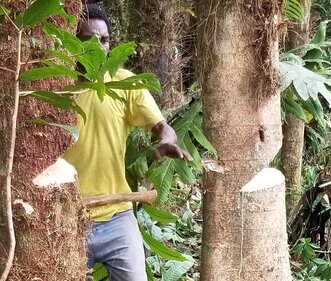 Mambe showing how to fell two trees at once.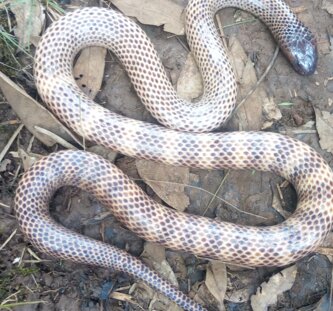 One photo Ovokare took to share a new word with Jason. This is the Tuavon (micropechis ikaheca), the most poisonous snake in the area. Thankfully the Carwile family has never seen one of these in person!

Jason and Brenda Carwile
jason_carwile@wycliffe.org - brenda_carwile@wycliffe.org
PO Box 1 (177) Ukarumpa, EHP 444, Papua New Guinea
Visit our website at https://pamosu.faithlifesites.com

Our address is: 77XC+7J Mesekor, Papua New Guinea