The Frontline Report - October 2021
Training is canceled, again.
And you know that with all my might I have served your father. Yet your father has deceived me and changed my wages ten times, but God did not allow him to hurt me.
-Genesis 31:6-7 (New King James Version)

Greetings,
What do you do if plans go awry?
It was less than a week until the Initial Skills Course(ISC) was to begin. Some Pamosu translators were in the town of Madang, waiting for the remaining translators to hike down the Adelbert mountains to meet them. Those translators had gathered in one village, ready for their journey to begin in earnest the following day. And then there was an email saying, "Do not come, the course has been canceled."
The two months prior had been pleasantly normal. The first Translator Training Course had run its course with no illness and the graduation ceremony had been lovely. The team of instructors for the Initial Skills Course were preparing, putting the final touches on their lesson plans. The Carwile family settled into family school routines. Printed Pamosu books were filling hanging libraries that were being prepared for four villages who had yet to receive their own source of reading materials.
There is comfort in Jacob's words from Genesis 31. His plans were changed for him by an outside agent even as he worked diligently. And though Jacob's plans changed, God's faithfulness did not.
The province the training center is in, Eastern Highlands Province(EHP), was one of the first to be placed under a series of restrictions in an effort to slow an outbreak of COVID-19.* These restrictions and the outbreak that was already underway in more urban areas lead to the ISC cancellation. As of yet no plan has solidified for when the course would be able to take place. Tracking the local progress of health returning to the valley and the oscillating isolation of the training center's staff has made a meeting thus far impossible.
God remains faithful. We are thankful that word of the course cancellation reached the translators before they began their hike, that they are able to wait at home instead of being stuck along the road. There are no answers yet to give as to when ISC will happen, but there is time to see the course through before the first Translation Training Course next year.
In the midst of privately reviewing options for ISC, news of another sort arose. A member of Brenda's immediate family in the United States of America had died.
This devastation is mitigated through the concentrated presence of other close family members in the US, and ultimately by Jesus' sacrifice that redeems his followers from sin. This mind-boggling action, even through the route of troubles for God's chosen people, is written of in the book of Romans, chapter 11.
God has proved himself faithful in that he sent Jesus to offer salvation to those dead in sin.
Another item to be thankful for is the launching of a website for the Pamosu Translation Project. Please look pamosu.org over and let us know of your ideas in an effort to make the website informative, clearly understood, appealing, and useful.
May God be glorified,
Jason & Brenda Carwile
*Any questions concerning COVID19 action or travel restrictions welcome by e-mail.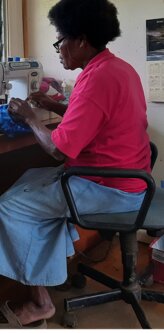 Betty, the seamstress who made hanging libraries for the Pamosu language group.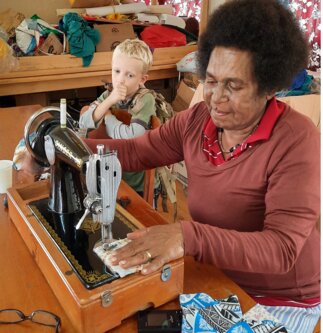 Betty teaches ladies how to sew on the mission center. Here Norman is watching one of the students, Lillian. Norman appreciated how shiny Lillian's hand operated sewing machine was.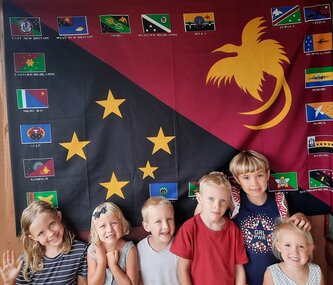 This photo was taken on Papua New Guinea(PNG)'s Independence Day holiday, September 16th. There are 22 provinces in PNG, and this cloth has the provincial flags super-imposed on top of a (mostly correct) representation of the national flag. From left to right are Felicity, Charity, Hosea, Norman, Marie, and Esther.

Jason and Brenda Carwile
jason_carwile@wycliffe.org - brenda_carwile@wycliffe.org
PO Box 1 (177) Ukarumpa, EHP 444, Papua New Guinea
Visit our website at https://pamosu.org

Our address is: 77XC+7J Mesekor, Papua New Guinea