The Frontline Report - February 2022
You are my God, and I give you thanks; I will proclaim your greatness.
-Psalm 118:28 (The Good News Translation)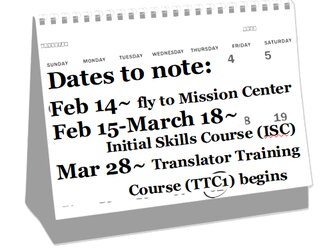 Greetings,
The new year sees us in Avevete! When we arrived January 11th the internet was down, further underscoring the need to arrive in person to gather the translation team. With heightened security risk along the coastal road the translators will shuttle out by helicopter to a nearby town. From there small aircraft can be taken to the airfield neighboring the mission center(where upcoming training will be held.)
Please be in prayer for the health of the entire translation team. Praise God that the course can be held at the training center under current restrictions.
Our time here in Avevete is bitter sweet as it is our last before our visit to the United States of America in June 2022. Norman was able to hike the 5 miles down(and 5 miles back) to the Poporo river with his older sisters and dad. Pretty neat being 6 years old! His older sisters have been regularly playing a version of line tag with old and new friends. Bug collecting continues to be a big hit.
During this shorter trip we are not holding any formal writer's workshops, but multiple authors have brought material to add to this year's anthology. Several stories from our last stay in Avevete underwent revision. Inde Kevik has been illustrating his stories out in the open air, and a number of artists have taken interest. Five new artists have requested and received materials to be used for future illustrations.
Not long after arriving in Avevete we learned that Ovokare Sasokele, Pamosu translator, had died suddenly. Please keep his family and the community of Perene in prayer as they grieve. The church elders in Perene have been invited to nominate another person to come to the Initial Skills Course which begins February 15th. A translator from Hinangave had an infection in his foot, and we pray it will clear up well enough for travel. Truly the protective power of prayer is vital to Bible translation, and we thank God for your diligence in remembering us all before our Lord.
As the time for our family's travel to the United States of America draws nearer we ask that anyone who knows of a vehicle available for use all or part of our time in the US (June 2022-June 2023) please let us know. The vehicle must be able to seat 8 people. We are willing to buy or rent at a reasonable rate.
It is Jesus who is victorious. And we live in his victory day by day.
For His Glorious Name,
Jason & Brenda Carwile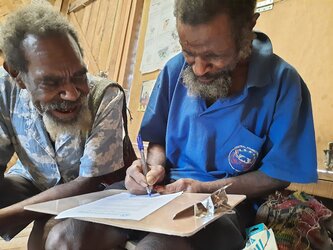 Inde Kosak looks on as Inde Kevik signs permission for a drawing of his to be published in the next Pamosu anthology. "Inde" (een-day) is a respectful term for a grown man, literally meaning "father."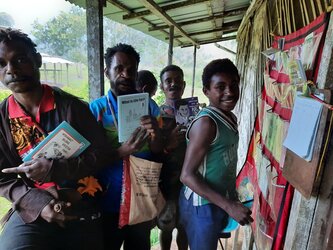 The Avevete library continues to bustle. Praise God for the Avevete local librarian!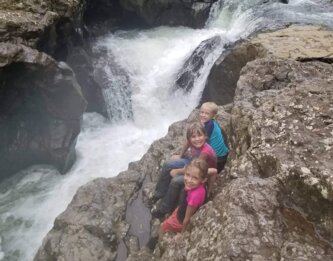 The oldest three children went on a hike with their dad down to the Poporo river.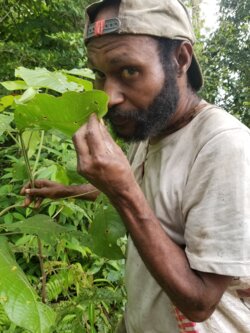 Ovokare Sasokele, excellent language learning partner and a champion for literacy, brother in Christ - pictured here teaching Jason words in the greenery.

Jason and Brenda Carwile
jason_carwile@wycliffe.org - brenda_carwile@wycliffe.org
PO Box 1 (177) Ukarumpa, EHP 444, Papua New Guinea
Visit our website at https://pamosu.org

Our address is: 77XC+7J Mesekor, Papua New Guinea