The Frontline Report - October 2022
At 75%, aiming for 100%
Commit your work to the LORD, And your thoughts will be established.
-Proverbs 16:4 (New King James Version)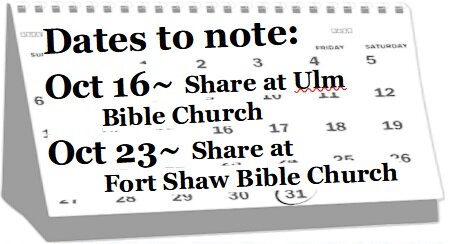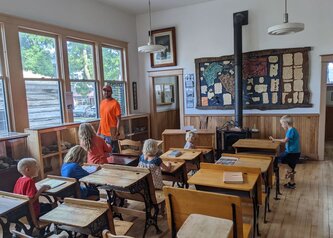 Trying out a one-room schoolhouse on our travels. (Dillon, MT)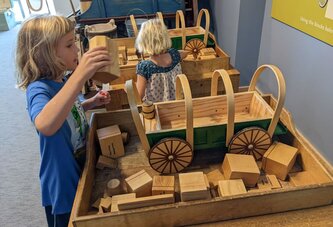 Loading the wagons at the California Trail Interpretive Center. (Elko, NV)
Greetings,
Gratitude! The Carwile family is deeply thankful for the great trip we had from California up to Montana. Thank you for your prayers! We met up with friends along the way and saw some great landscape and learned a few things.
Brenda has enjoyed reuniting with family and looks forward to visiting her aunts and uncles soon. The Carwile family is settling into a work/school routine.
On September 11th there was a 7.6 magnitude earthquake near Ukarumpa, our organization's center in Papua New Guinea(PNG). Most households suffered minor damage, and cleanup of some kind was necessary in every structure. At first we could only wonder what had happened in the Pamosu area, but just this week word came that the Pamosu area was unaffected. Praise God! Fellow colleagues looked after our house at Ukarumpa, so no surprises will be waiting for us when we return next June!
We have just sent off five passports for renewal in anticipation of our return.
While in the United States, Jason and Brenda (and their children!) continue to enjoy sharing about Bible translation and how the people of PNG grew in the knowledge of Christ during the recent challenges faced worldwide.
If you would like to get together and hear about the impact of God's Word in PNG please call or e-mail us. (Contact info below.) It is because of God's team of partners that our Wycliffe ministry in Bible translation is possible. Thank you! Lately we have been encouraged by three new monthly financial partners. We have 25% of our budget left to reach, so please be praying how you could be an advocate within your community or, as the Lord leads, partner financially.
When traveling from California to Montana we had the benefit of paved roads- the entire way! Travel in PNG looks quite different, with roads hard to maintain or nonexistent, and flying is the most reliable mode of transportation. The Bible is the most reliable guidebook in life, left for us by God to help us know him better. Our prayer is that more language groups in PNG have access to God's great guidebook, and their hearts be softened and saved by his grace.
For His Glorious Name,
Jason & Brenda Carwile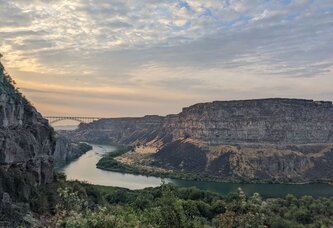 View during a hike near the Salmon River. (Twin Falls, ID)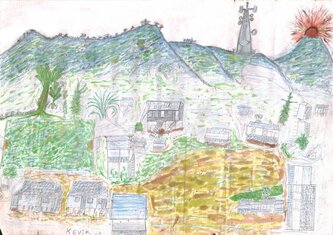 A rendition of the village Avevete by Pamosu artist Kevik. The cell tower (main means of outside communication) features prominently on the hilltop next to the sun.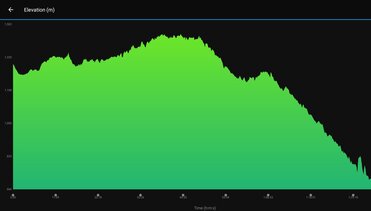 A graph delineating the elevation of the Adelbert mountains between two main Pamosu villages. The village is past the low point at the end up another mountain. The highest peak is roughly 1450 meters and the lowest is roughly 750 meters. Jason travels this route at least once a week (and back!) when living among the Pamosu. A video of Jason running this trail can be viewed at www.pamosu.org
To Lift in Prayer
For diligence as the Pamosu translators work on the gospels of Mark and Matthew.
For passports to be processed in a timely manner.
Prayer for additional financial partners to enable our Wycliffe ministry budget to be at 100%.
For clean up in PNG after the September earthquake.

Jason and Brenda Carwile
jason_carwile@wycliffe.org - brenda_carwile@wycliffe.org
308 Ogden Way, Vacaville, CA 95687
906 Jefferson St, Great Falls, MT 59404
406-898-7008(Brenda)
707-908-2139(Jason)
Visit our website at https://pamosu.org

Our address is: 77XC+7J Mesekor, Papua New Guinea