The Frontline Report - February 2023
New Year, Eternal Truths

Greetings,
These past two months the Carwile family has enjoyed sharing about Bible translation in Papua New Guinea(PNG) with individuals and groups in Montana. It is a time of plenty of travel in the car.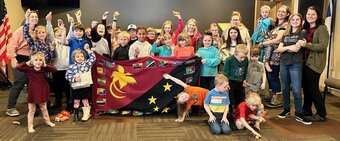 Photo from February 2023.
We had the privilege of introducing students in Bozeman, MT (pictured above) to the need for Bible translation. They had fun carrying sweet potatoes in bilums(string bags) and finding PNG on a map. Brenda did not hear about Wycliffe until after graduating from college. She is thankful for those who took time to tell her about language communities who had no access to the Bible.
The PNG students (pictured below) were practicing their letters in an informal setting. They were not in school. They wanted to practice writing. The Carwile family is pleased to be a part of enabling the growth of Pamosu readers and writers. One prayer of ours is that these young Pamosu speakers will write with confidence their own testimonies, and read with confidence the gospels in the language they understand best.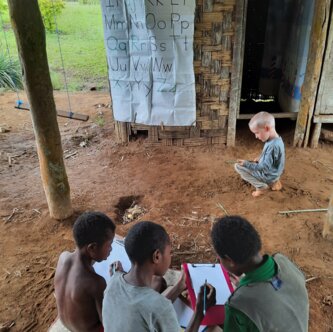 Photo from February 2022.
And they overcame him by the blood of the Lamb and by the word of their testimony, and they did not love their lives to the death.
-Revelation 12:11 (New King James Version)
Each individual testimony of Jesus at work in our lives is ongoing. The testimony of Christ's disciples recorded in the Bible continues to inspire the faith of Christians today. We know because we were told.
Our testimony inspires and strengthens others around us. We need to hear the gospel, and how God continues to impact lives worldwide, overcoming Satan's schemes and man's sin.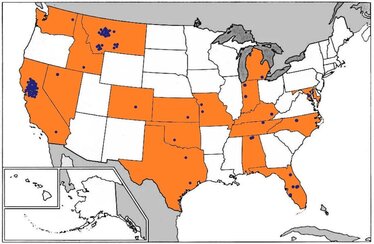 This map shows where U.S. partners are financially invested in Bible translation among the Pamosu.
We have been blessed by the testimonies of many of our partners across the nation. Please share your testimony with us! What is the Holy Spirit doing in your life today?
God continues to prepare the Carwile family for the next term in PNG through regular financial partnership.
We have EIGHT additional partners to be thankful for! Plus, TWO partners who increased their partnership. Praise God!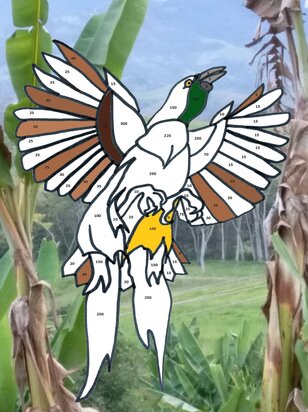 Help us finish coloring this Bird of Paradise! Each number represents a potential regular (monthly) financial partner.
In accordance with Wycliffe protocol we will not buy plane tickets to return to PNG until the ministry budget is met. Please be persistent in prayer as we ask God to fulfill our earthly needs, specifically our financial ones.
If we haven't met up yet please contact us right away so we can get together! You are always invited to join us at our farewell get-togethers. We have only a few weeks in Montana, and 3 months in California. We look forward to spending that time in fellowship for God's glory.
For His Glorious Name,
Jason & Brenda Carwile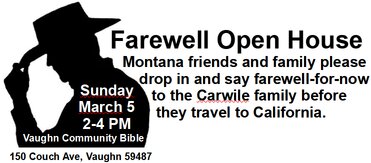 To Lift in Prayer
For confidence as the Pamosu translators work on the gospels of Mark and Matthew
Praise that our son Norman confessed his sin, repented, and chose to follow Jesus!
The Carwile family's work permits and visas
Prayer for additional ministry partners
Needed teaching staff for Ukarumpa International School, where the Carwile children attend school while in PNG.

Jason and Brenda Carwile
jason_carwile@wycliffe.org - brenda_carwile@wycliffe.org
308 Ogden Way, Vacaville, CA 95687
906 Jefferson St, Great Falls, MT 59404
406-898-7008(Brenda)
707-908-2139(Jason)
Visit our website at https://pamosu.org

Our address is: 77XC+7J Mesekor, Papua New Guinea