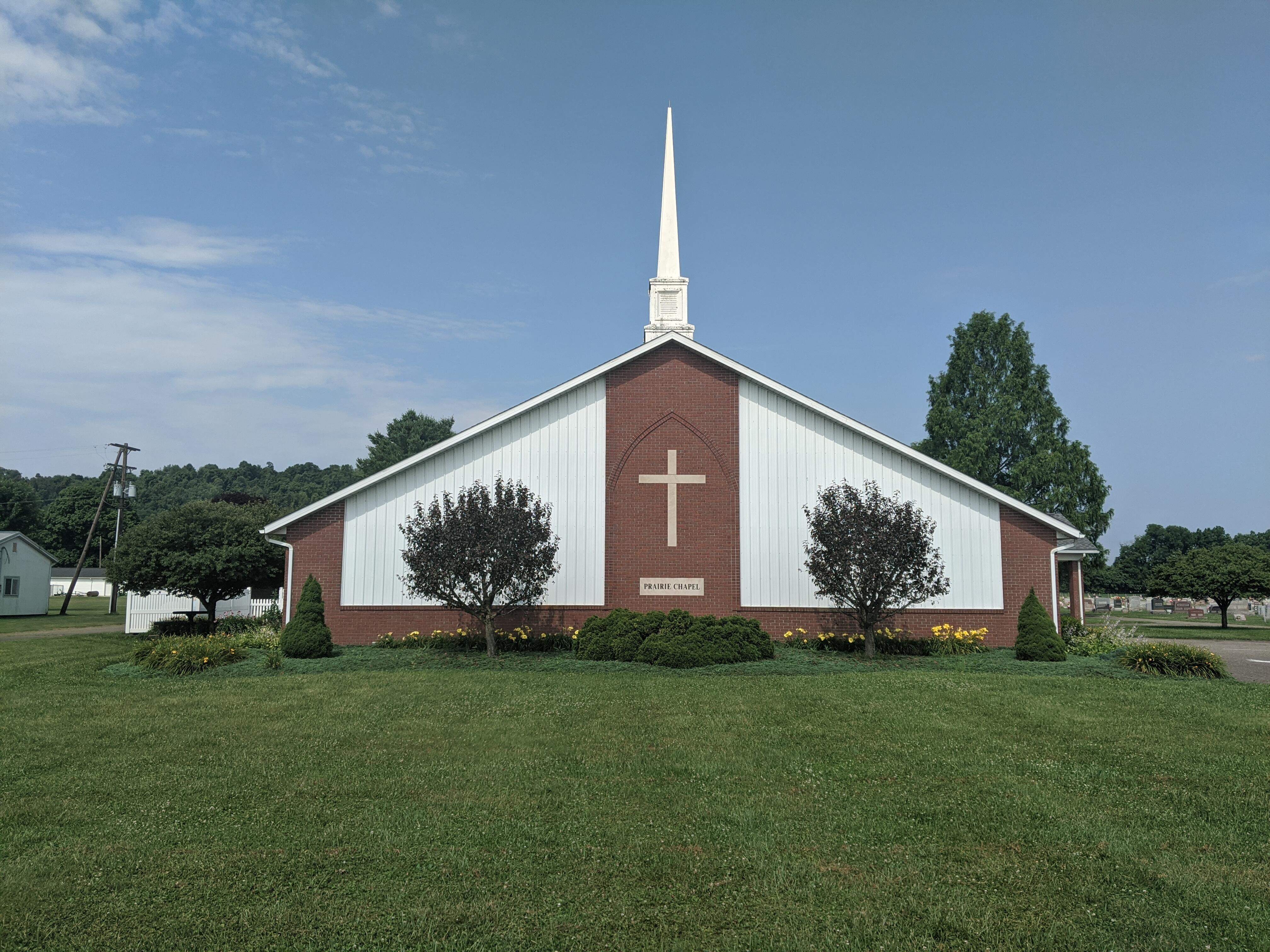 Prairie Chapel UMC October 31, 2021 Sunday Worship 10:30 AM Sunday School 9:15 AM Pastor Wes George
"WALK CLOSER WITH JESUS CHRIST" CELL: 740-381-3345 CHURCH OFFICE: 740-622-3992 WEB: www.pchapel.org
"WELCOME"
ANNOUNCEMENTS
BIRTHDAYS/ANNIVERSARIES
JOYS~CONCERNS~PRAYERS
BY MARTY DARLING
ALTAR FLOWERS
ARE IN CELEBRATION OF TIFFANY BERRY'S BIRTHDAY
GIVEN BY LORRAINE & MELVIN DICKERSON.
APOSTLES' CREED
I believe in God, the Father almighty,
creator of heaven and earth.
I believe in Jesus Christ, his only Son, our Lord,
who was conceived by the Holy Spirit
and born of the virgin Mary.
He suffered under Pontius Pilate,
was crucified, died, and was buried;
he descended to hell.
The third day he rose again from the dead.
He ascended to heaven
and is seated at the right hand of God the Father almighty.
From there he will come to judge the living and the dead.
I believe in the Holy Spirit,
the holy catholic* church,
the communion of saints,
the forgiveness of sins,
the resurrection of the body,
and the life everlasting. Amen.
RECOGNITION OF OUR SAINTS
READER OF THE SAINTS-MARTY DARLING
RINGER OF THE CHIMES-CAROL CASNER
LIGHTING OF THE CANDLES-REVA BORDER
HYMN -FOR ALL THE SAINTS
BY LYNN GARBER PG #711
1. For all the saints, who from their labors rest, who thee by faith before the world confessed, thy name, O Jesus, be forever blest. Alleluia, Alleluia!
2. Thou wast their rock, their fortress, and their might; thou Lord, their captain in the well-fought fight; thou in the darkness drear, their one true light. Alleluia, Alleluia!
3. O may thy soldiers, faithful, true, and bold, fight as the saints who nobly fought of old, and win with them the victor's crown of gold. Alleluia, Alleluia!
[4]. O blest communion, fellowship divine! We feebly struggle, they in glory shine; yet all are one in thee, for all are thine.
5. And when the strife is fierce, the warfare long, steals on the ear the distant triumph song, and hearts are brave again, and arms are strong. Alleluia, Alleluia!
6. From earth's wide bounds, from ocean's farthest coast, through gates of pearl streams in the countless host, singing to Father, Son, and Holy Ghost: Alleluia, Alleluia!
PRAYER
THE LORD'S PRAYER
Our Father, which art in heaven, Hallowed be thy Name. Thy Kingdom come. Thy will be done in earth, As it is in heaven. Give us this day our daily bread. And forgive us our trespasses, As we forgive them that trespass against us. And lead us not into temptation, But deliver us from evil. For thine is the kingdom, The power, and the glory, For ever and ever. Amen.
HYMN
BY LYNN GARBER PG #110
A MIGHTY FORTRESS IS OUR GOD
1. A mighty fortress is our God, a bulwark never failing; our helper he amid the flood of mortal ills prevailing. For still our ancient foe doth seek to work us woe; his craft and power are great, and armed with cruel hate, on earth is not his equal.
2. Did we in our own strength confide, our striving would be losing, were not the right man on our side, the man of God's own choosing. Dost ask who that may be? Christ Jesus, it is he; Lord Sabaoth, his name, from age to age the same, and he must win the battle.
3. And though this world, with devils filled, should threaten to undo us, we will not fear, for God hath willed his truth to triumph through us. The Prince of Darkness grim, we tremble not for him; his rage we can endure, for lo, his doom is sure; one little word shall fell him.
4. That word above all earthly powers, no thanks to them, abideth; the Spirit and the gifts are ours, thru him who with us sideth. Let goods and kindred go, this mortal life also; the body they may kill; God's truth abideth still; his kingdom is forever.
THROWING OFF THE HINDRANCES BY PASTOR WES
THROWING OFF THE HINDRANCES BY PASTOR WES
TITHES & OFFERINGS
DOXOLOGY PG #95
Praise God from whom all blessings flow
Praise Him, all creatures here below
Praise Him above, ye heavenly host
Praise Father, Son, and Holy Ghost
AMEN
HYMN-HYMN OF PROMISE
BY LYNN GARBER PG #707
1. In the bulb there is a flower; in the seed, an apple tree; in cocoons, a hidden promise: butterflies will soon be free! In the cold and snow of winter there's a spring that waits to be, unrevealed until its season, something God alone can see.
2. There's a song in every silence, seeking word and melody; there's a dawn in every darkness, bringing hope to you and me. From the past will come the future; what it holds, a mystery, unrevealed until its season, something God alone can see.
3. In our end is our beginning; in our time, infinity; in our doubt there is believing; in our life, eternity. In our death, a resurrection; at the last, a victory, unrevealed until its season, something God alone can see.
Let us get to know you!
Please take a moment to send us your information so that we may stay connected with you. Your information is carefully managed and protected.
How did you hear about us?