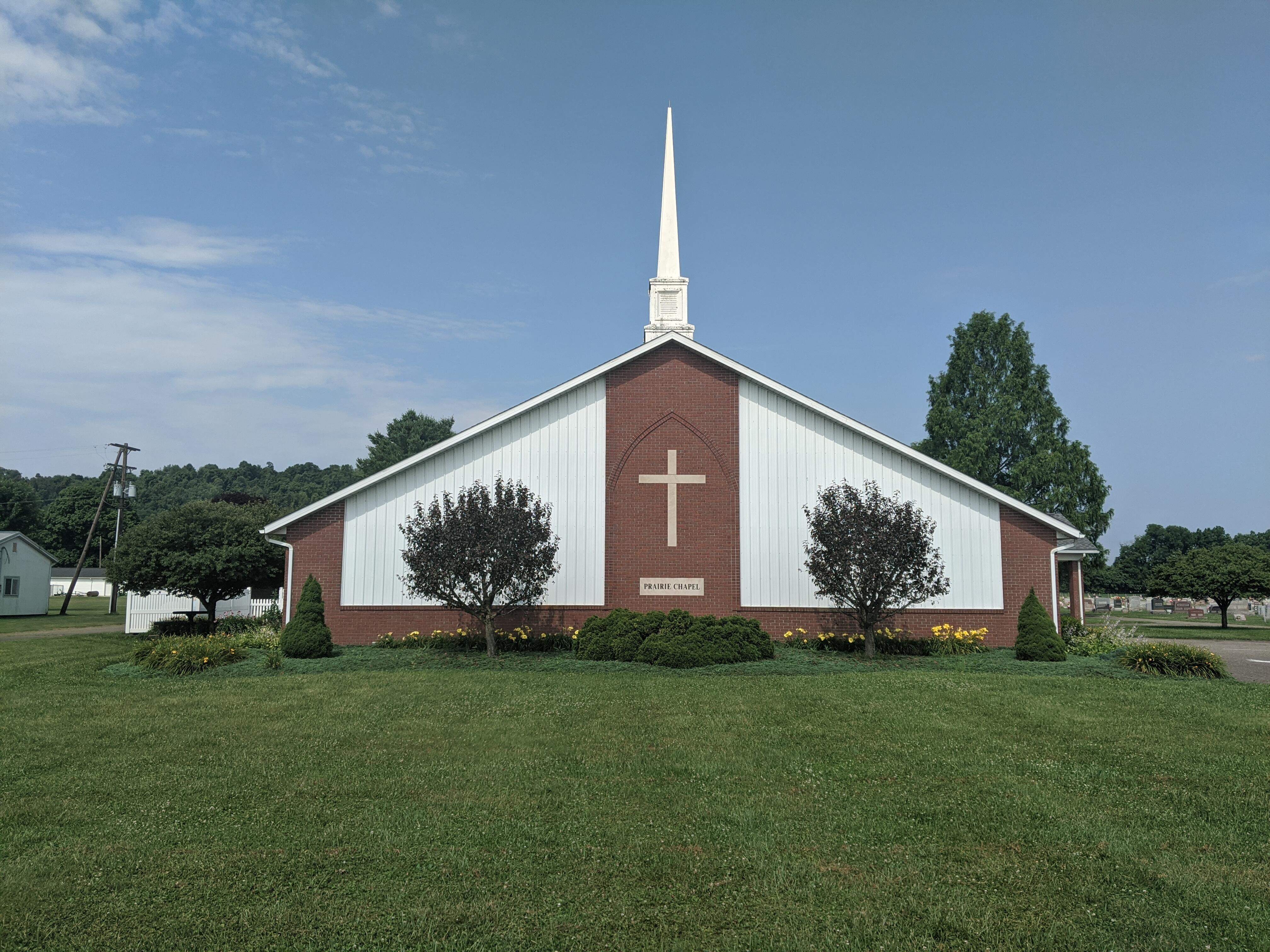 "WELCOME" Prairie Chapel UMC December 26, 2021 Sunday Worship 10:30 AM Sunday School 9:15 AM Pastor Wes George
"WALKING CLOSER WITH JESUS CHRIST" CHURCH OFFICE 740-622-3992 PASTOR CELL 740-381-3345 Web: www.pchapel.org
"WELCOME"
ANNOUNCEMENTS
BIRTHDAYS/ANNIVERSARIES
JOYS~CONCERNS~PRAYERS
BY MARTY DARLING
ALTAR FLOWERS
ARE IN CELEBRATION OF ERIC KOBEL'S BIRTHDAY
GIVEN BY MOE SIEGRIST.
APOSTLES CREED
I believe in God, the Father almighty,
creator of heaven and earth.
I believe in Jesus Christ, his only Son, our Lord,
who was conceived by the Holy Spirit
and born of the virgin Mary.
He suffered under Pontius Pilate,
was crucified, died, and was buried;
he descended to hell.
The third day he rose again from the dead.
He ascended to heaven
and is seated at the right hand of God the Father almighty.
From there he will come to judge the living and the dead.
I believe in the Holy Spirit,
the holy catholic* church,
the communion of saints,
the forgiveness of sins,
the resurrection of the body,
and the life everlasting. Amen.
MUSIC
PLAYED BY LYNN GARBER
PG 242 LOVE CAME DOWN AT CHRISTMAS
1. Love came down at Christmas, Love all lovely, Love divine; Love was born at Christmas; star and angels gave the sign.
2. Worship we the Godhead, Love incarnate, Love divine; worship we our Jesus, but wherewith for sacred sign?
3. Love shall be our token; love be yours and love be mine; love to God and [all men], love for plea and gift and sign.
PRAYER
THE LORDS PRAYER
Our Father, which art in heaven, Hallowed be thy Name. Thy Kingdom come. Thy will be done in earth, As it is in heaven. Give us this day our daily bread. And forgive us our trespasses, As we forgive them that trespass against us. And lead us not into temptation, But deliver us from evil. For thine is the kingdom, The power, and the glory, For ever and ever. Amen.
HYMN
PLAYED BY LYNN GARBER
PG 217 AWAY IN A MANGER
1. Away in a manger, no crib for a bed, the little Lord Jesus laid down his sweet head. The stars in the sky looked down where he lay, the little Lord Jesus, asleep on the hay.
2. The cattle are lowing, the baby awakes, but little Lord Jesus, no crying he makes; I love thee, Lord Jesus, look down from the sky and stay by my cradle till morning is nigh.
3. Be near me, Lord Jesus, I ask thee to stay close by me forever, and love me, I pray; bless all the dear children in thy tender care, and fit us for heaven to live with thee there.
Silent Night, Violent Night--PASTOR WES GEORGE
TITHES & OFFERINGS
DOXOLOGY-
Praise God from whom all blessings flow
Praise Him, all creatures here below
Praise Him above the Heavenly host
Praise Father, Son and Holy Ghost
Amen
HYMN
PLAYED BY LYNN GARBER
PG 245 THE FIRST NOEL
1. The first Noel the angel did say was to certain poor shepherds in fields as they lay; in fields where they lay keeping their sheep, on a cold winter's night that was so deep. Noel, Noel, Noel, Noel, born is the King of Israel.
2. They looked up and saw a star shining in the east, beyond them far; and to the earth it gave great light, and so it continued both day and night. Noel, Noel, Noel, Noel, born is the King of Israel.
3. And by the light of that same star three Wise Men came from country far; to seek for a king was their intent, and to follow the star wherever it went. Noel, Noel, Noel, Noel, born is the King of Israel.
4. This star drew nigh to the northwest, o'er Bethlehem it took its rest; and there it did both stop and stay, right over the place where Jesus lay. Noel, Noel, Noel, Noel, born is the King of Israel.
5. Then entered in those Wise Men three, full reverently upon the knee, and offered there, in his presence, their gold and myrrh and frankincense. Noel, Noel, Noel, Noel, born is the King of Israel.
Let us get to know you!
Please take a moment to send us your information so that we may stay connected with you. Your information is carefully managed and protected.
How did you hear about us?