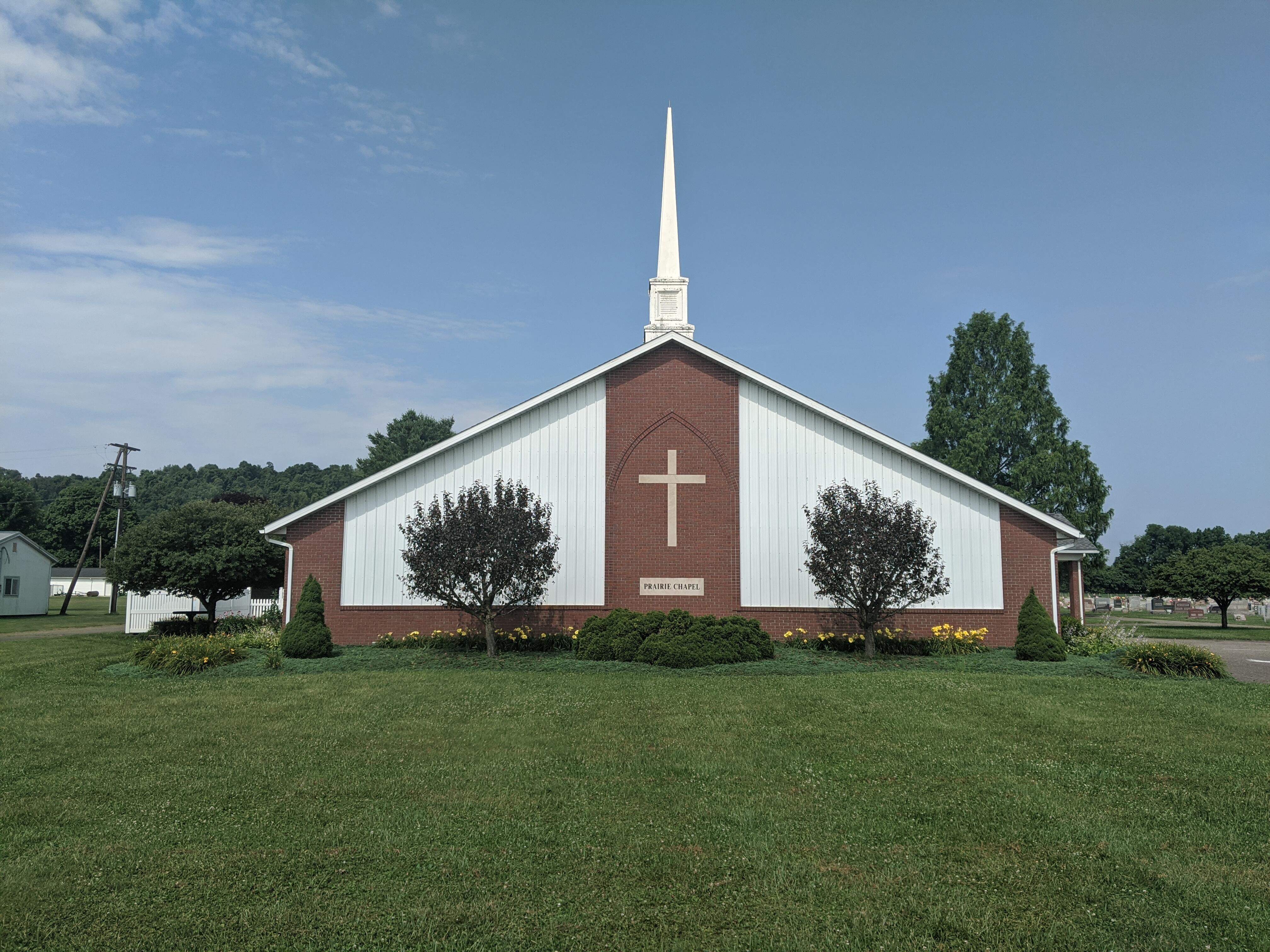 "WELCOME" Prairie Chapel UMC July 3, 2022 Worship Sunday 10:30 A.M. Sunday School 9:15 A.M.
OFFICE: 740-622-3992 WEB: www.pchapel.org
Altar flowers
are in celebration of Aynalee's 5th
birthday given by Dee Smith.
Prelude
played by Carol McCoy
APOSTLES' CREED
I believe in God, the Father almighty,
creator of heaven and earth.
I believe in Jesus Christ, his only Son, our Lord,
who was conceived by the Holy Spirit
and born of the virgin Mary.
He suffered under Pontius Pilate,
was crucified, died, and was buried;
he descended to hell.
The third day he rose again from the dead.
He ascended to heaven
and is seated at the right hand of God the Father almighty.
From there he will come to judge the living and the dead.
I believe in the Holy Spirit,
the holy catholic* church,
the communion of saints,
the forgiveness of sins,
the resurrection of the body,
and the life everlasting. Amen.
HYMN
AMERICA THE BEAUTIFUL #696
O beautiful for spacious skies,
For amber waves of grain;
For purple mountain majesties
Above the fruited plain!
America! America!
God shed His grace on thee,
And crown thy good with brotherhood,
From sea to shining sea.
O beautiful for heroes proved
In liberating strife,
Who more than self their country loved,
And mercy more than life!
America! America!
May God thy gold refine,
Till all success be nobleness,
And every gain divine.
O beautiful for patriot dream
That sees beyond the years
Thine alabaster cities gleam,
Undimmed by human tears!
America! America!
God mend thine every flaw,
Confirm thy soul in self control,
Thy liberty in law.
JOYS~CONCERNS~PRAYERS
PRAYERS
THE LORD'S PRAYER
Our Father, who art in heaven, hallowed be thy name; thy kingdom come; thy will be done on earth as it is in heaven. Give us this day our daily bread; and forgive us our trespasses as we forgive those who trespass against us; and lead us not into temptation, but deliver us from evil. Amen.
HYMN
JESUS, KEEP ME NEAR THE CROSS #301


1. Jesus, keep me near the cross;
there a precious fountain,
free to all, a healing stream,
flows from Calvary's mountain.
(Refrain:)
In the cross, in the cross,
be my glory ever,
till my raptured soul shall find
rest beyond the river.
2. Near the cross, a trembling soul,
love and mercy found me;
there the bright and morning star
sheds its beams around me.
(Refrain)
3. Near the cross! O Lamb of God,
bring its scenes before me;
help me walk from day to day
with its shadow o'er me.
(Refrain)
4. Near the cross I'll watch and wait,
hoping, trusting ever,
till I reach the golden strand
just beyond the river.
(Refrain)
MESSAGE: IT'S HARD TO BE HUMBLE: REV. DALE SUTTON
TITHES & OFFERINGS
DOXOLOGY
Praise God, from Whom all blessings flow;
Praise Him, all creatures here below;
Praise Him above, ye heav'nly host;
Praise Father, Son, and Holy Ghost.
HYMN
"BLEST BE THE TIE THAT BINDS" PAGE #557


1 Blest be the tie that binds
our hearts in Christian love;
the fellowship of kindred minds
is like to that above.


2 Before our Father's throne
we pour our ardent prayers;
our fears, our hopes, our aims are one,
our comforts and our cares.


3 We share our mutual woes,
our mutual burdens bear,
and often for each other flows
the sympathizing tear.


4 When we are called to part,
it gives us inward pain;
but we shall still be joined in heart,
and hope to meet again.
Let us get to know you!
Please take a moment to send us your information so that we may stay connected with you. Your information is carefully managed and protected.
How did you hear about us?