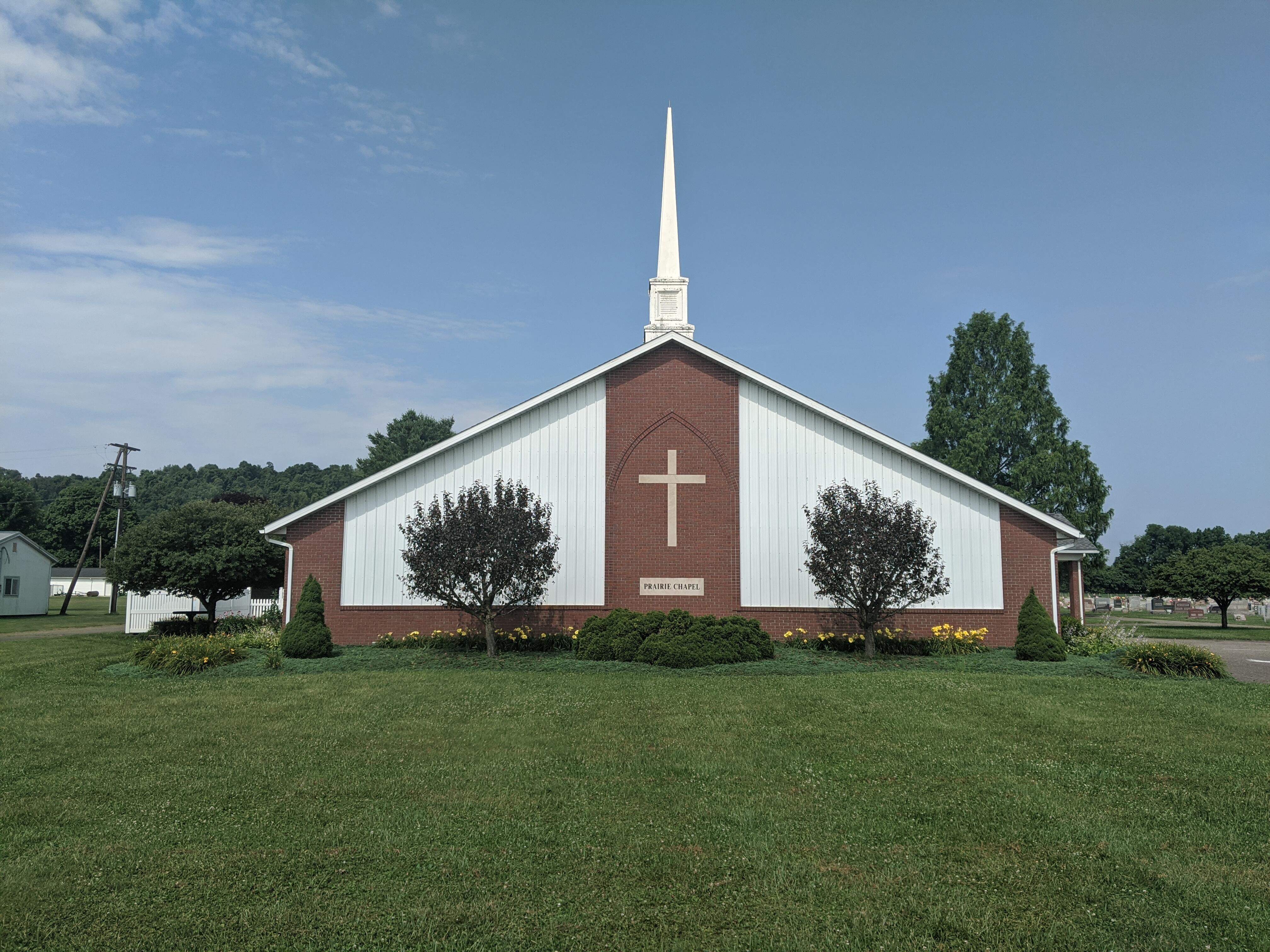 Prairie Chapel UMC November 27, 2022 First Sunday of Advent-HOPE Worship 10:30 AM Sunday School 9:15 AM PASTOR MATT WILSON
PASTOR MATT CELL 330-301-11021 45494 CR 23 COSHOCTON, OHIO 43812 WEB SITE: www.pchapel.org Email: pastor.matthew.umc@gmail.com
Prelude


Played by Lynn Garber
Lighting of Advent Candles-Glenn & Becky Hill
CALL TO WORSHIP
Leader: Holy One, healer of the world,
People: Shed your light upon this world.
Leader: Holy One, healer of brokenness,
People: Make us bold to share your light with others.
Leader: Holy One, healer of the world lead us to wholeness
People: And make us shine with your light of healing love.
APOSTLES CREED


I believe in God, the Father almighty,
creator of heaven and earth.
I believe in Jesus Christ, his only Son, our Lord,
who was conceived by the Holy Spirit
and born of the virgin Mary.
He suffered under Pontius Pilate,
was crucified, died, and was buried;
he descended to hell.
The third day he rose again from the dead.
He ascended to heaven
and is seated at the right hand of God the Father almighty.
From there he will come to judge the living and the dead.
I believe in the Holy Spirit,
the holy catholic* church,
the communion of saints,
the forgiveness of sins,
the resurrection of the body,
and the life everlasting. Amen.
HYMN


O COME, O COME, EMMANUEL PAGE #211


1 O come, O come, Immanuel,
and ransom captive Israel
that mourns in lonely exile here
until the Son of God appear.
Refrain:
Rejoice! Rejoice! Immanuel
shall come to you, O Israel.


2 O come, O Wisdom from on high,
who ordered all things mightily;
to us the path of knowledge show
and teach us in its ways to go. Refrain


3 O come, O come, great Lord of might,
who to your tribes on Sinai's height
in ancient times did give the law
in cloud and majesty and awe. Refrain


4 O come, O Branch of Jesse's stem,
unto your own and rescue them!
From depths of hell your people save,
and give them victory o'er the grave. Refrain
JOYS ~CONCERNS ~PRAYERS


THE LORD'S PRAYER
Our Father, which art in heaven, Hallowed be thy Name. Thy Kingdom come. Thy will be done in earth, As it is in heaven. Give us this day our daily bread. And forgive us our trespasses, As we forgive them that trespass against us. And lead us not into temptation, But deliver us from evil. For thine is the kingdom, The power, and the glory, For ever and ever. Amen.
HYMN


GREAT IS THY FAITHFULNESS PAGE 140


1 Great is thy faithfulness, O God my Father;
there is no shadow of turning with thee;
thou changest not, thy compassions, they fail not;
as thou hast been, thou forever wilt be.
Refrain:
Great is thy faithfulness! Great is thy faithfulness!
Morning by morning new mercies I see;
all I have needed thy hand hath provided;
great is thy faithfulness, Lord, unto me!


2 Summer and winter and springtime and harvest,
sun, moon, and stars in their courses above
join with all nature in manifold witness
to thy great faithfulness, mercy, and love. Refrain


3 Pardon for sin and a peace that endureth,
thine own dear presence to cheer and to guide;
strength for today and bright hope for tomorrow,
blessings all mine, with ten thousand beside! Refrain
"A JOURNEY OF HOPE"----- PASTOR MATT WILSON
Tithes & Offerings


Doxology
Praise God from whom all blessings flow
Praise Him, all creatures here below
Praise Him above, ye heavenly host
Praise Father, Son, and Holy Ghost AMEN
HYMN
"COME, THOU LONG EXPECTED JESUS" PAGE # 1961.
Come, thou long expected Jesus,
born to set thy people free;
from our fears and sins release us,
let us find our rest in thee.
Israel's strength and consolation,
hope of all the earth thou art;
dear desire of every nation,
joy of every longing heart.


2. Born thy people to deliver,
born a child and yet a King,
born to reign in us forever,
now thy gracious kingdom bring.
By thine own eternal spirit
rule in all our hearts alone;
by thine all sufficient merit,
raise us to thy glorious throne.
POSTLUDE
PLAYED BY LYNN GARBER
Let us get to know you!
Please take a moment to send us your information so that we may stay connected with you. Your information is carefully managed and protected.
How did you hear about us?