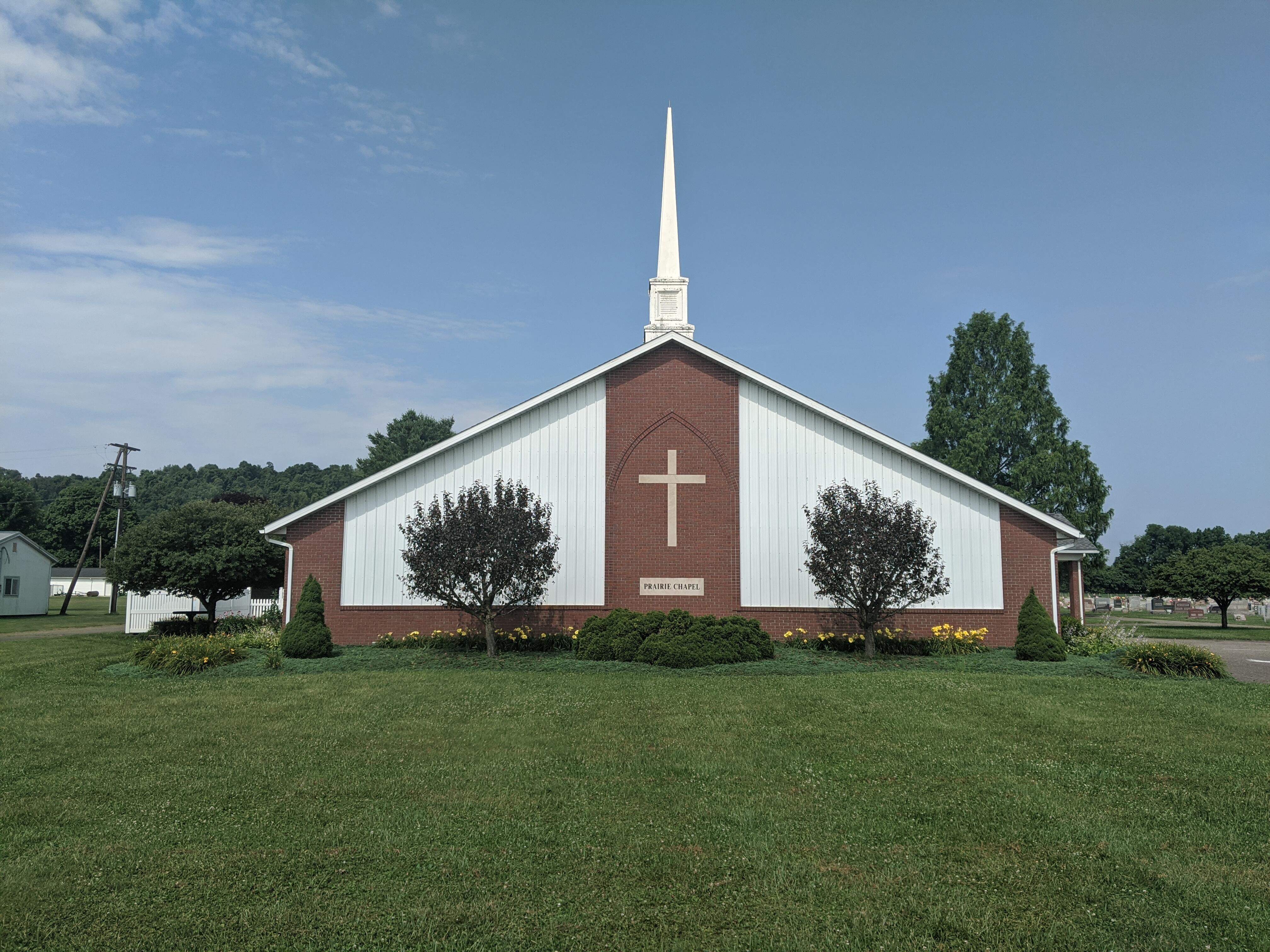 Prairie Chapel UMC December 4, 2022 Worship Service 10:30 A.M. Sunday School 9:15 A.M. Pastor Matt Wilson
45494 Co. Rd. CR 23 Coshocton, Ohio 43812 Church phone 740-622-3992 Cell: 330-301-1021 Email: pastor.matthew.umc@gmail.com WEB site: www.pchapel.org
"WELCOME"
ANNOUNCEMENTS
ANNIVERSARIES & BIRTHDAYS
GIVEN BY MARTY DARLING
2ND SUNDAY OF ADVENT-LOVE
LIGHTING THE CANDLES
LIGHTING OF THE ADVENT CANDLE STEVE MURRAY & JOE SHAW
ADVENT SONG VERSE 1 & 2
CALL TO WORSHIP
Leader: Lord Jesus Christ, we await your coming,
People: We wait filled with hope,
Leader: Knowing your light will shine in the darkness.
People: We wait anticipating your peace,
Leader: Believing that one day it will fill our world.
People: We wait embracing your love, may we reach out to share it with our neighbors.
Leader: We wait with joy, bubbling us in expectation of your birth.
People: Lord we wait,
All: Come soon and fill us with your life.
APOSTLES CREED
I believe in God, the Father almighty,
creator of heaven and earth.
I believe in Jesus Christ, his only Son, our Lord,
who was conceived by the Holy Spirit
and born of the virgin Mary.
He suffered under Pontius Pilate,
was crucified, died, and was buried;
he descended to hell.
The third day he rose again from the dead.
He ascended to heaven
and is seated at the right hand of God the Father almighty.
From there he will come to judge the living and the dead.
I believe in the Holy Spirit,
the holy catholic* church,
the communion of saints,
the forgiveness of sins,
the resurrection of the body,
and the life everlasting. Amen.
HYMN
PLAYED BY CAROL MCCOY
"O LITTLE TOWN OF BETHLEHEM" PG #230


1. O little town of Bethlehem,
how still we see thee lie;
above thy deep and dreamless sleep
the silent stars go by.
Yet in thy dark streets shineth
the everlasting light;
the hopes and fears of all the years
are met in thee tonight.


2. For Christ is born of Mary,
and gathered all above,
while mortals sleep, the angels keep
their watch of wondering love.
O morning stars together,
proclaim the holy birth,
and praises sing to God the King,
and peace to all on earth!


3. How silently, how silently,
the wondrous gift is given;
so God imparts to human hearts
the blessings of his heaven.
No ear may hear his coming,
but in this world of sin,
where meek souls will receive him, still
the dear Christ enters in.


4. O holy Child of Bethlehem,
descend to us, we pray;
cast out our sin, and enter in,
be born in us today.
We hear the Christmas angels
the great glad tidings tell;
O come to us, abide with us,
our Lord Emmanuel!
JOYS~CONCERNS~PRAYERS
THE LORDS PRAYER
Our Father, which art in heaven, Hallowed be thy Name. Thy Kingdom come. Thy will be done in earth, As it is in heaven. Give us this day our daily bread. And forgive us our trespasses, As we forgive them that trespass against us. And lead us not into temptation, But deliver us from evil. For thine is the kingdom, The power, and the glory, For ever and ever. Amen.
HYMN
PLAYED BY CAROL MCCOY
"O COME, ALL YE FAITHFUL" #234


1. O come all ye faithful, joyful and triumphant,
O come ye, O come ye, to Bethlehem.
Come and behold him, born the King of angels;
Refrain:
O come let us adore him, O come let us adore him,
O come let us adore him, Christ the Lord.


2. True God of true God, Light from Light Eternal,
lo, he shuns not the Virgin's womb;
Son of the Father, begotten not created;
(Refrain)


3. Sing, choirs of angels, sing in exultation;
O sing, all ye citizens of heaven above!
Glory to God, all glory in the highest;
(Refrain)


4. See how the shepherds, summoned to his cradle,
leaving their flocks, draw nigh to gaze;
we too will thither bend our joyful footsteps;
(Refrain)
"A JOURNEY OF LOVE"--PASTOR MATT WILSON
TITHES & OFFERINGS
DOXOLOGY
Praise God from whom all blessings flow
Praise Him, all creatures here below
Praise Him above, ye heavenly host
Praise Father, Son, and Holy Ghost AMEN


HYMN
PLAYED BY CAROL MCCOY
"ANGELS WE HAVE HEARD ON HIGH" PG #238


1 Angels we have heard on high
sweetly singing o'er the plains,
and the mountains in reply
echoing their joyous strains.
Refrain:
Gloria, in excelsis Deo!
Gloria, in excelsis Deo!


2 Shepherds, why this jubilee?
Why your joyous strains prolong?
What the gladsome tidings be
which inspire your heavenly song? (Refrain)


3 Come to Bethlehem and see
Christ whose birth the angels sing;
come, adore on bended knee,
Christ the Lord, the newborn King. (Refrain)


4 See him in a manger laid,
whom the choirs of angels praise;
Mary, Joseph, lend your aid,
while our hearts in love we raise. (Refrain)
POSTLUDE
PLAYED BY CAROL MCCOY
Let us get to know you!
Please take a moment to send us your information so that we may stay connected with you. Your information is carefully managed and protected.
How did you hear about us?