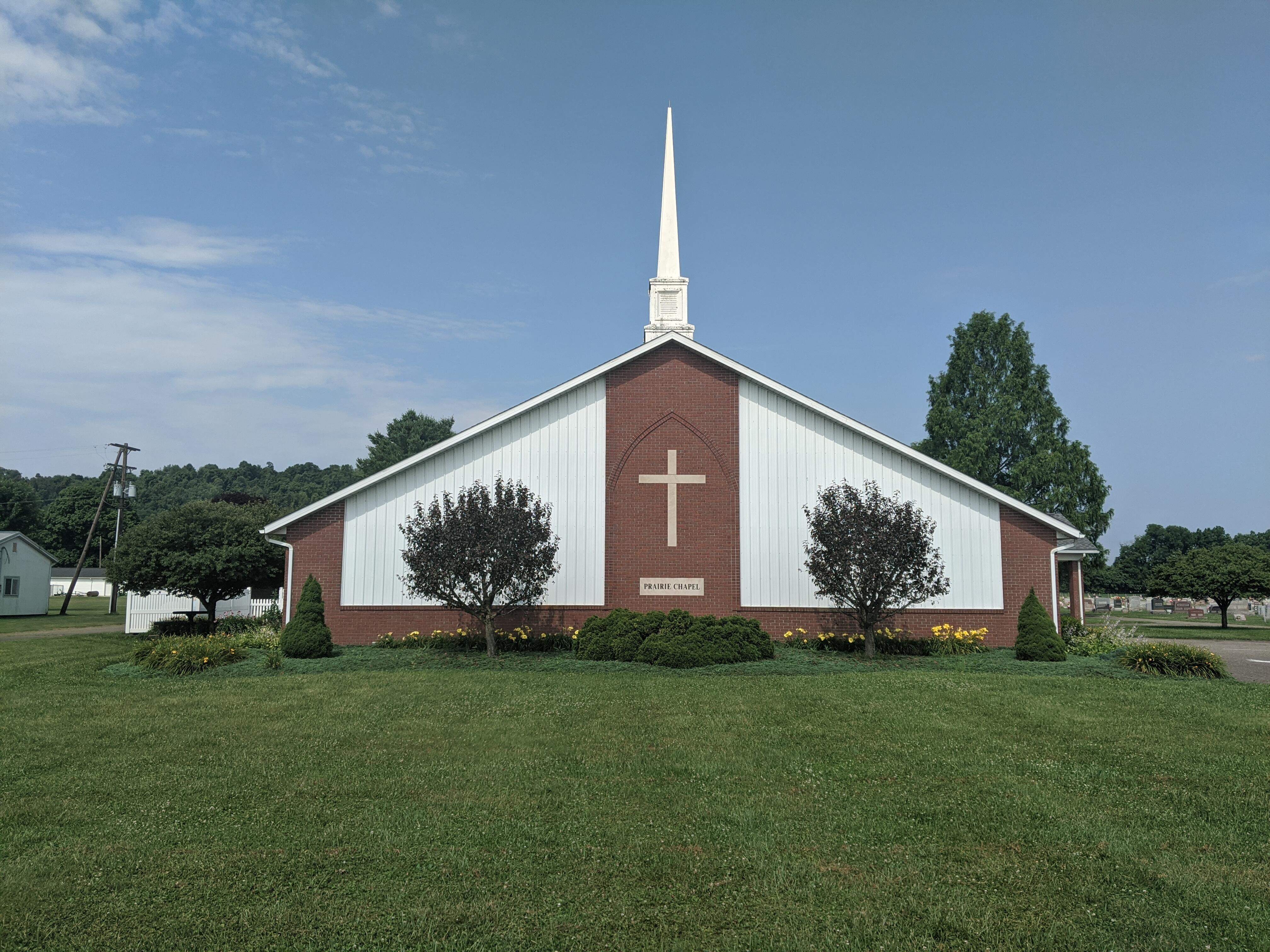 Prairie Chapel UMC January 15, 2023 Worship 10:30 AM Sunday School 9:15 AM Pastor Matt Wilson
45484 CR 23 Coshocton, Ohio 43812 Church phone 740-622-3992 Pastor cell: 330-301-1021 Email pastor.matthew.umc@gmail.com Web site: www.pchapel.org
"WELCOME"
ANNOUNCEMENTS BY MARTY DARLING
ANNIVERSARIES/BIRTHDAYS
PRELUDE
PLAYED BY LYNN GARBER
CALL TO WORSHIP
Leader: Rejoice, everyone, Jesus is in our midst.
People: Feed us, Jesus, and fill us with hope.
Leader: Be glad, friends, Jesus has bread and fish to spare.
People: Free us, Jesus, from the pursuit of food that does not satisfy.
Leader: Sing for joy, people of God;
People: God gathers up the pieces of our lives, that nothing may be lost.
All: Thanks be to God!
APOSTLES CREED
I believe in God, the Father almighty,
creator of heaven and earth.
I believe in Jesus Christ, his only Son, our Lord,
who was conceived by the Holy Spirit
and born of the virgin Mary.
He suffered under Pontius Pilate,
was crucified, died, and was buried;
he descended to hell.
The third day he rose again from the dead.
He ascended to heaven
and is seated at the right hand of God the Father almighty.
From there he will come to judge the living and the dead.
I believe in the Holy Spirit,
the holy catholic* church,
the communion of saints,
the forgiveness of sins,
the resurrection of the body,
and the life everlasting. Amen.
HYMN
PLAYED BY LYNN GARBER
"SANCTUARY" X 3


LORD, PREPARE ME TO BE A SANCTUARY,
PURE AND HOLY, TRIED AND TRUE
WITH THANKSGIVING, I'LL BE A LIVING SANCTUARY FOR YOU.
JOYS~CONCERNS~PRAYERS
THE LORD'S PRAYER
Our Father, which art in heaven, Hallowed be thy Name. Thy Kingdom come. Thy will be done in earth, As it is in heaven. Give us this day our daily bread. And forgive us our trespasses, As we forgive them that trespass against us. And lead us not into temptation, But deliver us from evil. For thine is the kingdom, The power, and the glory, For ever and ever. Amen.
HYMN
PLAYED BY LYNN GARBER
"TAKE MY LIFE, AND LET IT BE" #399
1. Take my life, and let it be
consecrated, Lord, to thee.
Take my moments and my days;
let them flow in ceaseless praise.
Take my hands, and let them move
at the impulse of thy love.
Take my feet, and let them be
swift and beautiful for thee.


2. Take my voice, and let me sing
always, only, for my King.
Take my lips, and let them be
filled with messages from thee.
Take my silver and my gold;
not a mite would I withhold.
Take my intellect, and use
every power as thou shalt choose.


3. Take my will, and make it thine;
it shall be no longer mine.
Take my heart, it is thine own;
it shall be thy royal throne.
Take my love, my Lord, I pour
at thy feet its treasure-store.
Take myself, and I will be
ever, only, all for thee.
"Real People Making A Real Difference"-Pastor Matt
Tithes & Offerings
Doxology
Praise God from whom all blessings flow
Praise Him, all creatures here below
Praise Him above, ye heavenly host
Praise Father, Son, and Holy Ghost
Amen
HYMN
PLAYED BY LYNN GARBER
"JUST AS I AM, WITHOUT ONE PLEA" #357
1. Just as I am, without one plea,
but that thy blood was shed for me,
and that thou bidst me come to thee,
O Lamb of God, I come, I come.


2. Just as I am, and waiting not
to rid my soul of one dark blot,
to thee whose blood can cleanse each spot,
O Lamb of God, I come, I come.


3. Just as I am, though tossed about
with many a conflict, many a doubt,
fightings and fears within, without,
O Lamb of God, I come, I come.


4. Just as I am, poor, wretched, blind;
sight, riches, healing of the mind,
yea, all I need in thee to find,
O Lamb of God, I come, I come.


5. Just as I am, thou wilt receive,
wilt welcome, pardon, cleanse, relieve;
because thy promise I believe,
O Lamb of God, I come, I come.


6. Just as I am, thy love unknown
hath broken every barrier down;
now, to be thine, yea thine alone,
O Lamb of God, I come, I come.
POSTLUDE
PLAYED BY LYNN GARBER