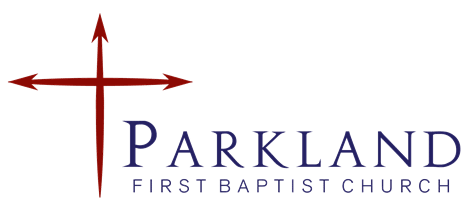 God Bless Our Veterans!
Vol. 2 Issue 46 November 18, 2021
A Note From Pastor Alan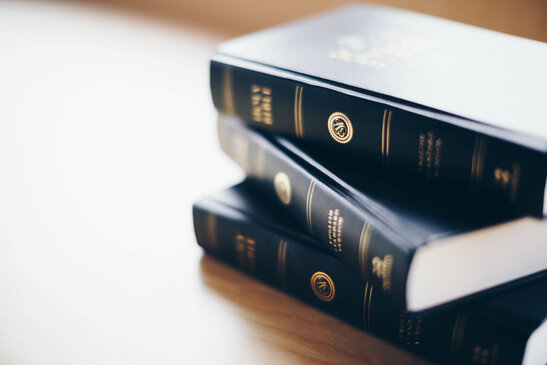 How are you liking the daily readings? If you follow our reading suggestions below, you'll read through the bible in chronological order. We have read 62% of the bible thus far. It's not too late to start. We'll soon be in the New Testament and will finish on May 27, 2022.
Let me throw out another challenge for you. Read the one chapter of the gospel of Luke each starting December 1. You will finish the book on Christmas Eve. It should give you a greater appreciation for the birth of our Savior.
For those of you who are following our plan, what have you learned? I've been intrigued at how hard hearts become as people turn their backs on God. In Jeremiah, we see him speaking on the Lord's behalf numerous times pointing out Israel's sin and the judgment to follow. And yet, they didn't listen to him or the other prophets speaking for the Lord.
Do you do that? Ignore what the Bible tells you, don't listen to the Holy Spirit, or forget what you've learned in church? I pray that as a member of our church and a follower of Jesus you don't follow the example of Israel and refuse to listen to God.
What about our church? Can a church refuse to follow God's mandate of making disciples? If we do, could we be judged and sent into exile? Does God discipline a church when they fail to follow his guidance? I am coming to believe a church can end up in exile with God's hand of blessing off of it until it repeats and returns to Him.
Are we there? Stay tuned for more insights on this subject. The plan is to take a reality check in January and find out. Pray for the church in the meantime.
Glory To God Alone!
Weekly Small Group Class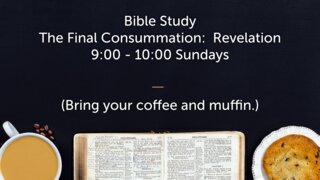 Revelation: The Final Consummation
Each Sunday at 9:00 AM. This class takes and in-depth look at the book of Revelation and the end times. Join us next Sunday! We'll also be on Facebook live on our church's group page, the one with the ladies at the top.
Fill A Backpack For A Seaman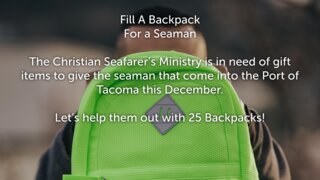 Here's the list:
1. Knitted hat
2. Pair of socks
3. Tooth paste
4. Tooth brush
5. Chap stick
6. Skin Lotion
7. Shampoo
8. Facemask
9. Soap
10. Nail clipper
11. Deodorant
All new items and no food please. You may include Christmas cards.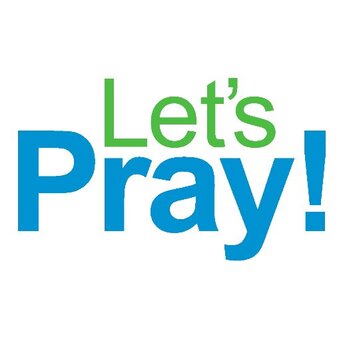 Send your prayer requests to pastor@parklandfirst.com.
Weekly Church Prayer Request.
Missionary Moments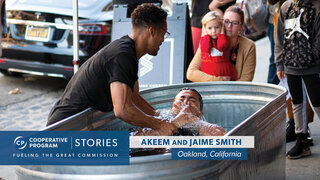 Oakland, California has become an increasingly diverse city that does not have a deep connection to Christ. In 2018, Akeem and Jaime Smith moved to the city and began reaching out to the community. When the Smiths started a new church, their first baptism was a person who had been a professing atheist.
They continue to proclaim and share the Gospel in their community, as well as serve residents who are facing challenges in the city. When public schools had to shut down due to COVID-19, their church was able to step in and help provide meals for immigrants who were struggling to have enough food.
THE COOPERATIVE PROGRAM is the financial fuel for reaching every person for Jesus Christ in every town, every city, every state, and every nation. Your support through the Cooperative Program helps fund missionaries like the Smiths who are reaching their communities with both physical and spiritual needs.
PRAY for Akeem and Jaime to have wisdom as they navigate ministry in their urban context and faithfully share the Gospel while ministering to their neighbors.
Daily Scripture Readings for the Week of Nov 22nd to Nov 26th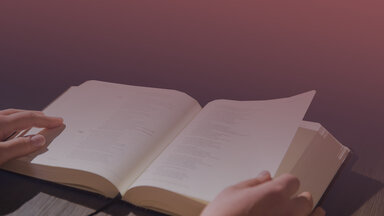 Monday: Habakkuk 1-3
Tuesday: Jeremiah 41-45
Wednesday: Jeremiah 46-48
Thursday: Jeremiah 49-50
Friday: Jeremiah 51-52
October Birthday's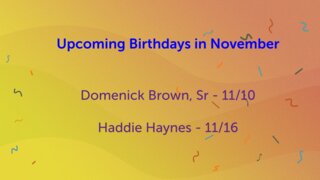 November's Memory Verse: 1 John 5:13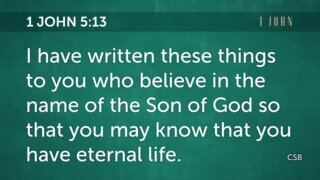 The Come As You Are Church!
Our address is: 1016 112th St S, Tacoma, WA 98444, USA