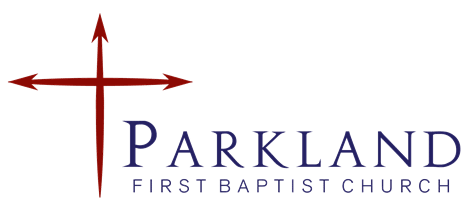 Your Weekly Newsletter
Vol. 3 Issue 10 March 10, 2022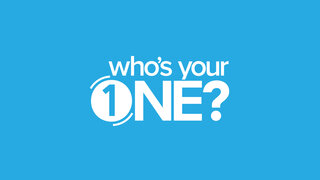 A Note from Pastor Alan
Easter is five weeks away! Can you believe it? Time flies as you are having fun, right? We are already planning our Easter service. This year we will have a joint service with the Good Shepherd Church, our Korean brethren. It looks to be a great day to celebrate the resurrection of our Lord and Savior, Jesus Christ.
Who's your one? Imagine if every believer in our church could answer that question with the name of a person who is far from God—a person for whom they're praying and with whom seeking to share the gospel. That's the intention behind Who's Your One. I believe you don't merely need another method for evangelism—what we need is a white-hot passion to see people who are far from God experience the new life He offers through Jesus Christ.
Easter is always a great time to invite your family, friends, or neighbors, in other words, your one. Drop me a note with the name of your one and I'll be happy to pray along with you for them. Together we can see our church double or triple in attendance if each of us finds a "one". I know mine; do you know yours?
For His Glory!
New Class For Sunday Mornings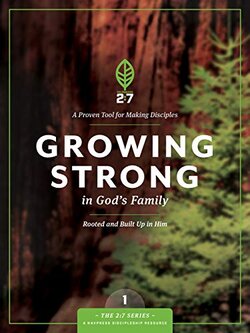 The class will help you strengthen your walk with God.
Register here so we can be sure you have a book.
Weekly Church Prayer Requests.
Missionary Moments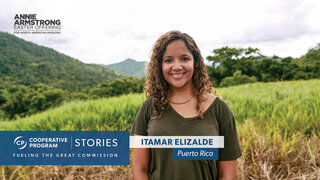 Itamar Elizalde says Puerto Rico is an island that just can't catch a break. In the past seven years, it's faced an economic crisis, two major hurricanes, a political scandal, six weeks of non-stop earthquakes, and the COVID-19 pandemic. But God is using those great needs to open doors for the Gospel.
In her work as NAMB's Send Relief ministry coordinator, Itamar mobilizes local churches and leads volunteer teams to repair homes and help people in crisis. She says, "The Lord has used tragedy to awaken the hearts of many on the island." And so as she mobilizes these teams, she is able to connect and minister to local people in need of real, lasting hope.
THE COOPERATIVE PROGRAM is the financial fuel for reaching every person for Jesus Christ in every town, every city, every state, and every nation. Your support through the Cooperative Program and the Annie Armstrong Easter Offering allows missionaries to not only impact the communities they serve, but also empower others to come alongside them in their mission.
PRAY for Itamar's teams to share boldly as they meet physical needs, that hearts will be open to the Gospel, and for more missionaries to join the work.
For more about this story, visit: https://www.anniearmstrong.com/resource/itamar-elizalde-new-hope-in-the-wake-of-storms
March Memory Verse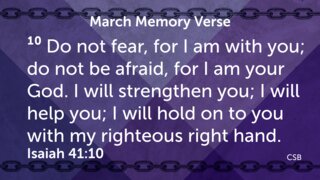 Daily Scripture Readings for the Week of March 7th to March 11th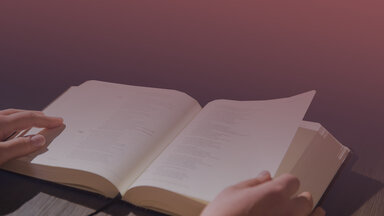 Monday: Matthew 25
Tuesday: Matthew 26, Mark 14
Wednesday: Luke 22, John 13
Thursday: John 14-17
Friday: Matthew 27, Mark 15
March Birthday's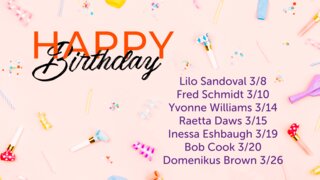 The Come As You Are Church!
Our address is: 1016 112th St S, Tacoma, WA 98444, USA