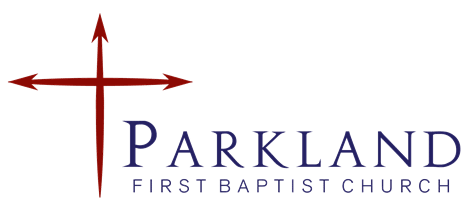 Your Weekly Newsletter
Vol. 3 Issue 32 August 11, 2022
A Note From Pastor Alan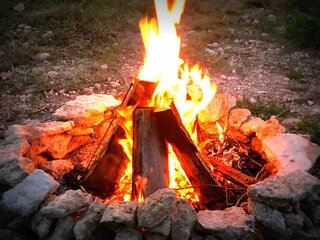 Paul's second letter to Timothy has been and is a very encouraging letter for me. I would say that it is my favorite book of the Bible. Paul loved Timothy; in fact, he calls him "my dearly loved son." He knew Timothy's mother and grandmother and their faith in Jesus. He saw that Timothy had a great foundation for his faith.
With that background, you would wonder why Paul encourages him to "keep ablaze the gift of God." What caused that flame to dwindle? As you read further, it seems Timothy may have doubts due to Paul's imprisonment and coming death. Paul reminds him that his salvation and his work for the church are both gifts from God. Timothy needed to hear that word of encouragement.
Are you ever discouraged in your walk with Christ? I sure am and I think that's why I like this little book. If I need to be lifted up out of a ditch of self-pity, I can always trust God to bring a word to uplift me. He may bring a person into my path, or His Spirit may encourage me. Paul says in 2 Timothy 1: 7, "For God has not given us a spirit of fear, but one of power, love, and sound judgment."
Don't let our enemy get you down or doubting, just remember God's Spirit gives us all the power, love, and wisdom we need.
Onward and Upward!
Attention All Men - Don't Miss Out!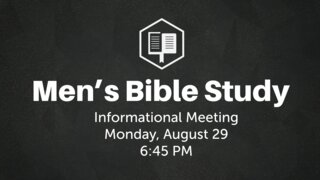 Weekly Church Prayer Requests.
Missionary Moments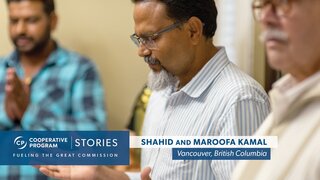 Shahid and Maroofa Kamal are church planting missionaries among the 300,000 South Asian people of Greater Vancouver, British Columbia. They have started South Asian Community Church in Surrey, which has been called, "the West Coast hub of all things South Asian."
Many of the people they are trying to reach are adjusting to the Canadian culture and are learning new languages at the same time. It isn't easy. But Shahid and Maroofa understand this experience well because they moved to Canada with their four children from Pakistan several years ago. Now they're trying to make their church a place where South Asians can find love and support as they go through this process.
THE COOPERATIVE PROGRAM is the financial fuel for reaching every person for Jesus Christ in every town, every city, every state, and every nation. Your support through the Cooperative Program gives missionaries the opportunity to form genuine, Gospel-centered relationships with those to whom they serve.
PRAY for the Kamals as they minister to the South Asian community of Vancouver and that God would continue to draw people to Himself through
their church.
August Memory Verse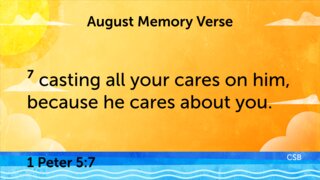 Daily Scripture Readings for the Week of August 15th to August 19th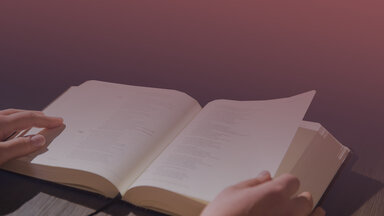 Monday: 2 Samuel 7-13
Tuesday: 2 Samuel 14-18
Wednesday: 2 Samuel 19-24
Thursday: 1 Kings 1-2
Friday: 1 Kings 3-7
August Birthdays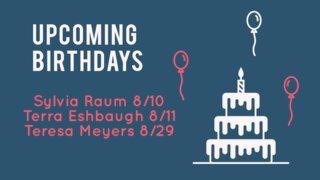 If you would like your birthday to be included please let Pastor Alan or Teresa know and we will add you!!
The Come As You Are Church!
Our address is: 1016 112th St S, Tacoma, WA 98444, USA