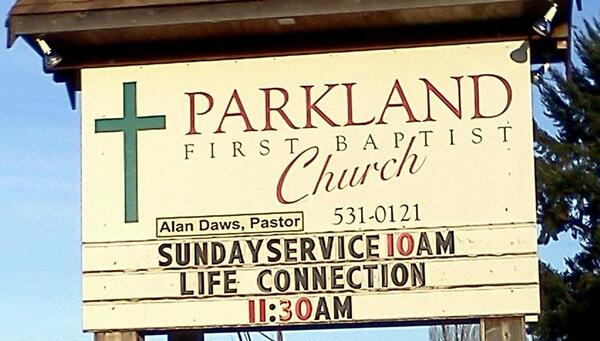 PFBC Notes
Vol. 1 Issue 4 May 5, 2020
How Are You?
Well, it looks like we've got the rest of May before we can return to worshiping together in one place. There's a lot to be done to our building before that, so email the pastor at pastor@parklandfirst.com to volunteer to help. We'll be sanitizing everything, mopping, dusting, cleaning restrooms, and the like. So, your help would be greatly appreciated.
Psalm 52, part of our reading on Monday, was written by David as he was fleeing from Saul and hiding in a cave. He had his own "Stay at Home" orders just like us. He concludes the Psalm this way,
"But I am like a flourishing olive tree
in the house of God;
I trust in God's faithful love forever and ever.
I will praise you forever for what you have done.
In the presence of your faithful people,
I will put my hope in your name, for it is good."
Now that is some encouragement! God has been and will be with us everyday, especially as we are "quarantined". Don't get down, it's easy, but God is there. Try not to get impatient, because God will give you patience. Avoid anxiety, because God can give you the peace that's beyond comprehension. As David said, "Put you hope in the Lord, for it is good!"
Return to Church Survey
As we plan for our return to worshiping together, we could use your help. Please Click Here to fill out survey. The survey will assist us in getting everything ready for worship gatherings again.
Thank You!
Daily Scripture Reading
Monday - 1 Samuel 23-24, 1 Chronicles 6, Psalm 53, Acts 16
Tuesday - 1 Samuel 25, 1 Chronicles 7, Acts 17
Wednesday - 1 Samuel 26-27, 1 Chronicles 8, Acts 18
Thursday - 1 Samuel 28-29, 1 Chronicles 8, Acts 19
Friday - 1 Samuel 30-31, 1 Chronicles 9, Acts 20
May's Memory Verse
Romans 5:8
"But God proves his own love for us in that while we were still sinners, Christ died for us."
The Come As You Are Church!
Our address is: 1016 112th St S, Tacoma, WA 98444, USA