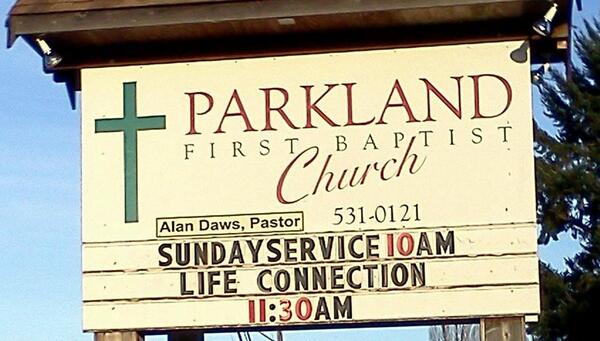 PFBC Notes
Vol. 1 Issue 7 May 28, 2020
When Are We Reopening? Part 2
We finally got the guidelines for reopening during Phase 2 from the state. There were quite a few specific rules we need to follow. I don't look at these as infringing on our right to worship, but as a way to protect us all from this virus. Below you will find a summary of the guidelines. We are in the process of putting these into a policy format to be posted on the bulletin board in the foyer and available for you read or get a copy.
In Phase 2 whenever it begins for Pierce county, we plan:
Online services will continue for those not ready to return or at risk individuals
Since the capacity of our building is 300, 25% of that is 75, so we can all start meeting together in this phase.
Chairs will spaced six feet apart and will configured to accommodate families, couples or singles
There will be not handshakes, hugs, or other physical touches
Everyone should wear a cloth mask.
No children's church
Precautions we'll take:
No Bulletins
Doors propped open
Sanitizer stations will be added by doors
Hospitality food and drinks will be temporarily suspended
BYOC Initiated – Bring Your Own Coffee
Disinfect surfaces before, between, and after services
For communion observance, prepackaged elements will be used
Congregational singing with masks on
Those who are vulnerable or sick are encouraged to stay home
Phase 4
Online gatherings will continue and "normal" services in our building
THROW A HUGE, BUT SAFE, RE-GATHERING PARTY!!
Resume Children's Church with added sanitizing precautions
Outreach events to community as allowed
These plans may change, so they are not set in stone. If you have any questions, please call Pastor Alan or email him at pastor@parklandfirst.com.
Have you checked it out?
If you have not checked out our new website please do at www.parklandfirst.com. Explore and notice all the good stuff on it.
In the Online Giving tab you'll find a new way to give. We are using a new secured service, so your first time there you will need to set up an account. Just follow the easy instructions.
You can also text to give by texting "Give" "Amount" to 501-294-6902. After your first text to give you'll receive a response. Follow the link to set up your account. After that you won't have to do it again.
If you have problems let us know by call Pastor Alan at 253-229-3411 or emailing him at pastor@parklandfirst.com.
Accept the Invitation to Faithlife
You should have received an email inviting you to join Faithlife and specifically the Parkland First Baptist Church group. If you have not responded, please do and explore the site. If you didn't receive the invite, let us know. If you need help getting it all figured out, just call or email Pastor Alan.
Faithlife is a web-based subscription and software company for churches. We use their software to present the slides each Sunday morning. They also are the developers of the Logos Bible Software, which in my opinion is the best. They've recently released a service for churches called Faithlife Equip. Equip will allow us to communicate easily with each other and provide you with many resources for Bible study.
With our subscription you receive access to 300+ Bible study resources through Logos, easy online and text giving, our own community group site you were invited to (a lot like Facebook, but private just for our church), group chats with video conferencing like Zoom, Seminary level video courses, and much more.
Go to https://support.faithlife.com/hc/en-us/articles/360035901331-Welcome-to-Your-Church-Group for easy to follow instructions and videos to show all you can do.
Daily Scripture Reading For June 1-5
Monday: 1 Kings 3; 2 Chronicles 1; Psalm 42; Romans 8
Tuesday: 1 Kings 4;Proverbs 1-2; Psalm 43; Romans 9
Wednesday: Proverbs 3-5, Romans 10
Thursday: Proverbs 6-7; Romans 11
Friday: Proverbs 8-10; Romans 12
June's Memory Verse
1 Peter 3:18
"For Christ also suffered for sins once for all, the righteous for the unrighteous, that he might bring you to God. He was put to death in the flesh, but made alive by the Spirit."
The Come As You Are Church!
Our address is: 1016 112th St S, Tacoma, WA 98444, USA