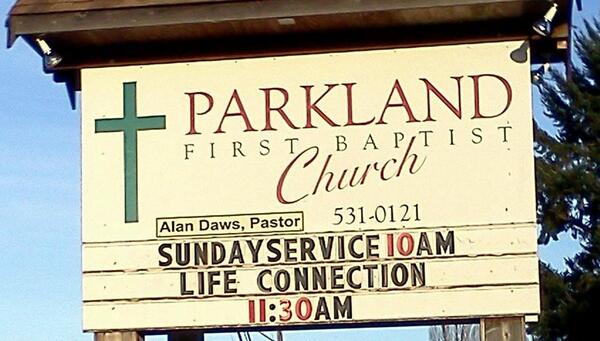 PFBC Notes
Vol. 1 Issue 7 June 4, 2020
Personal Note by Pastor Alan
This past week has been a rough one. The protest, which in my opinion are appropriate and needed, took place. For many years systemic racism has been built into our society. Growing up in the 1960s and 1970s in a southern state, racism was just part of life. As an adult, I now realize how wrong that was and still is. We do not need to continue living with the status quo, changes are needed.
What needs to be changed and how? I'm sure I have an answer that can bring about justice for all races in our nation. But, I do know one thing. It can begin with me. This week, I have been confronted with my on ideas, feelings, and prejudices. Though I've come a long way in my life since I was a kid and have overcome my prejudices, I never asked God for forgiveness. As a result, I've confessed my sins to God and asked Him for forgiveness. I've asked Him to give me His heart for all people.
Now, what else can I or we do? First of all, we as a church need to pray for God's wisdom. We need to be open and loving to all people and lead in bringing change to the injustices in our world. In Isaiah 5:7 it says, "He expected justice but saw injustice; he expected righteousness, but heard cries of despair." This was written to Judah, but it is true for us today. God help us! Let the change begin with me, you, and our church.
Coming Soon To A Church Building Near You!
This week Pierce County applied to the state to get approval to move to Phase 2. If that happens then we can begin meeting together again. There will be certain rules that we will follow in order to protect everyone and stay healthy. Here's a copy of the policy that we will follow during Phase 2.
The policy for meeting for worship and small groups include the following:
· Appropriate CDC and DOH safety posters are posted on the bulletin board.
· Access will be primarily through our front door.
· Everyone shall wear face covering while in our service.
· There may be no direct physical contact between each other.
· Lord's Supper will be observed with prepackaged elements.
· Singing is permitted, but each person must remain masked.
· Only one (1) person allowed in a restroom (unless helping a child) at a time. After using the restrooms, the person shall use the disinfectant wipes to sanitize every fixture they touched.
· Hand washing in encouraged or the use of hand sanitizer provided.
· Disinfectants are available in the restrooms, foyer, and kitchen.
· All high-touch surfaces shall be sanitized after each service.
· Six feet physical distancing between attenders/families in the worship center and other areas shall be maintained.
· Trashcans and tissues are available in the foyer.
· Each person entering must self-screen for signs and symptoms of COVID-19 prior to entering the building. If anyone is showing symptoms or has a fever of 100.4o F, cannot enter or attend the service.
· There will no Children's Church on premise.
As we've said before, you are welcome only if you feel comfortable returning. We urge anyone feeling sick or in a high risk group to remain at home. We will be streaming the service on Facebook as we have these past couple of months.
If you have any questions, please call Pastor Alan or email him at pastor@parklandfirst.com.
Have you seen it?
If you have not checked out our new website please do at www.parklandfirst.com. Explore and notice all the good stuff on it.
In the Online Giving tab you'll find a new way to give. We are using a new secured service, so your first time there you will need to set up an account. Just follow the easy instructions.
You can also text to give by texting "Give" "Amount" to 501-294-6902. After your first text to give you'll receive a response. Follow the link to set up your account. After that you won't have to do it again.
If you have problems let us know by call Pastor Alan at 253-229-3411 or emailing him at pastor@parklandfirst.com.
Accept the Invitation to Faithlife
You should have received an email inviting you to join Faithlife and specifically the Parkland First Baptist Church group. If you have not responded, please do and explore the site. If you didn't receive the invite, let us know. If you need help getting it all figured out, just call or email Pastor Alan.
Faithlife is a web-based subscription and software company for churches. We use their software to present the slides each Sunday morning. They also are the developers of the Logos Bible Software, which in my opinion is the best. They've recently released a service for churches called Faithlife Equip. Equip will allow us to communicate easily with each other and provide you with many resources for Bible study.
With our subscription you receive access to 300+ Bible study resources through Logos, easy online and text giving, our own community group site you were invited to (a lot like Facebook, but private just for our church), group chats with video conferencing like Zoom, Seminary level video courses, and much more.
Go to https://support.faithlife.com/hc/en-us/articles/360035901331-Welcome-to-Your-Church-Group for easy to follow instructions and videos to show all you can do.
Daily Scripture Reading For June 1-5
Monday: Proverbs 11-13; Psalm 8; Romans 13
Tuesday: Proverbs 14-15; Romans 14
Wednesday: Proverbs 16-18, Romans 15
Thursday: Proverbs 19-21; Psalm 40; Romans 16
Friday: Proverbs 22-23; Psalm 117; 1 Thessalonians 1
June's Memory Verse
1 Peter 3:18
"For Christ also suffered for sins once for all, the righteous for the unrighteous, that he might bring you to God. He was put to death in the flesh, but made alive by the Spirit."
Our address is: 1016 112th St S, Tacoma, WA 98444, USA