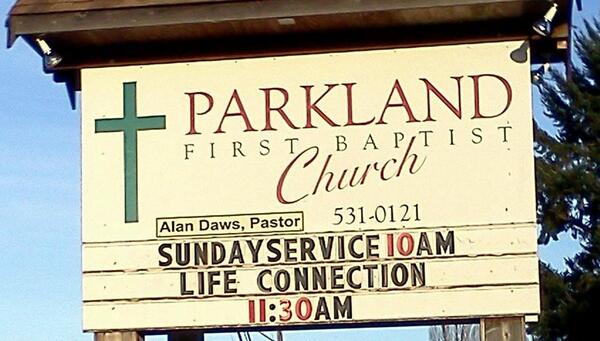 PFBC Notes
Vol. 1 Issue 8 June 12, 2020
Personal Note by Pastor Alan
Are you nervous? I am! It's been nearly four months since we last met to worship together in our building. This Sunday we're having what I am calling a "Soft Opening" for worship together. By soft I mean that we will have a trial run to see how everything will work in this "new normal" as they say. We have ordered touchless sanitizing stations, but they have not arrived yet. We'll have sanitizing wipes, sanitizer, disinfectant wipes and tissue for everyone to use.
So, I'm nervous, but more excited about coming back together again. We'll sing together, pray together, read the Bible together, memorize a verse together, and hear a word from God together. The best part of it all is that we are TOGETHER!!
I look forward to seeing you, however, if you are not ready to return just yet, that's okay. We'll still be on Facebook for everyone to watch. So when you are ready, we'll be here. We can be together in person and on Facebook because we are united by the Holy Spirit who is ever present.
New Rules To Worship Together
Here are the rules we have to follow so we can be safe and healthy as we gather for worship.
· Please enter primarily through our front door.
· Please wear a face covering while in our service.
· As hard as it will be, please have no direct physical contact between each other.
· Singing is permitted, but each person must remain masked.
· Only one (1) person allowed in a restroom (unless helping a child) at a time. After using the restrooms, the person shall use the disinfectant wipes to sanitize every fixture they touched.
· Hand washing in encouraged or the use of hand sanitizer provided.
· Disinfectants are available in the restrooms, foyer, and kitchen.
· Six feet physical distancing between attenders/families in the worship center and other areas shall be maintained.
· Please self-screen for signs and symptoms of COVID-19 prior to entering the building. If anyone is showing symptoms or has a fever of 100.4o F, cannot enter or attend the service.
· There will no Children's Church on premise.
Those are easy, but necessary rules for us to follow. We do not want to be in the news with a breakout of the virus because we were careless in reopening. These rules are in place for everyone's safety. Thank you for you cooperation.
If you have any questions, please call Pastor Alan or email him at pastor@parklandfirst.com.
Daily Scripture Reading For June 1-5
Monday: Proverbs 24-25; Psalm 41; 1 Thessalonians 2
Tuesday: Proverbs 26-28; 1 Thessalonians 3
Wednesday: Proverbs 29-31, 1 Thessalonians 4
Thursday: Song of Songs 1-2; Psalm 72; 1 Thessalonians 5
Friday: Song of Songs 4-6; 2 Thessalonians 1
June's Memory Verse
1 Peter 3:18
"For Christ also suffered for sins once for all, the righteous for the unrighteous, that he might bring you to God. He was put to death in the flesh, but made alive by the Spirit."
The Come As You Are Church!
Our address is: 1016 112th St S, Tacoma, WA 98444, USA