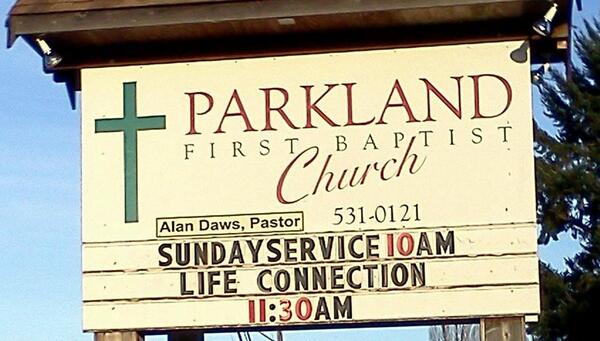 PFBC Notes
Vol. 1 Issue 9 June 18, 2020
Personal Note by Pastor Alan
We had a great first day back worshipping together. This week, we hope to have all the kinks worked out so everything will run smoothly. We will continue to have our service on Facebook starting at 10:00 AM for those who are not ready to return or live outside our area. Yes, we do have a small group of people from outside the Tacoma area watching our services and we welcome them each Sunday. There may be a time in the near future when we have on online campus.
Sunday I asked if we could make Habakkuk 3:2 our prayer as we return to worship. It says, "LORD, I have heard the report about you; LORD, I stand in awe of your deeds. Revive your work in these years; make it known in these years. In your wrath remember mercy!"
Let's pray and ask God Almighty to revive, renew, refresh His work in our church. To make His name known in Parkland, Lakewood, Tacoma, Graham and all of Pierce county and use us in that endeavor. God, in the past, did some great things in our church. Now, after being in exile so to speak, we are coming back and have a chance to reset, retrench, or rebuild. If we only look to see where God is working and join Him, we'll be successful in rebuilding His church. So make Habakkuk 3:2 our prayer, look for where God is working and then join Him!
Prayer Meeting Wednesday at 6:00 PM
On Wednesday evening at 6:00 our prayer meeting is held. This week we will do it through a Facebook room. All you need to join us is to go to our Facebook group page, look for the post inviting you to enter, and click on "Join Room". That's it. You'll join for the weekly prayer meeting. Each we pray through a Psalm and then for the specific needs. Join us this Wednesday!
New Rules To Worship Together
Here are the rules we have to follow so we can be safe and healthy as we gather for worship.
· Please enter primarily through our front door.
· Please wear a face covering while in our service.
· As hard as it will be, please have no direct physical contact between each other.
· Singing is permitted, but each person must remain masked.
· Only one (1) person allowed in a restroom (unless helping a child) at a time. After using the restrooms, the person shall use the disinfectant wipes to sanitize every fixture they touched.
· Hand washing in encouraged or the use of hand sanitizer provided.
· Disinfectants are available in the restrooms, foyer, and kitchen.
· Six feet physical distancing between attenders/families in the worship center and other areas shall be maintained.
· Please self-screen for signs and symptoms of COVID-19 prior to entering the building. If anyone is showing symptoms or has a fever of 100.4o F, cannot enter or attend the service.
· There will no Children's Church on premise.
Those are easy, but necessary rules for us to follow. We do not want to be in the news with a breakout of the virus because we were careless in reopening. These rules are in place for everyone's safety. Thank you for you cooperation.
If you have any questions, please call Pastor Alan or email him at pastor@parklandfirst.com.
Daily Scripture Reading For June 1-5
Monday: Song 7-8; Psalm 127; 2 Thessalonians 2
Tuesday: 1 Kings 5; 2 Chron 2; 2 Thessalonians 3
Wednesday: 1 Kings 6; 2 Chron 3; 1 Timothy 1
Thursday: 1Kings 7, 2 Chron 4; Psalms 44; 1 Timothy 2
Friday: 1 Kings 8; Psalms 30; 1 Timothy 3
June's Memory Verse
1 Peter 3:18
"For Christ also suffered for sins once for all, the righteous for the unrighteous, that he might bring you to God. He was put to death in the flesh, but made alive by the Spirit."
The Come As You Are Church!
Our address is: 1016 112th St S, Tacoma, WA 98444, USA