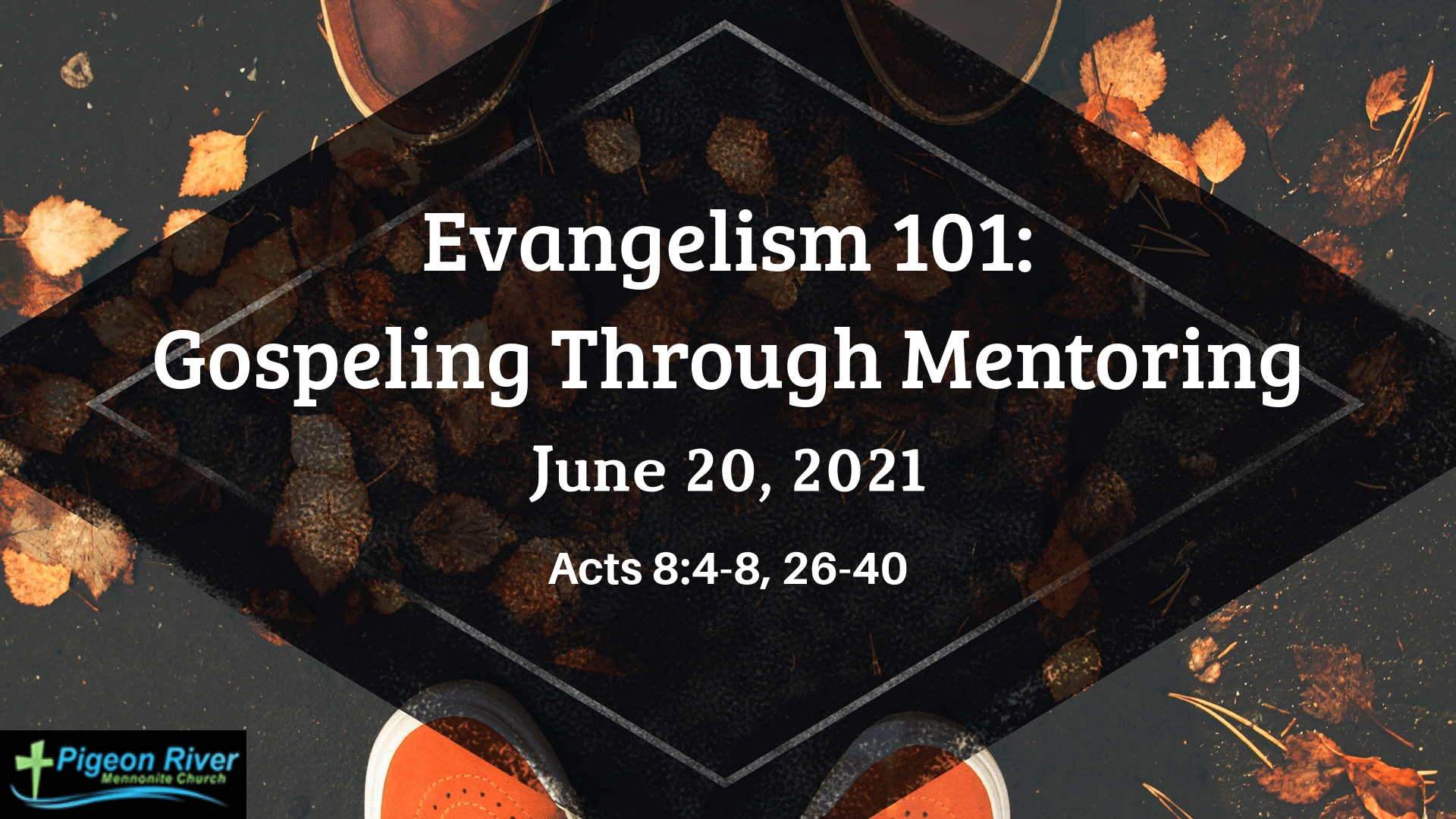 Pigeon River Mennonite Church June 20, 2021
Loving God by worshipping...introducing...nurturing...serving
We are glad you are here, and we hope you enjoy this opportunity to worship God with us.
Please join us on Facebook or YouTube if you cannot attend in person.
Welcome & Prayer
Songs of Worship
Scripture: Acts 8:4-8, 26-40
Message: Pastor Dave
"Evangelism 101: Gospeling through Mentoring"
Offertory: "Daddy's Hands" - Barry Maust
Hymns of Worship
Live Stream Sign-off
Sharing & Pastoral Prayer
Closing Prayer
Benediction
______________________________
11 am Sunday school opportunities:
Children's SS - Toddlers meet in the nursery; PreK- 5th grade meet in the balcony.
Youth - in the youth room.
Adults - class will meet in the sanctuary to study the uniform quarterly lesson. The theme this quarter is "Confident Hope. Today we will study lesson 3 - "Healed By Faith" - c/o Tom Beachy & Brent Maust.
Announcements
Today is the deadline to return your baby bottle full of coins and cash for Positive Alternatives fundraiser.
Ladies Sewing is still meeting on Wednesday afternoons from 1:30 to 4:00 and will be meeting through to the last Wed. in June. We are working hard to get a few more comforters knotted, trimmed, and bound before the Northern Michigan Relief Sale which is fast approaching. We got a bit behind our schedule over this past year, but we still can make a contribution to this most worthy event. If Wednesday afternoon doesn't work for you, feel free to come anytime it does.
We are happy to announce that Multiply 2021, the annual gathering of CMC, will be held at Clinton Christian School in Goshen, Indiana, August 6-8. For the schedule of events and registration links, visit the CMC website at www.cmcrosedale.org/cmc-events/annual-conference/ . If you need help with online registration, please contact the CMC office at office@cmcrosedale.org or 740-857-1234. The deadline for in-home lodging is July 1 and can be selected when you register online. We look forward to seeing you there!
MDS: A damaged house in Gladwin County needs specialized work. The flood waters last year damaged the sills and rim/floor joists.
Please call Bess Fitzgerald 269-381-4264 if you can fill this need.
We encourage you to start collecting your coins and dollar bills for My Coins Count. Each Sunday in July coins will be collected for MCC. Coins collected benefit children around the world through food, water and education. Matching contributions are gladly accepted, please contact Nancy Swartzendruber if interested.
Longing to have a cup of coffee with someone in the morning? Starting on June 22nd from 7-10 am we will have coffee available in the fellowship hall. Invite a friend and renew the friendship. The dates and times will be Tuesdays and Thursdays from 7 -10 am. If you would like to host this event please check out this sign up sheet or at the welcome desk . If you like to make some muffins, cookies, or cinnamon rolls to compliment the morning please check out the sign up sheet.
Looking for some summer reading? Check out the newly added books in the church library.
Choral Camp has been a special experience for over 20 years. This year has required us to be light on our feet with planning and re-planning, but it's full steam ahead! There are open spaces for campers to enjoy a week of music, worship, and fun. We have two week-long camps: July 5-9 and July 12-16. The location is Rosedale Bible College. Registration closes on June 21. Camp fees are $270 for the first child, $240 for the second child, and $210 for each additional child. If your summer plans are set, but you know of a family looking for something to do, spread the word! We hope to see you there! For any questions, please call (740) 857-1311 or email choralcamp@rosedale.edu.
Handyman Crew: Are you in need of a little assistance with a handyman project around your home and not sure of who to ask? If so, Dale Ackerman is available to help or to help in finding someone who can help. Also if you have skills that you are willing to share with others, contact Dale to let him know of your availability.
Offering Today: PR Ministries - You can mail in your donation. Our online giving portal is on our website You can also check out how easy it is to set up giving through the Faithlife app or text. Simply text the word "GIVE" to (989)217-8181. We appreciate your generosity and flexibility.
Schedules
Offering next week: PR Ministries
Worship Leader this week: Dale Ackerman
Worship Leader next week: Lyle Gascho
Fellowship Greeter this week: Jon & Kim Good
Fellowship Greeter next week: Jill Champagne & Tonya Karpovich
Pastoral Care this week: Ken & Judy Dietzel
Pastoral Care next week: Gerry Swartzendruber
Prayer Needs
Prayers for the local church
· VBS willingness of helpers and students eagerness to attend. Contact Rhonda Buehler for details.
Health Concerns/Situations
· "Bear" Swartzendruber - recovery from double bypass surgery
· GriefShare members
· Steve Swartz, former CMC conference pastor - recovery from surgery
· Pastor Bill's father - recovery from infection
· Darci Horton's dad & family
· Gladys Maust's mother recovery from stroke
· Craig family
· Marge Gnagey gain strength
Missions/Organizations
· RI - This worker writes and directs dramas, while also training believers in the art of theater in the middle east.
US/World
· Food shortages around the world, especially in North Korea
Let us get to know you!
Please take a moment to send us your information so that we may stay connected with you. Your information is carefully managed and protected.
How did you hear about us?