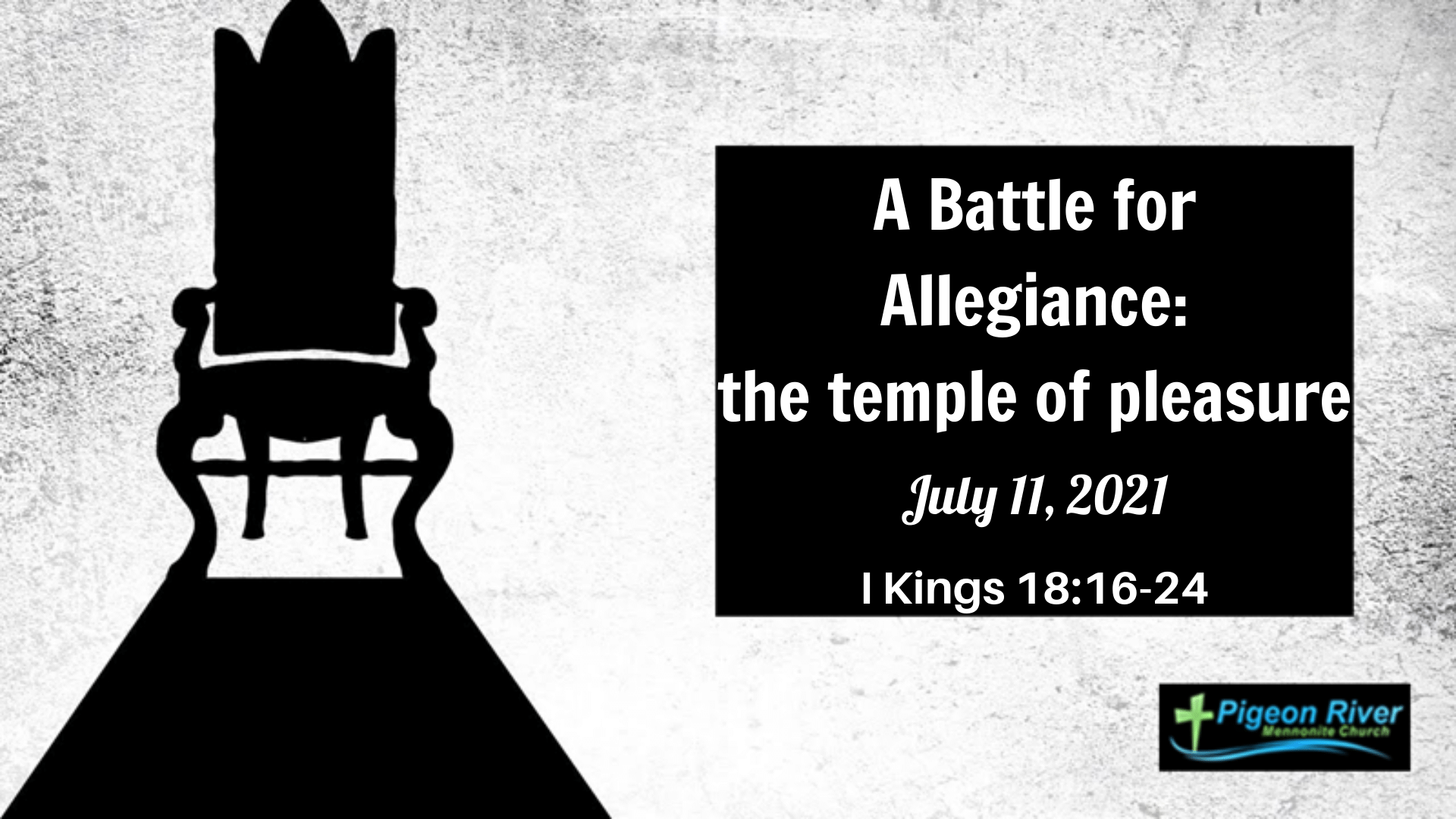 Pigeon River Church July 11, 2021
Loving God by worshipping...introducing...nurturing...serving
We are glad you are here, and we hope you enjoy this opportunity to worship God with us.
Please join us on Facebook or YouTube if you cannot attend in person.
Welcome & Prayer
Hymns of Worship
Scripture: 1 Kings 18:16-24
Message: Pastor Dave
"A Battle for Allegiance: The Temple of Pleasure"
My Coins Count offering
Offertory
Songs of Worship
Live Stream Sign-off
Sharing & Pastoral Prayer
Closing Hymn
Benediction
Nursery provided during service for small children
in basement nursery
______________________________
11 am Sunday school opportunities:
Children's SS - Toddlers meet in the nursery; PreK- 5th grade meet in the balcony.
Adults - class will meet in the sanctuary to study the uniform quarterly lesson. The theme this quarter is "Confident Hope. Today we will study lesson 6 - "Power of the Gospel" - c/o Tom Beachy & Brent Maust.
Announcements
Today...Coffee orders are due with pick up next Sunday.
Tonight... 5 pm Summer Campfire Fellowship Night at Dale & Debi Ackerman's house located at 6721 W. Richardson Rd., Pigeon. Please bring a dish to pass, lawn chairs and a desire to fellowship around the campfire.
Tonight...7 pm TTLM - "New Perspective"
Join us next Sunday for the Community Service during the Sunday School time (11:15 am)at the Pigeon Recreation Park. Pastor Albert Barchue of Salem UMC will bring the message and an offering will be taken for The Liberian Kids Scholarship Ministry.
B Light Restoration Center is hosting a fundraising / open house on Sunday, July 25th from 1 pm - 4 pm at BLRC, 805 M L King Ave., Flint, MI 48503. Parking is available at MiWorks located at 711 Saginaw Street. The event will include a video of the history of BLRC, food, recognition of those who have supported BLRC, current activities, future plans, a silent auction, door prizes, and projects that are in need of volunteer and financial support. Individuals who cannot attend but wish to continue supporting the ministry can visit our Facebook page to find information on the upcoming projects and ways to help.
CMC's Multiply 2021 Conference – Goshen, Indiana
Join us for the annual gathering of CMC which will be held at Clinton Christian School in Goshen, Indiana, August 6-8. For the schedule of events and registration links, visit the CMC website at www.cmcrosedale.org/cmc-events/annual-conference/ . If you need help with online registration, please contact the CMC office at office@cmcrosedale.org or 740-857-1234. Contact Emily if you would like a detailed schedule sheet.
Vacation Bible School is coming soon, July 19-23, from 9-11:30 am. Help us get the word out! Contact Rhonda Buehler if you know of a child that needs to be registered.
Need to catch up with someone in the community? Meet them at the church coffee time on Tuesday or Thursday from 7-10 am. Enjoy a cup of Hemisphere Coffee and the fellowship.
Financial Report:
PR Ministries 2nd Quarter 2021 Financial Report:
Offerings 131,417, Expenses 156,779, YTD Balance -25,362 (loss), Ending Balance 65,468.
Offering Today: PR Ministries - You can mail in your donation. Our online giving portal is on our website You can also check out how easy it is to set up giving through the Faithlife app or text. Simply text the word "GIVE" to (989)217-8181. We appreciate your generosity and flexibility.
Schedules
Offering next week: PR Ministries
Worship Leader this week: Michael Swathwood
Worship Leader next week: Dale Yoder
Fellowship Greeter this week: Denny & Debbie Weidman
Fellowship Greeter next week: Doug & Rhonda Buehler
Pastoral Care this week: Tom & Karen Beachy
Pastoral Care next week: Brenda Maust
Prayer Needs
Prayers for the local church
· VBS students open hearts to receive the good news of God
Health Concerns/Situations
· "Bear" Swartzendruber - recovery from double bypass surgery
· GriefShare members
· Lynette Yoder's sister Lori & brother in law with kidney transplant recovery; sister Debbie with cancer
· Pastor Bill's father discernment for cancer treatment
· Darci Horton's family
· Barry Maust's friend Jerry in sudden death of his wife
· Craig family
· Michael Swathwood knee pain
· Freda Maust healing from her fall
· Randy Stalter stroke
Missions/Organizations
· RI - Angie in Thailand who works with the team building relationships and sharing the gospel with the Thai people especially to orphans and victims of human trafficking.
US/World
· Haiti - Political unrest and poverty among their people
Let us get to know you!
Please take a moment to send us your information so that we may stay connected with you. Your information is carefully managed and protected.
How did you hear about us?