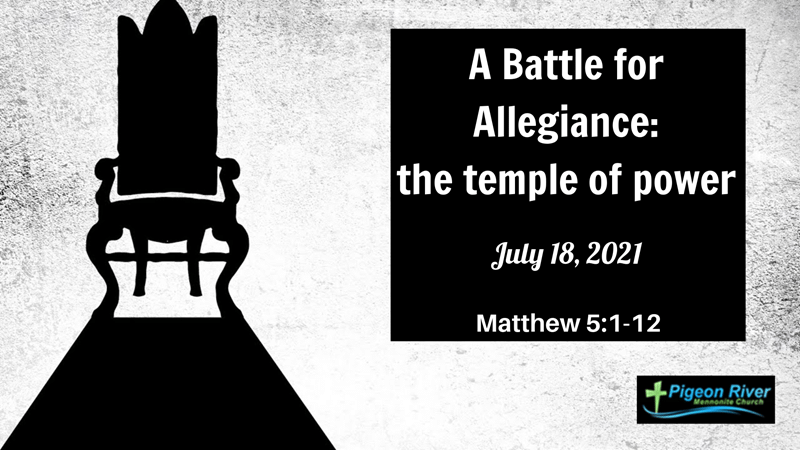 Pigeon River Church July 18, 2021
Loving God by worshipping...introducing...nurturing...serving
I was glad when they said to me, "Let us go to the house of the Lord!"
Psalm 122:1
We are glad you are here, and we hope you enjoy this opportunity to worship God with us.
Please join us on Facebook or YouTube if you cannot attend in person.
Welcome & Prayer
Songs of Worship
Scripture: Matthew 5:1-12
Message: Pastor Dave
"A Battle for Allegiance: The Temple of Power"
My Coins Count offering
Offertory
Hymns of Worship
Live Stream Sign-off
Sharing & Pastoral Prayer
Closing Hymn
Benediction
Nursery provided during service for small children
in basement nursery
______________________________
No Sunday school opportunities today. Please join us at the Community Service at the Pigeon Recreation Park under the tent at 11:15 am.
Announcements
Today...Coffee orders can be picked up.
Tonight...7 pm TTLM - Singspiration with Dale & Debi Ackerman
B Light Restoration Center is hosting a fundraising / open house on Sunday, July 25th from 1 pm - 4 pm at BLRC, 805 M L King Ave., Flint, MI 48503. Parking is available at MiWorks located at 711 Saginaw Street. The event will include a video of the history of BLRC, food, recognition of those who have supported BLRC, current activities, future plans, a silent auction, door prizes, and projects that are in need of volunteer and financial support. Individuals who cannot attend but wish to continue supporting the ministry can visit our Facebook page to find information on the upcoming projects and ways to help.
Next Sunday is the final offering for the "My Coins Count" offering. Continue to bring in your change and dollar bills to help out with the global need through MCC. August 6 & 7th are the dates to mark down on your calendar for the Relief Sale. If you have never attended consider making the drive to Mio and checking it out. There will be good food to enjoy, friends to catch up with and a place to serve. Talk to Nancy Swartzendruber if you can help in the pie booth or Emily Maust to help in the Hot Dog/Pork sandwiches booth.
CMC's Multiply 2021 Conference – Goshen, Indiana
Join us for the annual gathering of CMC which will be held at Clinton Christian School in Goshen, Indiana, August 6-8. For the schedule of events and registration links, visit the CMC website at www.cmcrosedale.org/cmc-events/annual-conference/ . If you need help with online registration, please contact the CMC office at office@cmcrosedale.org or 740-857-1234. Contact Emily if you would like a detailed schedule sheet.
Vacation Bible School starts tomorrow, July 19-23, from 9-11:30 am. Its not too late to register. Go to our website under Ministries- VBS.
Consider camping with the church group at Covenant Hills on Labor Day weekend. Contact Dale Ackerman to sign up.
Need to catch up with someone in the community? Meet them at the church coffee time on Tuesday or Thursday from 7-9 am. Enjoy a cup of Hemisphere Coffee and the fellowship.
Financial Report:
PR Ministries 2nd Quarter 2021 Financial Report:
Offerings 131,417, Expenses 156,779, YTD Balance -25,362 (loss), Ending Balance 65,468.
On March 1 of this year, Breathitt County, Kentucky experienced devastating flooding which impacted several hundred homes. Many families are still not back in their homes, or are living in unrepaired, flood-damaged homes. As the CMC churches in eastern Kentucky work to help families get back in their homes, they could use your help. If any person or group would like to volunteer to help with repairing/rebuilding homes in the next couple months, please contact Phil Swartzentruber at 606-568-6073 or philroseswartzentruber@gmail.com.
Offering Today: PR Ministries - You can mail in your donation. Our online giving portal is on our website You can also check out how easy it is to set up giving through the Faithlife app or text. Simply text the word "GIVE" to (989)217-8181. We appreciate your generosity and flexibility.
Schedules
Offering next week: PR Ministries
Worship Leader this week: Dale Yoder
Worship Leader next week: Dale Ackerman
Fellowship Greeter this week: Doug & Rhonda Buehler
Fellowship Greeter next week: Bill & Leslie Eberly
Pastoral Care this week: Brenda Maust
Pastoral Care next week: Ken & Judy Dietzel
Prayer Needs
Prayers for the local church
· VBS students open hearts to receive the good news of God
· Kids that went to camp would remain close to God
Health Concerns/Situations
· Ruth Osborne's mom, Vivian
· Rebecca Yackle's mom, Connie
· Freda Maust healing from her fall
· Jill Champagne's granddaughter Ashlyn remains strong in her recent commitment & baptism
· Lynette Yoder's sister Lori & brother in law with kidney transplant recovery
· Pastor Bill's father discernment for cancer treatment
· Missing student from RBC
· Craig family
Missions/Organizations
· RI - Firman in Thailand who works with the team building relationships and sharing the gospel with the Thai people especially to orphans and victims of human trafficking.
· Bay Shore Camp
US/World
· Devastating floods in Europe – loss of life, homes & power
Prayer Chain: Email Emily, secretary@pigeonriverchurch.com or call/text her at 989-550-9625
Let us get to know you!
Please take a moment to send us your information so that we may stay connected with you. Your information is carefully managed and protected.
How did you hear about us?