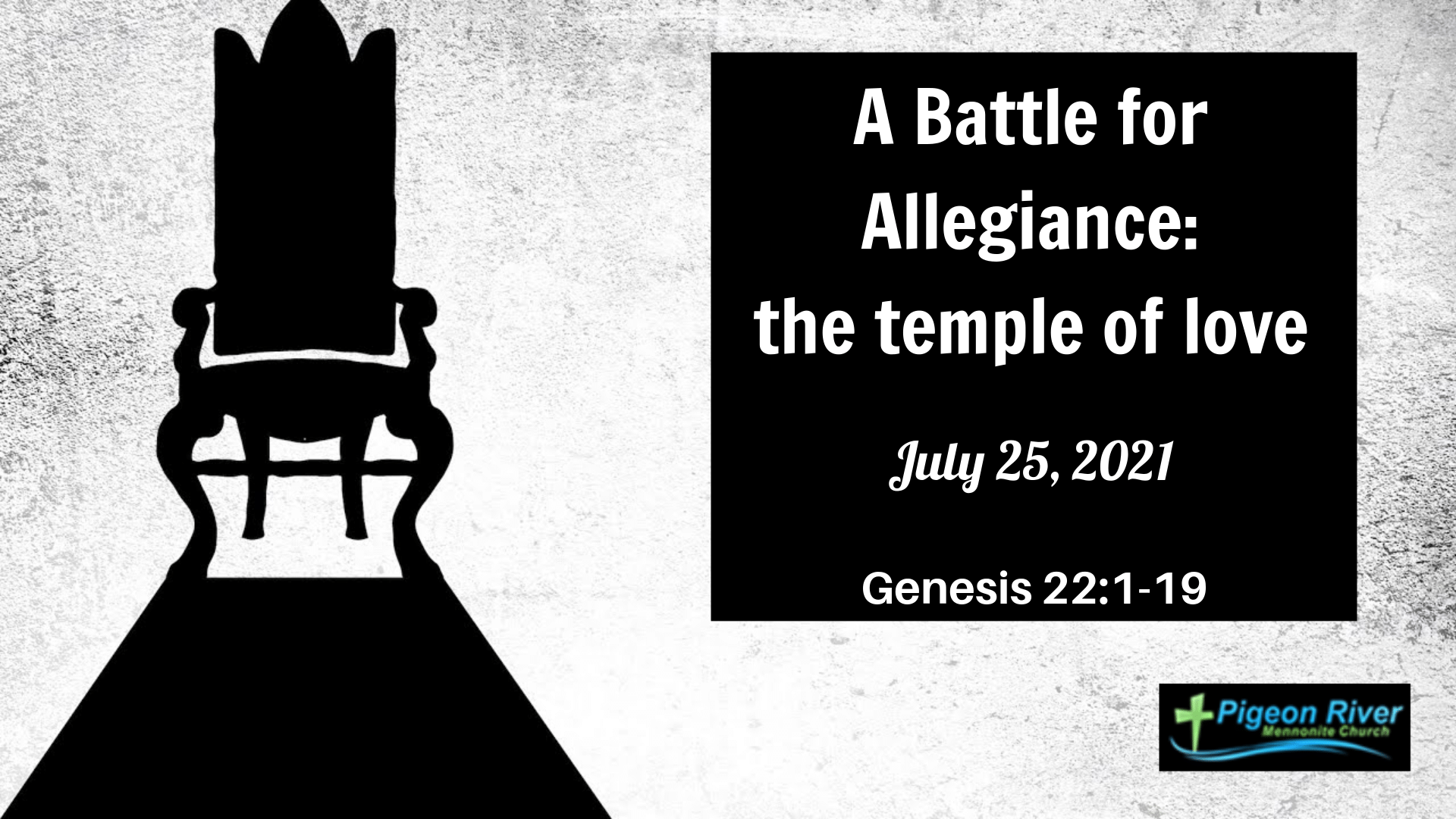 Pigeon River Church July 25, 2021
Loving God by worshipping...introducing...nurturing...serving
I was glad when they said to me, "Let us go to the house of the Lord!"
We are glad you are here, and we hope you enjoy this opportunity to worship God with us.
Please join us on Facebook or YouTube if you cannot attend in person.
Welcome & Prayer
Hymns of Worship
Scripture: Genesis 22:1-19
Message: Pastor Dave
"A Battle for Allegiance: The Temple of Love"
My Coins Count offering
Offertory - VBS kids
Songs of Worship
Live Stream Sign-off
Sharing & Pastoral Prayer
Closing Hymn
Benediction
Nursery provided during service for small children
in basement nursery
________________________________
11 am Sunday school opportunities:
Children's SS - Toddlers meet in the nursery; PreK- 5th grade meet in the balcony.
Youth - c/o Pastor Bill in the youth room.
Adults - class will meet in the sanctuary to study the uniform quarterly lesson. The theme this quarter is "Confident Hope. Today we will study lesson 8 - "Peace with God" - c/o Tom Beachy & Brent Maust.
Announcements
Tonight...7 pm TTLM - The Sheldon Family
New craft items for the craft booth, gently used household items for the garage sale (no electronics), and used books will be accepted for the Northern MI Relief Sale. Please place all items in boxes and drop them off in the church basement, north entrance, no later than Thurs evening, Aug. 5. Questions, please contact Nancy Swartzendruber.
A big Thank you to all who helped make our Bible school a success. Together we shared Jesus and God's love for all of creation to over 50 kids.
Empty Ice Cream pails with lids are needed for the pie glaze at the Relief Sale. If you have extra please drop them off at the office. Thank you!
Come & join us for fellowship around the campfire this Wednesday, @ 6 pm. The location is the Maust sandhill on Geiger road between Riskey road and Bay Port road. Please bring a dish to share with the group and your lawn chairs. The meat, drink and table service will be provided.
Our Church campout is a great way to enjoy our church family. Make plans to attend! Covenant Hills Campground, Labor day weekend, Sept. 3th-6th. Contact Dale Ackerman if interested.
Rosedale International has an opening for an executive assistant. This position supports the president and the director of partner development in a variety of administrative and clerical roles. The ideal candidate should possess experience in providing administrative assistance, willingly exhibit initiative, and enjoy providing the necessary support and organization skills that allow others to complete tasks and focus on more advanced responsibilities. This role can be part-time or full-time based upon the candidate's availability. For more information, please contact Myron Sommers at humanresources@rosedaleinternational.org.
On March 1 of this year, Breathitt County, Kentucky experienced devastating flooding which impacted several hundred homes. Many families are still not back in their homes, or are living in unrepaired, flood-damaged homes. As the CMC churches in eastern Kentucky work to help families get back in their homes, they could use your help. If any person or group would like to volunteer to help with repairing/rebuilding homes in the next couple months, please contact Phil Swartzentruber at 606-568-6073 or philroseswartzentruber@gmail.com.
Offering Today: PR Ministries - You can mail in your donation. Our online giving portal is on our website You can also check out how easy it is to set up giving through the Faithlife app or text. Simply text the word "GIVE" to (989)217-8181. We appreciate your generosity and flexibility.
Schedules
Offering next week: RI - Rosedale International
Worship Leader this week: Dale Ackerman
Worship Leader next week: Rich Swartzendruber
Fellowship Greeter this week: Bill & Leslie Eberly
Fellowship Greeter next week: Ken & Judy Dietzel
Pastoral Care this week: Ken & Judy Dietzel
Pastoral Care next week: Gerry Swartzendruber
Prayer Needs
Prayers for the local church
· Worship Ministry meets the needs of our congregation
· Children that attended VBS would be strengthened in their faith walk
Health Concerns/Situations
· Ruth Osborne's mom, Vivian
· Rebecca Yackle's mom, Connie
· Janice Aldrich's brother Steve with recent cancer diagnosis
· Pastor Bill's father with chemo treatment
· Craig family
Missions/Organizations
· RI - Raber family in Thailand who works with the team building relationships and sharing the gospel with the Thai people especially to orphans and victims of human trafficking.
· Youth for Christ benefit auction in August
US/World
· Devastating wild fires in the western US
Prayer Chain: Email Emily, secretary@pigeonriverchurch.com or call/text her at 989-550-9625
Let us get to know you!
Please take a moment to send us your information so that we may stay connected with you. Your information is carefully managed and protected.
How did you hear about us?