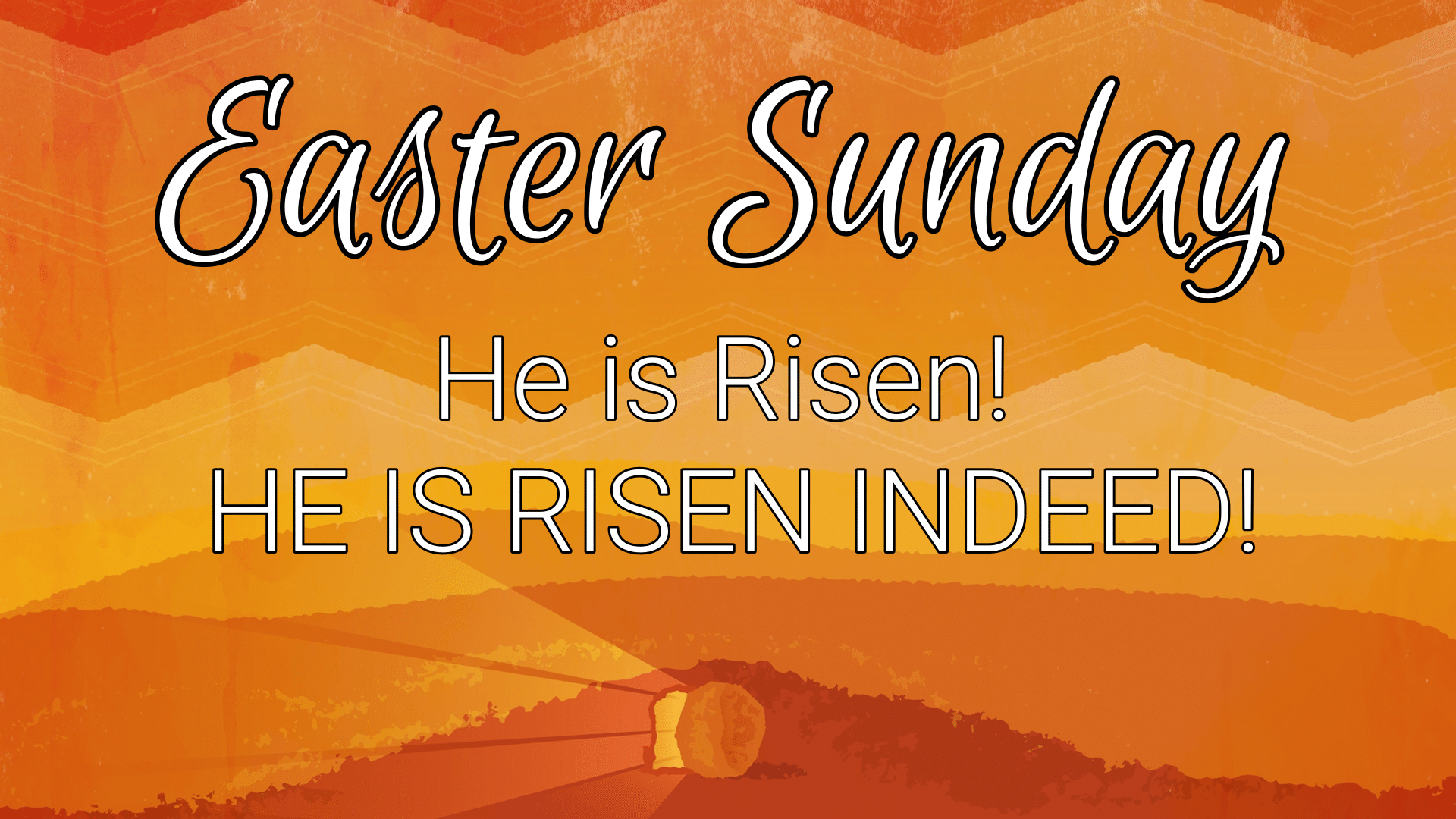 Pigeon River Church April 17, 2022 @ 10am
We express our love for God by worshipping Him together, introducing people to Jesus, nurturing God's family, and serving in obedience to Christ.
Join us @ 8:15am for our Sonrise Service followed by Easter Brunch from 9-10 am with our Main Service to follow.
We are glad you are here, and we hope you enjoy this opportunity to worship God with us.
Please join us on Facebook or YouTube if you cannot attend in person.
EASTER SUNDAY!
10am
Welcome & Prayer
Special Music - "Were You There?"
Drama: Up From the Grave
Hymn of Worship
Children's Story
Scripture: Luke 24:1-12
Message: Pastor Dave
"When the Expected One Is Unexpected"
Offertory
Songs of Worship
Livestream sign-off
Sharing and Pastoral Prayer
Closing Hymn
Benediction
______________________________
There will not be nursery volunteers today. Please enjoy worshipping & with your children this special Easter Sunday.
No Sunday School today
Next Sunday there will be two Sunday school options. The Quarterly Sunday School Class will continue to meet in the conference room with the theme of "God Frees and Redeems." A new Adult Sunday School class which will meet in the balcony. Pastor Dave plans to start a new sermon series based on the book written by Paul David Tripp, Do You Believe? This class will be a sermon reflection class and give practical insights on how to live out the principles presented.
Announcements
Make plans to come to the ending celebration for Faithfully Fit on Wednesday, evening at 6 pm. Everyone is welcome to bring a healthy dish to pass at the potluck and stay for the wrap-up celebration. The 34 people who reported their exercise minutes averaged almost 100 miles each for a total of 3270 miles as a group. The 28 people who participated in the weight loss challenge totaled 168.6 pounds for an average of six pounds each.
Seniors, on Saturday, April 23rd there is a Spring Fling Brunch that you are invited to at 10 am. Contact Gerry if you have not been notified through email of this event.
This Saturday the youth will serve breakfast to the homeless at Shammah Outreach in Flint on April 23rd. Youth please plan to meet at the church at 5:30 am to travel to Flint that morning. Adults are welcome to help serve as well. Contact Pastor Bill if interested.
Rosedale International has announced the Short Term Missions opportunities for those that may be interested. The potential REACH locations for 2022 are Albania, Senegal, Zambia, India, Phoenix, AZ, and Albuquerque, NM.
We have also updated our Covid-19 requirements for teams traveling outside of the U.S. Teams are no longer required to get the Covid-19 vaccination if the hosting country is not requiring it for entry. Finally, this year we are offering additional scholarships for qualifying individuals. If you would like more information please contact the office.
The Ladies will have a game night on April 24th at 3 pm. Come enjoy the fellowship, fun, and food.
Youth, plan to make a trip to Ohio as you explore the possibilities of Rosedale Bible College on April 28. Contact Pastor Bill for details.
TTLM (Top of the Thumb Leisure Ministries) has two opportunities:
Part-time summer work for post-high school-college students interested in working with children's ministry.
Becoming a "campfire host" at Sleeper State Park one or two times during the summer.
Contact Barry Maust if interested in either of these opportunities.
Need to take your spouse or significant other on a date? Why not start planning now? There will be childcare provided at the church from 5:30 pm - 9 pm on Saturday, April 30th to help make it a reality for you. To register your kids, contact Pastor Bill. Adults, if you have an interest in serving as a caregiver contact Caitlin Buggia or Dana Reiter.
Offering Today: PR Ministries - You can mail in your donation. Our online giving portal is on our website You can also check out how easy it is to set up giving through the Faithlife app or text. Simply text the word "GIVE" to (989)217-8181. We appreciate your generosity and flexibility.
Schedules
Offering next week: PR Ministries
Worship Leader this week: Dale Ackerman
Worship Leader next week: Barry Maust
Fellowship Greeter this week: Jon & Kim Good
Fellowship Greeter next week: Theo & Annemiek Poelma
Pastoral Care this week: Tom & Karen Beachy
Pastoral Care next week: Brenda Maust
Nursery this week: No Nursery on Easter Sunday
Nursery next week: Nan Stalter & Silas Maurer
Prayer Needs
Prayers for the local church
· Parenting small group members to desire to be godly examples in their home
· Health Concerns/Situations
· Grief Share attendees to find healing and comfort in their loss
· Judy Carlson's granddaughter, Kendall's health concerns
· Cora Yoder family
· Fred Wilson - pneumonia, healing for collar bone & transition to Long Term Care
· Brandon Yowler's family as they grieve the loss of Brandon's grandmother
· Tracey Potter's father-in-law was diagnosed w/Bladder cancer; starting treatment this week.
· Marsha McIntosh- health concerns seeking answers & treatment
· Lucretia Swartz family
Missions/Organization
· Bluewater Thumb Youth for Christ
US/World
· Russia & Ukraine War and the daily tragedies being experienced
· People can experience the true meaning of Easter - the triumphant victory of Jesus Christ over death, hell, and sin.
Let us get to know you!
Please take a moment to send us your information so that we may stay connected with you. Your information is carefully managed and protected.
How did you hear about us?