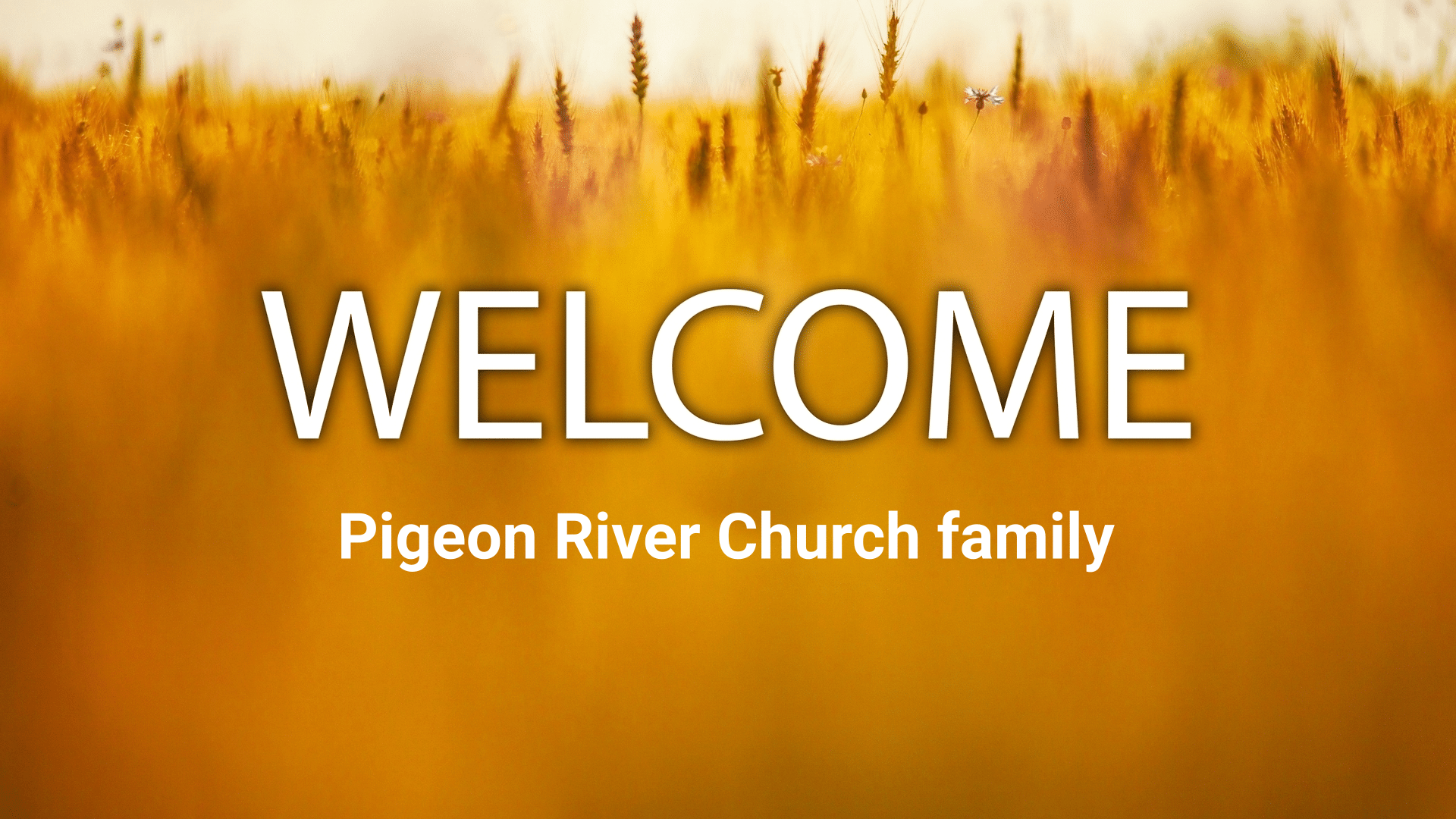 Pigeon River Church July 24, 2022
We express our love for God by worshipping Him together, introducing people to Jesus, nurturing God's family, and serving in obedience to Christ.
We are glad you are here, and we hope you enjoy this opportunity to worship God with us.
Please join us on Facebook or YouTube if you cannot attend in person.
Join us for prayer in the conference room @ 8:45 am on Sunday Mornings
Welcome & Prayer
Hymns of Worship
Scripture: Matthew 11:28-30
Message: Pastor Ean Green of
Community Wesleyan Church of Elkton/Celebrate Recovery
Offertory
My Coins Count
Songs of Worship
Live stream sign-off
Sharing and Pastoral Prayer
Closing Hymn
There will not be Sunday School today.
Please take this time to worship with our community at the Pigeon Recreation Park at 11:15 am
Announcements
Today...
The Meals on Wheels program is looking for permanent drivers for Wednesdays & Thursdays, delivering noon meals to home bound seniors in the Pigeon area. "Food as medicine to the mind, body, and soul." If you are interested in serving our community in this way, please contact Suzanne Gascho at 989-453-2152.
Young Couples plan to meet at Jason & Jenna Maust's house for a fellowship night around the campfire on July 27th @ 6 pm. Please bring a side dish or dessert to share with the group.
You are invited to the VBS program and wrap up celebration at 11:30 am on Friday, July 29th.
New craft items for the craft booth as well as larger items for the auction will be accepted for the Northern MI Relief Sale. Please place items in boxes and drop them off in the church basement, north entrance, no later than Thurs evening, Aug. 4. Questions, please contact Nancy Swartzendruber.
Call the office if you would like to sign up to join the church group for Labor Day weekend at Covenant Hills.
Offering Today: PR Ministries- You can mail in your donation. Our online giving portal is on our website You can also check out how easy it is to set up giving through the Faithlife app or text. Simply text the word "GIVE" to (989)217-8181. We appreciate your generosity and flexibility.
Schedules
Offering next week: PR Ministries
Worship Leader this week: Barry Maust
Worship Leader next week: Pastor Dave
Fellowship Greeter this week: Jon & Kim Good
Fellowship Greeter next week: Theo & Annemiek Poelma
Pastoral Care this week: Gerry Swartzendruber
Pastoral Care next week: Staff
Nursery this week: Ruth Osborne & Jackie Good
Nursery next week: Rhonda Buehler & Maggie Maurer
Prayer Needs
Prayers for the local church
· VBS week - staff & children
· Health Concerns/Situations
· Glenn Maust - recently diagnosed with diabetes
· Glenn Craig - recovery from a fall
· Jacob Horton's coworker, John recovery from accident
· Donna Limberger's transition to Long Term
· Dustin Weidman - eye concern - Dr. appt in August
· Linda Deming's sister - transition in her move to Michigan from NC
· Judy Carlson recovery from Mitral Valve surgery
· Faith Fahrner's father - in pain from fractured vertebrae
· Darin Binder's family - death of his father this week
Missions/Organization
· RI - Multiply Conference- Pray specifically that Rosedale Business Group and the Latin American Mission Partnership would create good connections with CMC members as they share about their work.
· Rosedale Bible College - Director of Enrollment, Ericka Byler's passing. Pray for the Rosedale family as well as her family as they face these difficult days ahead.
US/World
· Wildfires & heatwave in Europe causing many deaths
· Continue to pray for the Ukrainian & Russian people in the midst of war
Let us get to know you!
Please take a moment to send us your information so that we may stay connected with you. Your information is carefully managed and protected.
How did you hear about us?