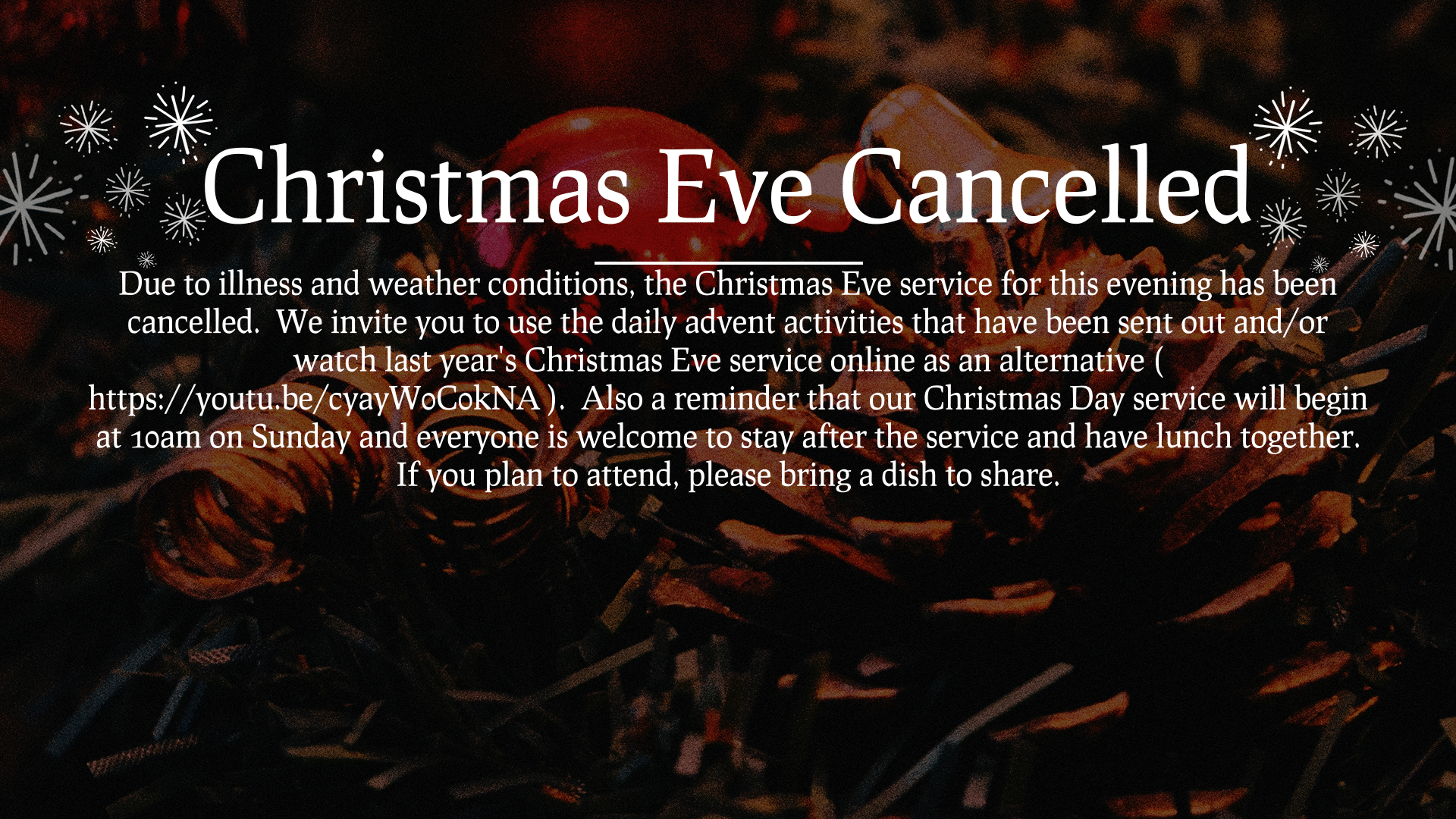 Pigeon River Church December 24, 2022
The Gathering of God's People
WELCOME & PRAYER - Pastor Dave
SPECIAL MUSIC - "Messiah" Lora Aldrich
GATHERING -Responsive - Pastor Dave
Emmanuel: God, you are with us.
WE HAVE HEARD THE PROMISE OF THE PROPHETS;
We have caught the notes of the angel's song;
WE HAVE SEEN A STAR IN THE HEAVENS, WE HAVE BELIEVED.
Tonight, we have come to be with you because you have come to be with us.
WE SEEK AN INNOCENT, HELPLESS BABY IN A CRUDE MANGER;
We seek a Messiah who will reign with justice;
AND YOU, WHO ARE THE WEAKEST AND THE STRONGEST,
THE MOST HUMBLE AND THE MOST MIGHTY HAVE FOUND US.
Now we may find ourselves.
NOW WE MAY LOVE EACH OTHER, NOW WE MAY TRULY WORSHIP YOU.
CRYING ALOUD WITH THE HEAVENLY HOST: "GLORY TO GOD IN THE HIGHEST! PEACE ON EARTH AND GOODWILL TO ALL PEOPLE." AMEN
OPENING HYMNS - Debi Ackerman
HWB #212 "O Come, All Ye Faithful" 1,3,6
HWB #197 "Angels We Have Heard on High" 1,4
The Light Revealed
LIGHTING THE CHRIST CANDLE - Denny and Debbie Weidman
THE LORD'S PRAYER (Unison) – (trespasses) - Pastor Dave
SPECIAL MUSIC - "Breath of Heaven" - Beth Maurer
The Light Received
SCRIPTURE READING - Luke 1:26-35 - David Segroves
HYMN HWB #191 "O Little Town of Bethlehem" - Debi Ackerman
SCRIPTURE READING - Luke 1:46-56 - Judy Eberly
SOLO "What Child is This?" - Barry Maust
CHRISTMAS DRAMA: "The Birth of Jesus"
SPECIAL MUSIC - "It's the Same Star" - Bill & Leslie Eberly
SCRIPTURE READING- John 1:1-5, 9-14 - Emily Maust
The Light Spread
HYMNS - Debi Ackerman
HWB #189 "To Us a Child of Hope is Born"
HWB #194 "Away in the Manger"
LIGHTING OF CANDLES
The congregation will form a circle around the sanctuary to sing "Joy to the World." Pastor Dave will light his candle from the Christ Candle. He will then light the candles of those standing next to him. Each worshipper will turn and allow the person standing next to them to tip their unlit candle and light it from their neighbor's upright, lit candle. We will then sing, "Silent Night." At the conclusion of the songs, please blow out your candle and place it in the box in the foyer.
HYMNS - Debi Ackerman
HWB #318 "Joy to the World"
HWB #193 "Silent Night"
Let us get to know you!
Please take a moment to send us your information so that we may stay connected with you. Your information is carefully managed and protected.
How did you hear about us?