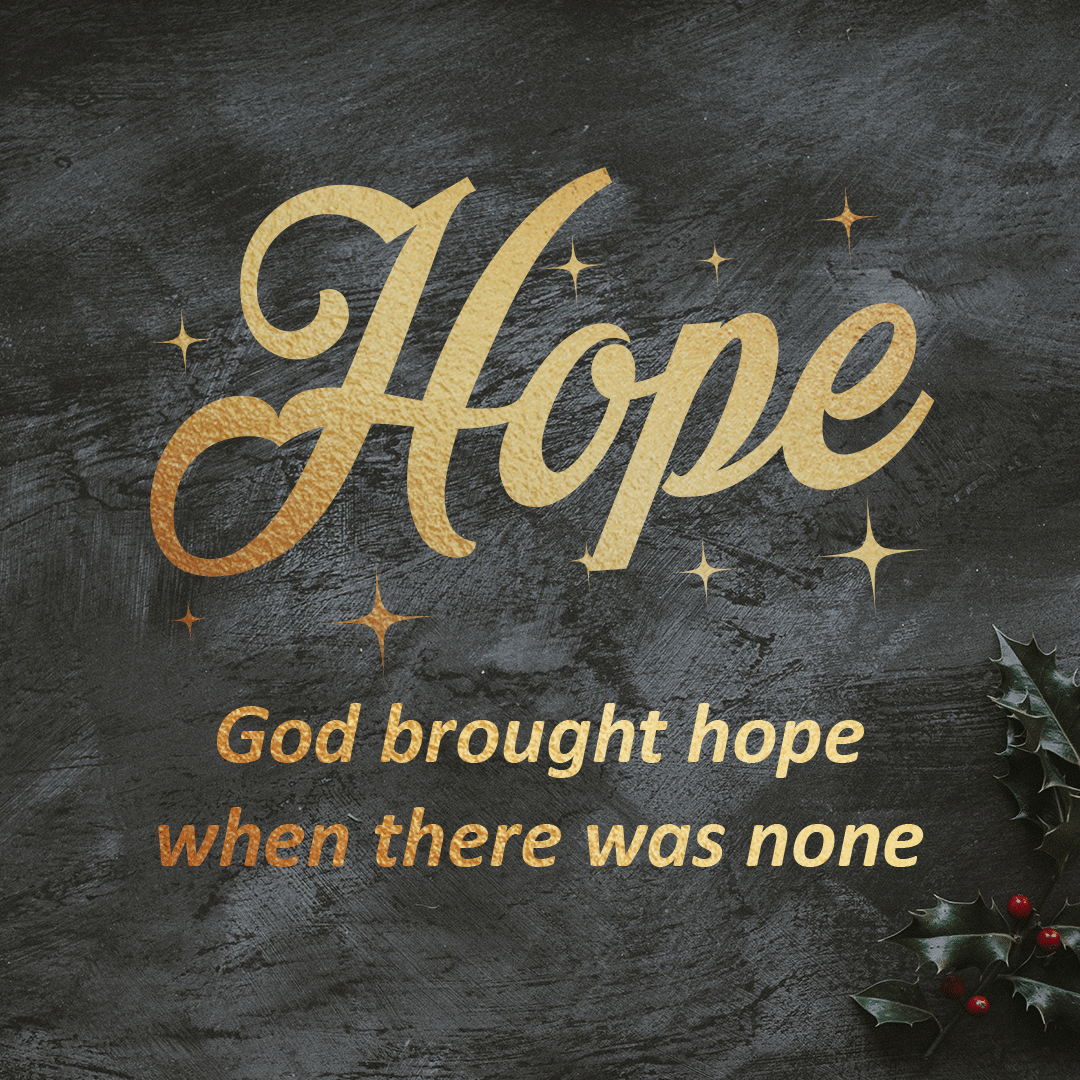 Pigeon River Church November 29, 2020
Advent 1: Join us online either Facebook or YouTube for worship this Sunday
Worship Service
Welcome & Prayer
Advent Candle Lighting
Hymn of Worship
Scripture Reading–
Luke 1:5-25
Advent Story Video
Message—Pastor Dave
"What Could Go Wrong? Hope"
Offering
Song of Worship
Benediction
Enrichment Opportunities
11 am Children's Sunday School on zoom.
Contact Kim Good for the link.
Youth Sunday school in person.
Contact Pastor Bill if you would like to
join via zoom.
Adults will meet in person & zoom for the
study ed by the Ackermans from the
Leadership Bible-meeting id: 73192256066
Passcode: itD6fp
This Week
This Week
Monday 7 pm MIP—all ages
Tuesday 2 pm Grief Share on Zoom
7 pm Ladies B. Study on zoom
Wednesday 7 pm Prayer time/fellowship
Friday 8 am Ladies Bible Study
Sunday Pastor Dave will continue the Advent
Series—Week 2: "What Could Go Wrong? Love"
Announcements
The Youth fundraiser and Soup Cook –off has been moved to Feb 7th which is "Souper" Bowl Sunday. More info for the Cook-off to come. However, you are encouraged to be creative in what handmade item you would like to donate for the auction fundraiser. Please contact Pastor Bill if you have questions.
Upcoming Worship Plans: Smaller group gatherings at the church will continue. We respectfully request that everyone social distance and wear a mask unless you are physically unable to do so. Dec 6 worship service will be pre-recorded, online services only. In person Sunday school will be available @ 11AM for adults led by the Ackermans.
The Christmas Countdown candles are available in the fellowship hall in a basket. Please feel free to stop by the church and pick one up.
There is a table in the Fellowship Hall with alternative opportunities for giving this Christmas through MCC, MEDA & RBG. Please take time to check these out.
The Relief/Missions Committee will be packing Christmas goody bags for our Primary Dept children, our seniors (ages 65 and above), and inmates at the Huron County jail. Individually wrapped homemade goodies or store bought cookies and candy are needed to fill the bags. If you would like to contribute, please leave your items in the church kitchen by Dec 11 @noon. Thank you for your generosity.
Openings are available on the Audio Visual team & Missions/Relief Ministry. Choose your area of interest to serve Christ and our church. Contact Corbin Swartzendruber for more info.
Please note there will NOT be a December distribution of the Thumb Breadbasket. There are many other opportunities available. Check out Food Bank of Eastern MI for dates and places. 2021 dates are coming soon.
LIVE ONLINE CONCERT: The Steel Wheels & Girl Named Tom Join the Pennsylvania Relief Sale on Sunday, December 6 at 8 p.m. EST (7 p.m. CST | 6 p.m. MST | 5 p.m. PST) for a free online concert to support Mennonite Central Committee (MCC)'s work, featuring an opening performance by Girl Named Tom followed by an hour-long concert from musical group The Steel Wheels. Songs and stories will highlight MCC's work around the world. You can access the concert on December 6 at charityauction.bid/Concert2020. The program will include an intermission with opportunities to financially support the programs and mission of MCC.
CONSIDER THESE FROM RIGHTNOW MEDIA FOR ADVENT
(click to view)
Offering today:
Pigeon River Ministries
Next Sunday—Harvest offering kickoff
You can mail in your donation. Our online giving portal is on our website You can also check out how easy it is to set up giving through the Faithlife app or text. Simply text the word "GIVE" to (989)217-8181. We appreciate your generosity and flexibility.
Additional announcements…
A Faithlife invitation was sent to your email. Please join the group again if you have not in the past week. You should then be able to view posts, the directory, website, giving, etc.
If you are not receiving our emails here are several things to do. Depending on your email server you need to create a "Whitelist" or a "Safe list" Whitelisting is an easy one-time process that allows you to never miss an email again. Though the process varies slightly based on the email platform, you use. Below are instructions on how to whitelist emails across the major email systems.
Apple Mail (OS X and iOS devices)
Prayer concerns
Prayer for the local church
· Church leadership, inviting the Holy Spirit to help lead and give wisdom in decisions
· Healing & growth from past difficult situations
Health Concerns/Situations
· Michael Swathwood's family in death of their sister Lori.
· Lois Wilson
· Duane Ropp—hip fracture recovery
· Dana Reiter—healing for cancer
· Judy Dietzel's recovery from heart surgery
· Bedford family in their loss of Esther
Missions/Organizations
· Bridges Outreach in East Lansing
US/World
· Hope we can offer to our world in this Christmas season
· Impact of Coronavirus worldwide
Let us get to know you!
Please take a moment to send us your information so that we may stay connected with you. Your information is carefully managed and protected.
How did you hear about us?