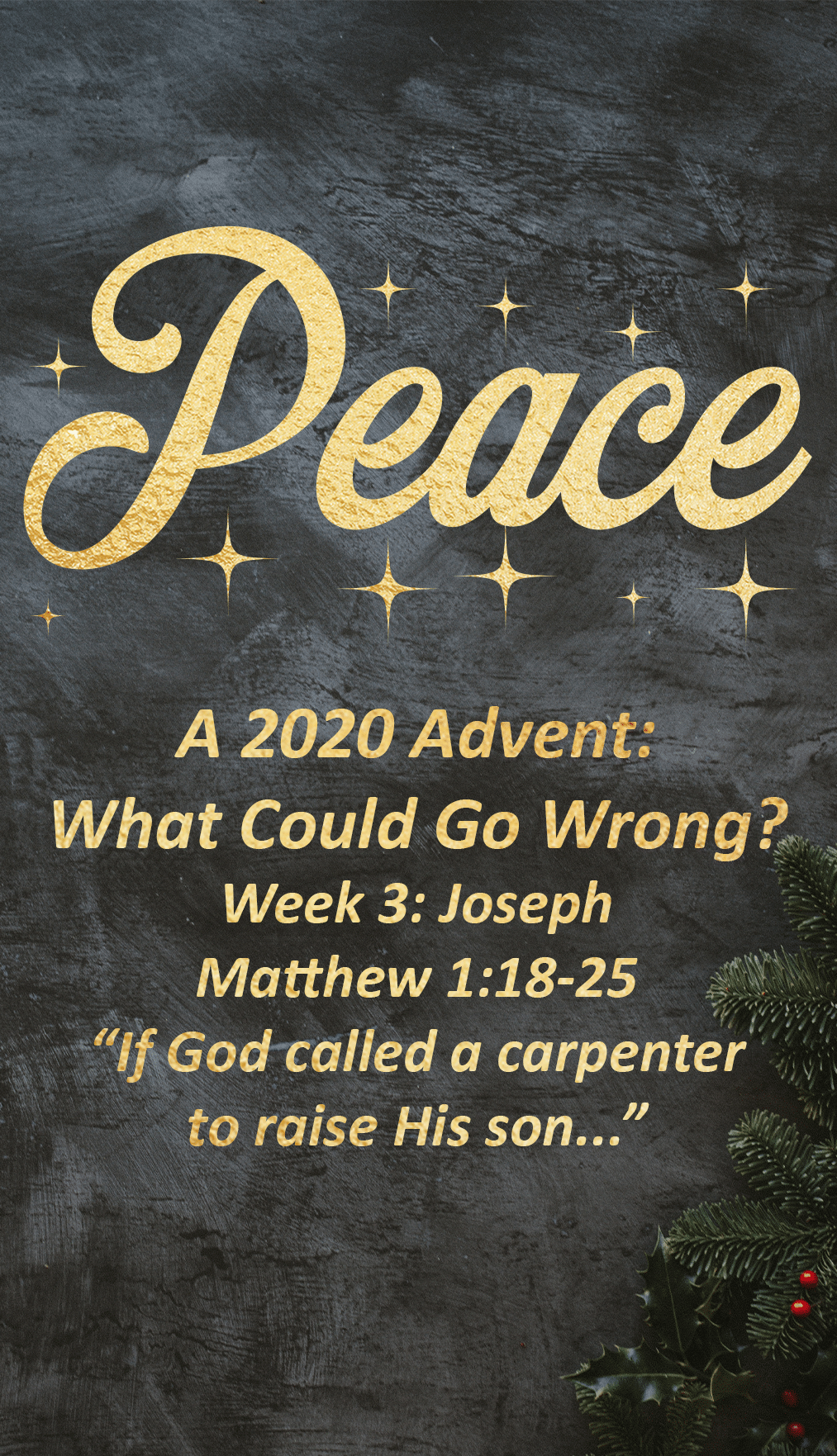 Pigeon River Church December 13, 2020
We are glad you are here, and we hope you enjoy this opportunity to worship God with us. Please join us on Facebook or YouTube if you cannot attend in person.
Call to Worship
Advent 3
Welcome & Prayer
Advent Candle Lighting
Hymns of Worship
Advent Story Video
Scripture Reading–
Matthew 1:18-25
Message—Pastor Dave
"What Could Go Wrong? Peace"
Songs of Worship
Sharing & Pastoral Prayer
Benediction
Enrichment Opportunities
11 am Children's Sunday School in person &
on zoom. Contact Kim Good for the link.
Youth Sunday school in person.
Contact Pastor Bill if you would like to
join via zoom.
Adults will meet in person & zoom for the
study led by the Ackermans from the
Leadership Bible-meeting id: 73192256066
This Week
Monday 7 pm MIP—all ages
Tuesday 2 pm Grief Share on Zoom
7 pm Ladies B. Study on zoom
Wednesday 6 pm Christmas Caroling. Please RSVP to the office.
Friday 8 am Ladies Bible Study
Sunday Pastor Dave will continue the Advent
Series—Week 4: "What Could Go
Wrong? Joy" In Person worship
Announcements
· Coffee orders can now be picked up. They are on the serving bar in the kitchen.
· Christmas packs are ready for pick up in the fellowship hall. Bags are labeled with names for children ages 2 through 5th grade and seniors (age 65 and above). Please feel free to take a friend or neighbor's bag to them that may not be here to pick those up. Thank you to those who contributed goodies for the packs.
Annual Report Alert! If you are the chairperson of a committee and responsible for an annual report, please submit it to Emily by no later than January 3 to be included in the Annual Business Meeting Book. Your prompt attention will be appreciated.
In 2020, we have watched the family become more important in many aspects of our children's lives at all stages of the journey. As we walk into 2021, gain encouragement for your children's spiritual growth with Pastor Bill whether you are soon to be a parent for the first time, in the thick of it now, or coming alongside your adult children. Join us for a six-week small group to discuss ways of helping our children grow in their faith, as we come alongside each other to learn from and support one another on the road of faith. Watch for additional details in the coming weeks and contact Pastor Bill with questions or to sign up.
Please mark your calendar. The Thumb Breadbasket @ Laker Elementary dates for 2021 are as follows: February 6, April 10, June 12, August 14, October 9, December 11.
Please rejoice with the Segroves on the birth of Josiah last week. Here is the link to bless them with a meal during this busy time @Take them a Meal
Do you miss singing Christmas carols this year? Come join the group on Wednesday, Dec. 16th at 6 pm for a time to bless those who aren't able to come to church. All ages are welcome. Please RSVP
Reminder: Please return or mail the completed Affirmation sheet by next Sunday, December 20th. Many thanks to those who have served this past year!!
Make plans now to join the Menno Knights in 2021. This accountability group will help you focus on your exercise and weight loss goals and is open to everyone. In a time that everything is changing, this will be the same as in the past years. For 2021 we will tour the Great Lakes and visit some lighthouses on our way to better health. You can sign up now at the Welcome Center or contact Marie.
Pastor Dave will be offering a four week membership class on Sunday afternoons at 1PM beginning January 10th. If you would like to participate, please contact Pastor Dave by January 3rd.
Our Harvest Offering continues through Jan. 3rd. Please take the time to review the additional sheet for your giving opportunities at the regional level.
Apply now for a 2021-22 scholarship. Our church's faith-based partner, Everence, wants to help people nurture their talents. If you or your parents are or become Everence members and you will be enrolled in a college or trade school next fall, apply for an Everence College Scholarship of up to $3,000 before March 10. Visit everence.com/college-scholarships for guidelines and an application.
Share your heart. Now is a special time to make your generosity shine even brighter. Everence, a faith-based partner of our church, can help you simplify your year-end giving. Visit everence.com/giveback to learn about two ways to maximize your charitable gifts.
Offering today:
Pigeon River Ministries
Or you may designate for Harvest Offering
You can mail in your donation. Our online giving portal is on our website You can also check out how easy it is to set up giving through the Faithlife app or text. Simply text the word "GIVE" to (989)217-8181. We appreciate your generosity and flexibility.
Prayer Concerns
Prayer for the local church
· Acts 1:8 vision
Health Concerns/Situations
· Fred & Lois Wilson
· Robert Hartz's coworker's son w/ leukemia
· YFC worker Jason Gaffke's son, Emmitt
· Dana Reiter—healing for cancer
· Praise & thankdful—Judy Dietzel's surgery recovery is going well, she is now at home
· Steve Gnagey w/ covid & cancer recovery
· Brenda Maust—healing of double vision
Missions/Organizations
· Mission Agencies experiencing financial hardships due to Covid.
· Harvest Offering recipients
US/World
· Peace that we can offer to our world in this Christmas season
Let us get to know you!
Please take a moment to send us your information so that we may stay connected with you. Your information is carefully managed and protected.
How did you hear about us?