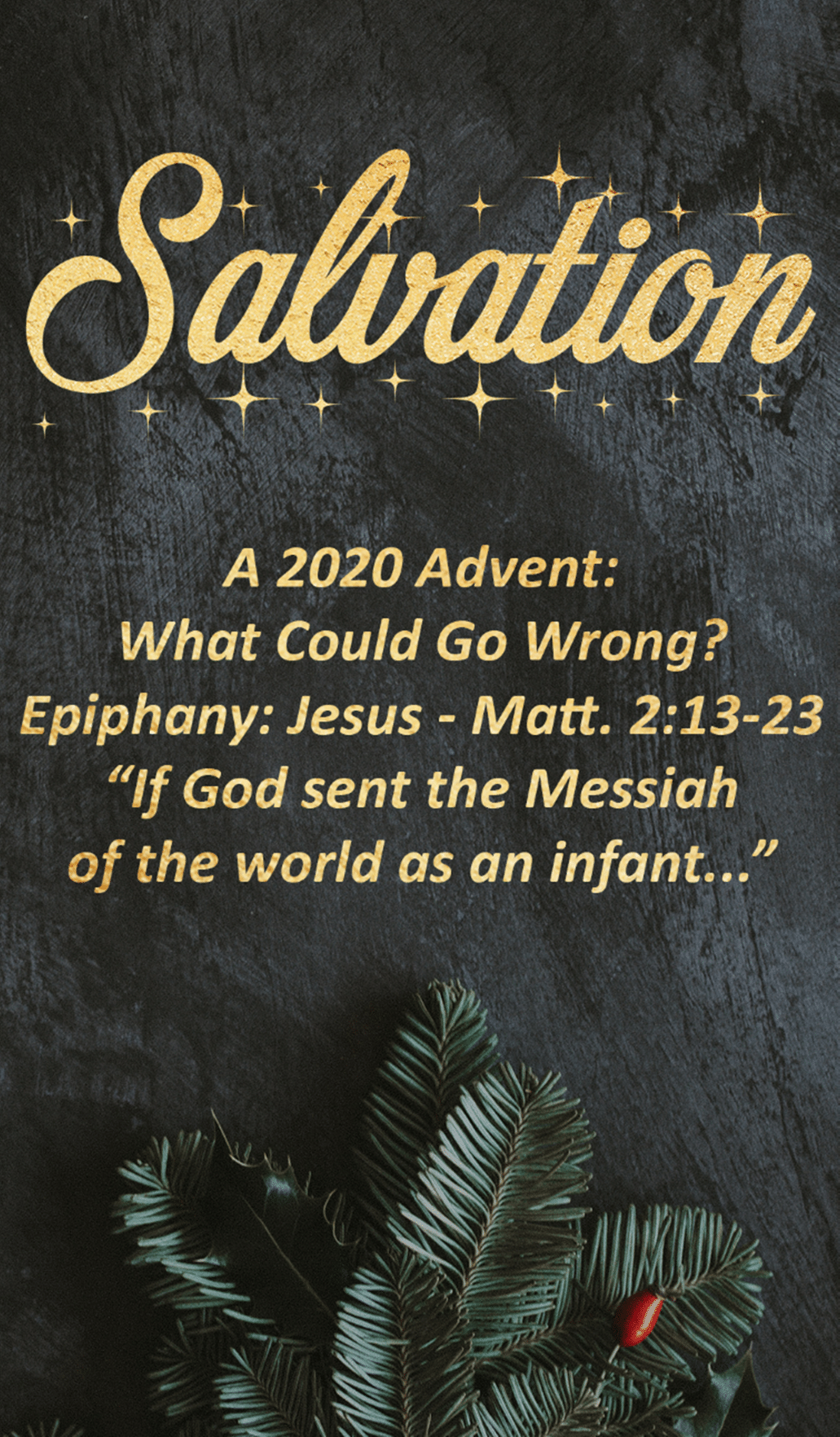 Pigeon River Church December 27, 2020
We are glad you are here, and we hope you enjoy this opportunity to worship God with us. Please join us on Facebook or YouTube if you cannot attend in person.
Call to Worship
Christmas Sunday
Welcome & Prayer
Advent Candle Lighting
Hymns of Worship
Advent Story
Scripture Reading–
Matt.2:13-23
Message—Pastor Dave
"What Could Go Wrong? Salvation"
Songs of Worship
Sharing & Pastoral Prayer
Benediction
There will not be Sunday School for children, youth or adults. Enjoy the fellowship time.
This Week
Friday Happy New Year
Sunday Pastor Bill will bring the message for
In Person worship
Announcements
Announcements…
Pastor Dave will be out of the office December 28– January 3. If you have pastoral concerns you can contact Pastor Bill or the on call pastoral care team member.
In 2020, we have watched the family become more important in many aspects of our children's lives at all stages of the journey. As we walk into 2021, gain encouragement for your children's spiritual growth with Pastor Bill whether you are soon to be a parent for the first time, in the thick of it now, or coming alongside your adult children. Join us for a six-week small group to discuss ways of helping our children grow in their faith, as we come alongside each other to learn from and support one another on the road of faith. Watch for additional details in the coming weeks and contact Pastor Bill with questions or to sign up.
A new Women's bible study will begin on January 12th at 7 pm on Tuesday nights. Beth Maurer will facilitate the study from Right Now Media via zoom. "40 Verses to Ignite Your Faith" by Laurie Short will be the book study. Contact Beth for questions or to sign up.
Pastor Dave will be offering a four week membership class on Sunday afternoons at 1PM beginning January 10th. If you would like to participate, please contact Pastor Dave by January 3rd.
Reminder: Please don't forget to send in your annual report to Emily by Jan. 3.
If you would have interest in participating in a Men's Bible study beginning in January, contact Pastor Dave.
Make plans now to join the Menno Knights in 2021. This accountability group will help you focus on your exercise and weight loss goals and is open to everyone. In a time that everything is changing, this will be the same as in the past years. For 2021 we will tour the Great Lakes and visit some lighthouses on our way to better health. You can sign up now at the Welcome Center or contact Marie.
Thank you for all of the prayers and cards sent during Esther's illness and recent passing. This has been very difficult and your connections meant so much to me. ~Bob Bedford
Our Harvest Offering continues through Jan. 3rd by designating your check. Please take the time to review the additional sheet for your giving opportunities.
Offering today:
Pigeon River Ministries
Or you may designate for Harvest Offering
You can mail in your donation. Our online giving portal is on our website You can also check out how easy it is to set up giving through the Faithlife app or text. Simply text the word "GIVE" to (989)217-8181. We appreciate your generosity and flexibility.
Prayer concerns
Prayer for the local church
· That we can represent God's kingdom well
Health Concerns/Situations
· Fred & Lois Wilson
· Jill Champagne's sister in law w/ no cure cancer report
· YFC worker Jason Gaffke's son, Emmitt
· Dana Reiter—healing for cancer
· Marie Quinn—recent diagnosis w/ cancer
· David & Judy Carlson
· Denny Weidman's coworker's husband
Missions/Organizations
· Harvest Offering recipients
· Rosedale Bible College
US/World
That the good news of Jesus' birth that has been proclaimed will impact the world.
Let us get to know you!
Please take a moment to send us your information so that we may stay connected with you. Your information is carefully managed and protected.
How did you hear about us?