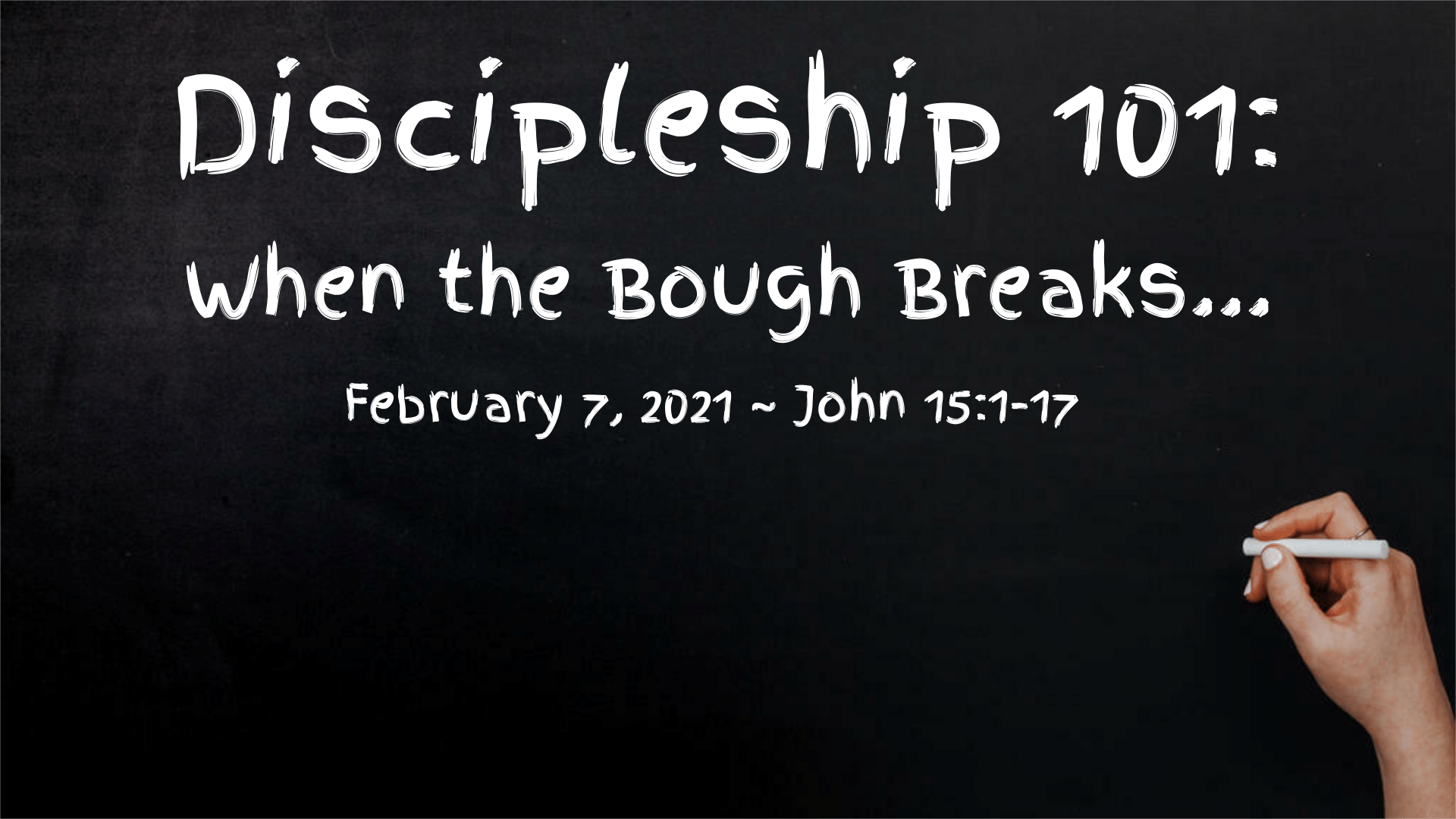 Pigeon River Church February 7, 2021
We are glad you are here, and we hope you enjoy this opportunity to worship God with us. Please join us on Facebook or YouTube if you cannot attend in person.
Call to Worship
Welcome & Prayer
Hymns of Worship
Scripture Reading–
John 15:1-17
Message—Pastor Dave
"Discipleship 101: When the Bough Breaks"
Songs of Worship
Sharing & Pastoral Prayer
Closing Hymn
Benediction
Enrichment Opportunities
11 am Children's Sunday School in person
Youth Sunday school in person.
Contact Pastor Bill if you would like to
join via zoom.
Adults will meet in person & Right Now
Media for the study led by Pastor Dave,
titled "Jesus in the Secular World" If you
are not signed up on Right Now Media
please contact Emily. S.S. Link
This Week
Monday 7 pm MIP—all ages
Tuesday 7 pm Woman's Bible Study on zoom
Contact Beth Maurer for the link.
Wednesday 7 pm Adult prayer meeting & Youth
Friday No Ladies Bible Study
Sunday Pastor Bill will bring the message,
"Wait...What?: The Holy Spirit's
Motivation in the Acts Church"
Announcements
Reminder: A sign up sheet is at the Welcome Center for the multi-stage parenting small group. Childcare is available, please sign up by today. If you signed up earlier and are not on the current list please sign up again or talk to Pastor Bill.
The Menno Knights continue their trek around the Great Lakes. This week they traveled another 410 miles around Lake Superior and made it all the way to Duluth, MN. The 21 people working on weight loss lost another 14.5 pounds this week. Check out the display in the Fellowship Hall to watch their progress.
Pigeon River book reading group will re-read or finish the book by Anne Graham Lotz called The Daniel Prayer. Mark your calendar on March 1 for a time to get together and discuss some of the highlights. If you have questions please contact Dale Ackerman.
Our Harvest Offering recipients have sent Letters of Appreciation. They are displayed in the Fellowship Hall on the table for you. Please take the time to read through. You have been a blessing to so many ministries this past year!
Please contact Faith Fahrner for your church nurse needs 2/5 - 2/9. The Menno Knights should still report their progress to Marie and she will respond when she gets back.
Use your skills or try something new! Join the summer staff of MCC's Sharing With Appalachia People (SWAP) program to support home repair projects in Kimball, West Virginia or Harlan, Kentucky. Positions for Job Site Coordinators and Meals Coordinators are now open. Applicants should be at least 19 years old, but the roles are not limited to young adults. For more information and to apply, visit mcc.org/swap-summer-staff or contact the MCC Appalachia SWAP office at (606) 633-4008 or AppalachiaAdmin@mcc.org.
The Friday morning Bible study group will start their next session on Feb. 19th. The study will be Priscilla Shirer's new study, "Elijah". If you are interested in joining contact Emily Maust.
Reminder: Please consider supporting the Breakfast Club at Lakers. If you would like to help out by providing the food, here is the link to sign up. If you have questions contact Pastor Bill.
Bay Shore has two upcoming events in March. There are brochures on the small table in the foyer if interested.
Offering today:
Rosedale International
You can mail in your donation. Our online giving portal is on our website You can also check out how easy it is to set up giving through the Faithlife app or text. Simply text the word "GIVE" to (989)217-8181. We appreciate your generosity and flexibility.
Prayer Concerns
Prayer for the local church
· As we explore opportunities to be the church in new ways, the work of God's kingdom remains central.
Health Concerns/Situations
· Steve Gnagey's health
· Dave Maust recent health concerns
· Pastor Bill's father—surgery to remove cancer
· Craig family
· Dana Reiter—continued healing from cancer
· Phyllis Bartell recovery from Covid
· Doug Buehler recovery & encouragement
· Ron Swartz, Riverside pastor w/ Covid showing signs of slight improvements
Missions/Organizations
· Sanilac Rescue Mission
US/World
· Unrest in Myanmar
Let us get to know you!
Please take a moment to send us your information so that we may stay connected with you. Your information is carefully managed and protected.
How did you hear about us?