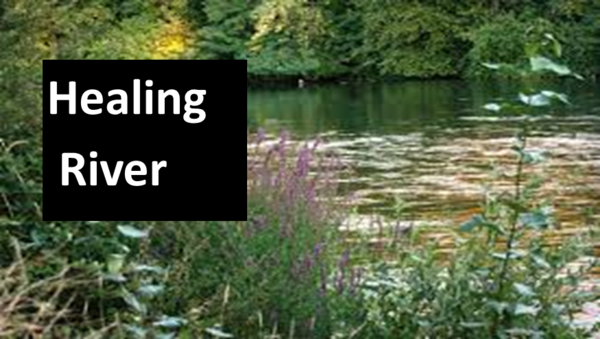 Church Nurse Newsletter
Spring 2021 Pigeon River Mennonite Church Published by the Health Advisory Team: Marie Maust, Jill Champagne, Angie Cysani, Charlene Neer, Faith Fahrner
New Things Have Come
After the long, cold winter in which much of the life of the land seems to be dead and barren, we experience newness with all our God given senses. We see the green of the plants returning to the empty branches and the brown fields. We hear the morning songs of the birds that once again openly flit from branch to branch. We feel the warmth of the springtime air and the shining sun. We smell the scent of flowers blooming in a potpourri of petals. And we taste the fresh fruits and vibrant vegetables that are grown locally. All our bodily senses encounter this newness of life and in our walk with God our spiritual senses can encounter this as well, though this often takes intentionality on our parts.
As we come to worship with the baggage of our weeks, we can release that which weighs us down to God's care and transforming power. As we break free of the isolation of winter's hibernation, we can dwell in the love, warmth, and fellowship of the community of Christ's body gathered. As we escape from the confines of our winter shelters to walk the neighborhood or work the ground, we can bask in the beauty and creativity of God's vibrant creation.
The newness of spring invites us to open our spiritual senses to the awareness of God's presences, power, and purpose in, through and around us. God is with us and God continues to bring resurrection to the death of this world. As II Corinthians 5:17 reminds us, "Behold, new things have come!" Let us behold that which is before our very eyes. Pastor Dave
Opportunities to Exercise
Lakers is excited to announce the long-awaited public opening of their Legacy Center! Beginning Monday, April 19, they will begin the soft opening period. This means that the Laker district households and school of choice households get free access to the Legacy Center fitness area, open gym times, open turf times, and several upcoming family based events.
The soft opening hours will be Monday, Wednesday, and Friday from 7:30 a.m. to 7:30 p.m. During those hours, the Legacy Center will be open and staffed for community use. They want to extend a special invite for you to join them, tour the facilities, enjoy the facilities, take advantage of the soft opening period, and learn more about the Legacy Center. If you have questions, call 989-453-4600 ext. 517. Go to Laker Website For a video tour hosted by Mr. Comai.
If you do the same workout day after day, even the most inspiring exercise or scenic run can start to feel stale. Not only that, but your body also becomes conditioned to the movement, resulting in diminished returns in strength, balance, and endurance. Here are a few suggestions for some routines that could be added to your activities of daily living and most can be done right at home.
Stand on One Foot
When you stand on one leg and wobble, nerve impulses are traveling in split seconds from brain to muscle via spinal cord designed to keep you from falling over. This helps with balance. Practice anytime you can – like while your coffee is brewing through the Keurig.
Hanging Out
If you have access to something you can hang from, hop up on it and hang for 30 seconds. If you can hold it for 30 seconds or longer, you are building up strength and creating lean muscle.
The Tens
This will get you blood pumping as you try to beat your own record time. You could start with 10 burpees, 10 pushups, 10 sit-ups, 10 lunges, and 10 squats. Then you do nine of everything, all the way down to one. Time yourself to see if you are getting better each time. Each time you do this you will have gotten a good workout and have strengthened most major muscle groups of your body.
Be a Tourist in Your Hometown
Explore by foot or bike and check out all the must-sees you suggest to your out-of-town guests. Visit museums. Take a walking tour of the canals on Sand Point. Hike some of the scenic trails nearby. Go to the break wall right here in Caseville, Port Austin, Harbor Beach. You will get your fill of cardio for the day just by moving around, plus you will gain a new appreciation for the place you call home.
10 Tips for Summer Eating
Here are 10 tips for health nutrition to help maintain body weight.
Eat Breakfast.
Studies have shown that folks wo eat breakfast take in fewer calories during the day.
Plate It.
Putting food on a plate, rather than grazing during a summer picnic, helps you be more mindful of what you are eating and how much.
Portion Control.
Take a smaller plate to help manage the temptation to put more on your plate than you need. Try to always have a bit of the plate showing through the food.
Start with Veggies.
Eat a few vegetables or a fresh salad first to curb your appetite before sampling the foods on the table.
Choose Proteins.
Legume-type salads, lean meat in healthy portions will help you feel full.
Skip It.
If you do not love it, don't eat it.
Slow Down.
It takes your brain time to receive the signal that you are full, so slow down and enjoy the bites.
Wait for the second helping.
If you wait 10 minutes, you will feel fuller, and the temptation for seconds will pass.
Focus on a few bites.
The first bites are the most satisfying; enjoy them without thinking you need the entire dish.
Be a little Brave.
Experiment with new flavors and seasonings with your cooking.
Adapted from Church Health Reader
Pigeon River Mennonite Church exists to glorify God and to be Christ's ambassadors to the world.
Our address is: Pigeon, MI 48755, USA