January 2022 Newsletter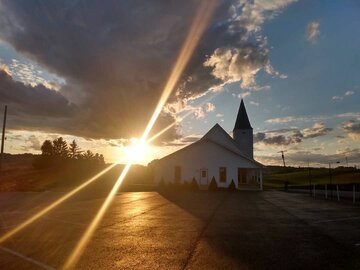 Greetings in the Grace and Peace of our Heavenly Father, whom, through the work of our Lord Jesus Christ and the Fellowship of the Holy Spirit, has brought us together.
Christmas is past and now it's on to 2022. But making "Resolutions" because it's "A New Year - A New You" has become so cliche that it's really no longer any kind of motivator to make the changes you want in your life. Resolutions like losing weight, eating healthy, exercising regularly, quitting smoking, stopping cussing… pale in comparison to the changes we could or should make. Wouldn't it be fantastic to hear Mainstream media and commercials promoting changes like thank God daily, read your bible regularly, pray for others, etc?
Perhaps the Christmas season and the start of the New Year could be a time to figure out what motivates you. Every day really is a new day. Maybe the best thing to do is to stop looking at the past and instead ask God daily to help you become the light and salt he wants you to be. Now there is a resolution!
Consider these two daily readings from "Bedside Blessings" by Charles R. Swindoll, 2011. They are some of my personal favorites. And remember, part of the reason this newsletter exists, to help keep us connected and encouraged. Faithlife, phone calls, letters, cards, photos and videos, all create opportunities to at least peek in on each other and encourage each other. It is easier to feel like you are not alone when you maintain contact with the people you love and who love you. We cannot always be together as we would like to be. Distance, health, and weather can be real impediments, but they do not have to isolate us entirely. I pray that our newsletter this month accomplishes these things for you. Be encouraged & know that you are loved.
Happy New Year!
Colleen Thomas
December 31- We are only finite human beings. We can only see the present and the past... We need to hold God's hand and trust Him. And when we are stubborn or resisting and he shakes us by the shoulders to get our attention, we're reminded we don't call the shots. God has a plan for us, mysterious though it may seem, and we want to be the center of it. All the risks notwithstanding, the center of God's will is still the safest place on earth to be.
My soul waits for the Lord more than the watchman for the morning. Psalm 130:6
January 1- "Mark it down. Things do not just "happen" Ours is not a random, whistle in the dark universe. There is a God-arranged plan for this world of ours, which includes a specific plan for you. And through every ordinary day and every extraordinary moment, there is a God who constantly seeks you. The God who loved and redeemed us… is there, and He is not silent.
Oh, the depth of the riches of the wisdom and knowledge of God!
Romans 11:33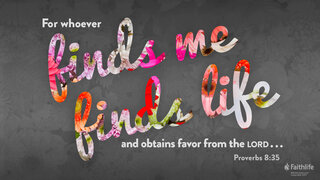 Some New Year Inspiration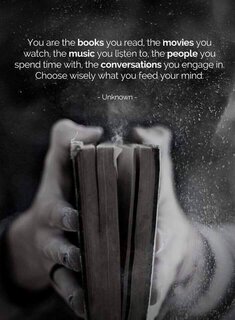 "Life is about change, sometimes it's painful, sometimes it's beautiful, but most of the time it's both." —Kristin Kreuk
"You are never too old to set another goal or to dream a new dream." — C.S. Lewis
"It is never too late to be what you might have been." —George Eliot
"Your present circumstances don't determine where you can go.
They merely determine where you start." —Nido Qubein
"The first step towards getting somewhere is to decide you're not going to stay where you are." —J.P. Morgan
"Don't live the same year 75 times and call it a life." —Robin Sharma
"And now we welcome the New Year, full of things that have never been." Rainer Maria Rilke
Some New Year Humor
"Youth is when you're allowed to stay up late on New Year's Eve. Middle age is when you're forced to." —Bill Vaughan
An optimist stays up until midnight to see the New Year in. A pessimist stays up to make sure the old year leaves.
Q: What is a New Year's resolution?
A: Something that goes in one year and out the other.
Q: What is corn's favorite holiday?
A: New Ears Eve.
Q: What do you tell someone you didn't see on New Year's Eve?
A: I haven't seen you since last year!
Q: What is the snowman's New Year's resolution?
A: To chill out more.
Q: What do you say when bidding farewell on Dec. 31?
A: "See you next year!"
Q: What's the easiest way to keep your New Year's resolution to read more?
A: Watch TV with subtitles.
An iPhone and a firework were arrested on New Year's Eve. One was charged and the other was let off.
I made a New Year's resolution to stop procrastinating, but I'm going to wait until next year to start.
My New Year's resolution was to drop my bad habits, but no one likes a quitter.
May all your troubles last as long as your New Year's resolutions.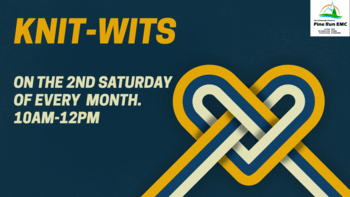 Reflections On The Way: The Blessing of Brokenness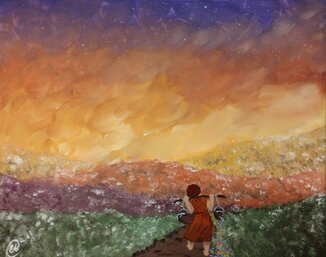 I kind of feel like I am cheating here because most of this reflection is just the parable that the picture above is based on. But that's okay, especially this time because this reflection is about the blessing of being broken... not of being clever.
Eve painted the picture for me for Christmas as a gift to remind me of my Pastor, & Father-in-the-Faith, John Garner. He was a man who embodied the beauty of brokenness. In His authenticity & vulnerability, I saw a raw & unyielding example of what faithful devotion to Yeshua looked like.
Thus, my Ministry, is the result of not only John's teaching, but even more of his living. As he often said, "Ministry is Life & Life is Ministry... Every part of who we are is interwoven with every part of what we do". Similarly, when he was first teaching me how to preach, he advised me "Never study the scripture just to preach a sermon... Study the scripture to know God, & then out of the overflow, preach & teach".
It is my hope that these are the kinds of things I can pass on to you as well. That you would take hold of the life that is truly life. As the Apostle Paul often said, I pray that I will be faithful to take this which was entrusted to me and entrust it to you, so that you might entrust it to others.
SHALOM.
Pastor Joshua.
The Parable of the Servant & the Cracked Waterpot
A servant in India had two large waterpots, each hung on each end of a pole that he carried across his neck. One of the waterpots had a crack in it, and while the other was perfect and always delivered a full portion of water at the end of the long walk from the stream to the master's house, the cracked waterpot arrived only half full.
For a full two years, this went on daily, with the servant delivering only one and a half waterpots of water in his master's house. Of course, the perfect waterpot was proud of its accomplishments, perfect to the end for which it was made. But the poor cracked waterpot was ashamed of its own imperfection and miserable that it was able to accomplish only half of what it had been made to do.
After two years of what it perceived to be a bitter failure, it spoke to the servant one day by the stream. "I am ashamed of myself, and I want to apologize to you". The servant asked, "Why? What are you ashamed of?" The waterpot replied, "For these past two years I am able to deliver only half of my load because this crack in my side causes water to leak out all the way back to your master's house. Because of my flaws, you don't get full value for your efforts".
The servant felt sorry for the old, cracked waterpot, and in his compassion, he said, "As we return to the master's house, I want you to notice the beautiful flowers along the path." As they went up the hill, the old, cracked waterpot took notice of the sun warming the beautiful wildflowers on the side of the path, and this cheered it somewhat. But at the end of the trail, it still felt bad because it had leaked out half its load, and so again it apologized to the bearer for its failure.
The bearer said to the pot, "Did you notice that there were flowers only on your side of your path, but not on the other waterpot's side? That's because I have always known about your flaw, and I took advantage of it. I planted flower seeds on your side of the path, and every day while we walk back from the stream, you've watered them. For two years I have been able to pick these beautiful flowers to decorate my master's table. Without you being just the way you are, he would not have this beauty to grace his house."
Therefore, having this ministry by the mercy of God, we do not lose heart… For what we proclaim is not ourselves, but Jesus Christ as Lord, with ourselves as your servants for Jesus' sake. For God, who said, "Let light shine out of darkness," has shone in our hearts to give the light of the knowledge of the glory of God in the face of Jesus Christ. But we have this treasure in jars of clay, to show that the surpassing power belongs to God and not to us. We are afflicted in every way, but not crushed; perplexed, but not driven to despair; persecuted, but not forsaken; struck down, but not destroyed; always carrying in the body the death of Jesus, so that the life of Jesus may also be manifested in our bodies. For we who live are always being given over to death for Jesus' sake, so that the life of Jesus also may be manifested in our mortal flesh. So death is at work in us, but life in you… So, we do not lose heart. Though our outer self is wasting away, our inner self is being renewed day by day. For this light momentary affliction is preparing for us an eternal weight of glory beyond all comparison, as we look not to the things that are seen but to the things that are unseen. For the things that are seen are transient, but the things that are unseen are eternal.
(2 Corinthians 4, ESV)
Watch Care & Intercessory Prayer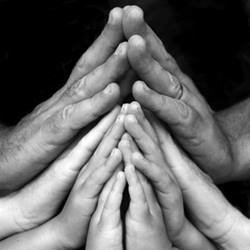 Faithlife Members > Access the Full Prayer Board Here
JANUARY PRAYER LIST
For our Ministry Leadership & their Families:
Pastor Joshua & Allissa.
Pastor RJ & Kylee.
Eve Alexandria Strunk.
For our Board of Stewards & their Families:
Tim & Cathy Clark.
Mike Marangoni.
Jim & Kathy Johnson.
Rick & Nancy Doverspike.
Dan & Tanya Sherbondy.
For our EMC Superintendents & their Families:
(International) Max & Judy Edwards.
(North-East) Brian & Tammy Hammond.
(West) Wes & Lorrie Mackey.
(South) Kevin & Carolyn Brouillette.
For our Missions and Outreach Partners:
Jeff Zito, Missionary w/Jacob's Hope.
Cathy Sloan, Child Evangelism Fellowship.
Joshua & Amanda Westurn, Kiski Area Youth Network.
Kiski Area Association of Churches.
Steve Miller, The Table in New Castle PA.
For the Needs of our Family and Friends:
Barbara Allison
Brian & Ann Altman
Ann Altman's son Junior Mezinko
Tracy & Mckenna Black
Ann Busshaus
Kathy Cairns & her mom
Dave & Penny Carroll
Elliot Chase
Tim & Cathy Clark
Jim Cloud & Family
Bob Cook
Frank & Ann Crawford
George Dillon
Chris & Beth Domiano
Boyd & Sandy Doverspike
Jim & Emma Dunmire
Faith Edmondson
Rose Mary Elwood
Erin Fanning
Lewis Flickinger & his daughter Lisa
Loretta Frick
Missy Gardina
Brian George
George Gerner
Joe & Joanne Gibson
Leanne Golding
James Griffits (Chemo pill & Eye pain)
David Grimm
Dwight Guthrie
Dave & Diane Hamilton
Ron Hreha (Back injury)
Caiden Hutchinson
David Illar
Josephine & Cindy
Toni Kilcrease
Ted & Kathy Klingensmith (Ted has Lung Cancer)
Ted Klisavge
Mike & Michelle Kushner
Tracy LaPierre
Helen Lomb
Jenn, Abigail & Adeline Long
Brian & Kim McCollim
Matt McCormick's friend Julian (Brain tumor)
Brian & Kim McCollim
Mary McIlwain
Helen Megee
Robert Sr. & Shirley Miller
Robert & Colleen Morris
Howard Newell
Omar Ortiz (Kidney Cancer)
Martha Piwinsky
Spencer Reidel
Harry & Shirley Robertson
Bernice Rosensteel
B. Sellers & Family
Martha Serwinski
Emma Shirey (Cancer)
Mark & Cheryl & Matthew Shirey
Kimmy Sloan
Bill Smeltzer
Harry Swenson (Spinal Cancer)
Doris Walker
Kelly Wolfgang
Ray & Cynthia Widmer
Jimmy Young
Bud Zerby
Pray for our Service Men:
Travis Pauly – US Airforce Reserve Airman
Daniel Stiffler – Active Airforce Airman
Nicolas Stiffler – Active Airforce
Pray for our College Students:
Daniel Johnson
Luke Golding
Other Stuff You Might Have Missed!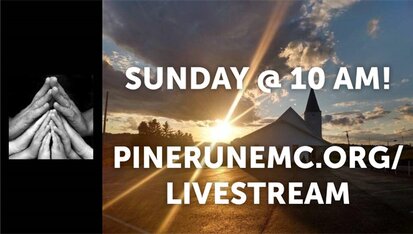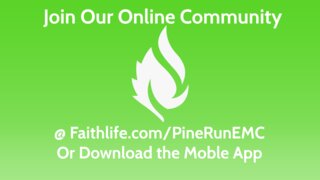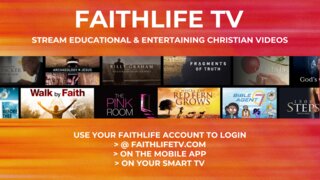 Did you know Pastor Joshua is also building a Teaching Series Video Archive Library on Faithlife?
Check it out @ https://pinerunemc.org/teaching-series
Our Educational Scholarships goal is $10k for 2022. We are asking our Church Community to utilize the Mason jars (previously used for the Soup fundraiser) to collect change throughout the year towards scholarships. If you have any other fundraising opportunities or suggestions, let us know.
With all the hits the average person has taken this year, loss of employment, rising prices, etc… If you know someone in need – neighbors, co-workers, friends – contact the church office for resources. It's hard to be told to "trust God and have faith" when your electricity is going to be shut-off, you have little food, or need employment. As God's blessed people these are the times when we should be attuned to the needs of others and reach out a helping hand and by the Grace of God and His Blessings show His Love.
Knitwits partners with Allegheny Health Network to distribute hats, shawls, and afghans to the Homeless, Cancer patients, and hospitals throughout Western PA. If you know of anyone who is in need of a prayer shawl, please let Pasto Lee or Lu Tucci know. Donations of yarn or 2.5 gallon Ziploc bags are always appreciated.
In 2021 the Knit-Wits Ministry has made a total of:
69 Prayer Shawls
147 Adult hats
2 Baby Afghans
84 Premie Hats
17 Child hats
Become A Supporting Partner!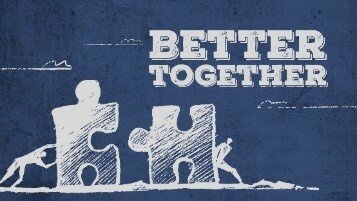 The Community of Faith is the Original Crowd-Funding Experiment. We can't do any of this without your support.
And Remember...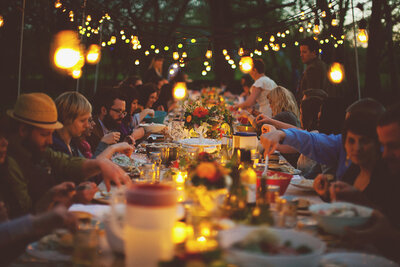 We have plenty of room at the table. So help us expand our reach & our impact by telling a friend about what we're doing.
Also, if you are not yet connected with us @ http://www.Faithlife.com then click the link & make a profile (please use your full name so we know who you are). ​Once you have that done, just search for The Community Church of Pine Run EMC and click on the FOLLOW button.
This will give you access to our directory & calendar. Plus you'll be able to see all the stuff we're doing, participate in the conversations, and be a part of an online Community of Faith that will encourage, equip and empower you to know God, to love God, and to live fully-alive through Him.
*******
The Community Church of Pine Run was originally established in 1861 in the Historic Alle-Kiski River Valley, on the outskirts of the town of Apollo, in Washington Township of Westmoreland County Pennsylvania.
We are a Community of Faith that is biblically-based, family-oriented, naturally diverse, and multi-generational; committed to loving God and others in real and practical ways.
*******
This Is What Coming Home Feels Like!
One Last Thing!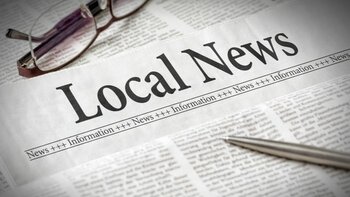 For many, this newsletter is a solid reminder of their part in our Community. There are so many talented people, we would love to include your contributions, stories, celebrations, praise reports, prayer requests, photos, and whatever you would like to share with the community. It's easy, just send an email to office@pinerunemc.org & we will take it from there.
God. Family. Community.
Our address is: 190 Pine Run Church Rd, Apollo, PA 15613, USA