April 2022 Newsletter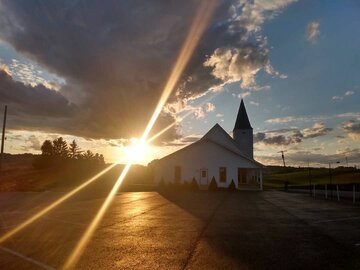 Greetings in the Grace and Peace of our Heavenly Father, whom, through the work of our Lord Jesus Christ and the Fellowship of the Holy Spirit, has brought us together.
The Ladies Tea on March 19, 2022, was a treat. The lunch was delicious, and we appreciated the volunteers and their work to make the day enjoyable. Alyssa Strunk was the guest speaker, and she shared a personal story of trusting God and having faith. She touched our hearts with her message of keeping God's promises foremost in our lives and looking for the opportunities He sends us especially when circumstances can be overwhelming.
To hear how the Strunk's came to Pastor at Pine Run is a story that gives praise to God's ways. How many of us at Pine Run recognize the blessing God has given this small country church in the middle of nowhere. A Doctoral Pastor and wife as well as an Associate Pastor and wife guided by God's Will. And better still that they do not puff themselves up with titles or lord their knowledge over us but speak the truth from God's word to us. They share their lives and encourage us to grow in faith and the truth of God.
Her story of 'Faith -to Hope -to Joy' had my daughter and I talking the whole way home. My daughter shared how she looked for an answer to her prayer and missed the opportunities God had set before her. I realize I do the same thing. I ask God to wave His magic wand and give me faith or joy. How many times have I asked God to magically make life easier, get me a job, increase my faith or give me joy? What a fantastic perspective to purposefully look for God's opportunities in the midst of this world. To step out in faith by trusting God's promises.
Sharing one of her favorite passages, Romans 8: 31-39; Paul wants us to have the right perspective in our daily lives. Hard times or good times are not related to God's absolute love for us. Life's struggles are an opportunity for God to see us through the hardships. He wants us to be ready for trouble in this world, not to be surprised, conflicted, or caught off guard. He wants us to be subversive, to take a stand, to draw a line, even to be ready to be killed like sheep for His sake. At which point our faith is in motion, no longer a noun but a verb. And He promises to reward us as He did for Daniel. After Daniel took a stand for Him
"God brought Daniel into the favor and goodwill of the chief of the Eunuchs"
Daniel 1:9
He blesses us with "the peace of God, which surpasses all understanding, (and) will guard your hearts and minds through Christ Jesus."
Philippians 4:7
"And we know that all things work together for the good to those who love God, to those who are called according to His purpose."
Romans 8:28
God shows each of us His love for us by gifting us with this loving family and giving us the opportunity to partner together, share our talents and reach a hurting world.
Love from your sister in Christ,
Colleen Morris
Sometimes we cannot be together as we would like to be. Distance, health, and weather can be real impediments, but they do not have to isolate us entirely. This is part of the reason this newsletter exists, to keep us connected. Faithlife, phone calls, letters, cards, photos, and videos, all create opportunities to at least peek in on each other and encourage each other. It is easier to feel like you are not alone when you maintain contact with the people you love and who love you. Participate in the conversations and be a part of an online Community of Faith that will encourage, equip and empower you to know God, love God, and live fully alive through Him.
Connect with us @
WWW.FAITHLIFE.COM/PINERUNEMC
Ministry Updates
YOUTH MINISTRY
Our young people made banners each in their own style with their favorite verses from Proverbs. We love them sharing their talents with the Community.
https://faithlife.com/posts/4134176
NIGHT OF WORSHIP
On March 25th we had the opportunity to hear the growth of our next generation of Worship leaders as they led us in a night of worship. You can watch the video at https://pinerunemc.org/worship
MR BOXES
Headed up by Sarah and Brian Fricke donates boxes to local hospitals that minister to Fathers who have lost a child. Contributions can be made by specifying in the comments box when giving online.
https://pinerunemc.org/mrboxes
PUBLIC SAFETY TEAM
With the addition of a defibrillator, anyone with training in CPR willing to provide a rotation during Church services is welcome. Please speak to Pastor RJ or Tim Clark.
EDUCATIONAL SCHOLARSHIPS
The goal was $10k for 2022 & so far we've raised almost $6000 with $300 coming from our Mason Change Jars. If you have any other fundraising opportunities or suggestions, let us know.
https://pinerunemc.org/scholarships
KNIT WITS
We need people to make hats or prayer shawls. The need has greatly increased. Allegheny Health Network distributes to Homeless, Cancer patients, and hospitals throughout Western PA.
https://pinerunemc.org/knitwits
INTERCESSORY PRAYER
Pastor Lee offers prayers after Sunday Services. Please don't hesitate as God hears our prayers.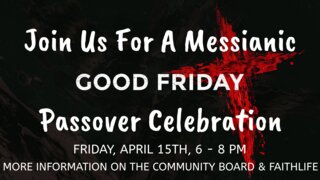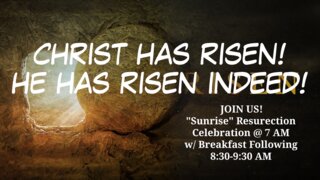 Our Family Tree Photo Wall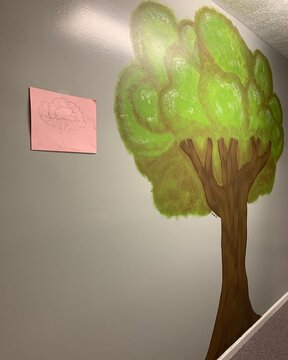 Bring in a 3x5 or 4x6 photo of your family that you want to share & we will put it on the wall. Eve and David painted this tree to give us a proper backdrop. With the growth of our church, this is a great way to connect names and faces.
Watch Care & Intercessory Prayer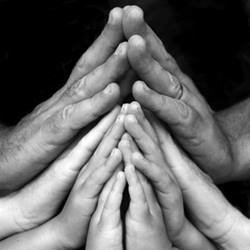 Faithlife Members > Access the Full Prayer Board Here
APRIL PRAYER LIST
For our Ministry Staff & their Families:
Pastor Joshua & Allissa.
Pastor RJ & Kylee.
Eve Alexandria Strunk.
For our Board of Stewards & their Families:
Tim & Cathy Clark.
Mike Marangoni.
Jim & Kathy Johnson.
Rick & Nancy Doverspike.
Dan & Tanya Sherbondy.
For our EMC Superintendents & their Families:
(International) Max & Judy Edwards.
(North-East) Brian & Tammy Hammond.
(West) Wes & Lorrie Mackey.
(South) Kevin & Carolyn Brouillette.
For our Missions and Outreach Partners:
Jeff Zito, Missionary w/Jacob's Hope.
Cathy Sloan, Child Evangelism Fellowship.
Joshua & Amanda Westurn, Kiski Area Youth Network.
Kiski Area Association of Churches.
Steve Miller, The Table in New Castle PA.
For the Needs of our Family and Friends:
Barbara Allison
Brian & Ann Altman
Ann Altman's son Junior Mezinko
Mckenna Black
Ann Busshaus
Kathy Cairns & her mom
Dave & Penny Carroll
Elliot Chase
Jim Cloud & Family
Bob Cook
Frank & Ann Crawford
George Dillon
Chris & Beth Domiano (Chris is Cancer Free!)
Boyd & Sandy Doverspike
Jim & Emma Dunmire
Faith Edmondson
Rose Mary Elwood
Erin Fanning
Lewis Flickinger
Loretta Frick
Missy Gardina
Brian George
Leanne Golding
James Griffits (Chemo pill & Eye pain)
David Grimm
Dwight Guthrie
Dave & Diane Hamilton
Dave Hamilton's daughter Jennifer (LIves in TX & is dealing w/ Heart Issues)
Joseph Hesketh (Physical Concerns)
Ron Hreha (Back injury)
Caiden Hutchinson
David Illar
Chip Jervis
Josephine & Cindy
Toni Kilcrease
Ted & Kathy Klingensmith (Ted has Lung Cancer)
Ted Klisavge
George Kremer
Mike & Michelle Kushner
Tracy LaPierre
Helen Lomb
Jenn, Abigail & Adeline Long
Brian & Kim McCollim
Matt McCormick's friend Julian (Brain tumor)
Brian & Kim McCollim
Mary McIlwain
Helen Megee
Robert Sr. & Shirley Miller
Robert & Colleen Morris
Howard Newell
Omar Ortiz (Kidney Cancer)
Martha Piwinsky
Spencer Reidel
Harry & Shirley Robertson
Bernice Rosensteel
B. Sellers & Family
Martha Serwinski
Emma Shirey (Cancer)
Mark & Cheryl & Matthew Shirey
Kimmy Sloan
Bill Smeltzer
Kim Soulcheck
Harry Swenson (Spinal Cancer)
Doris Walker
Kelly Wolfgang
Ray & Cynthia Widmer
Jimmy Young
Bud Zerby
Pray for our Service Men:
Travis Pauly – US Airforce Reserve Airman
Daniel Stiffler – Active Airforce Airman
Nicolas Stiffler – Active Airforce
Pray for our College Students:
Daniel Johnson
Luke Golding
Other Stuff You Might Have Missed!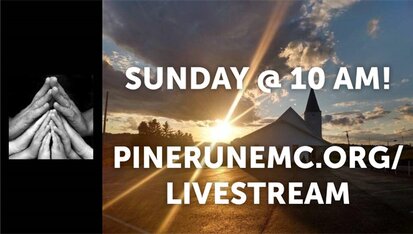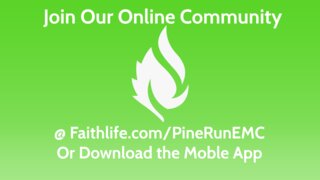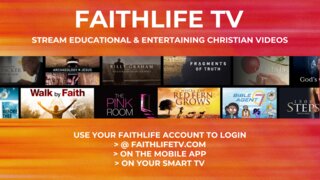 Looking For An Easy Way To Share The Faith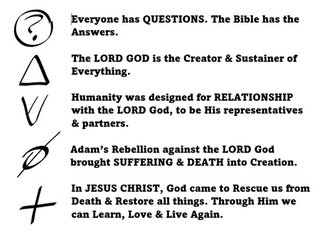 Check out these resources on our website!
Become A Supporting Partner!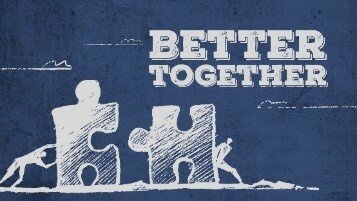 The Community of Faith is the Original Crowd-Funding Experiment. We can't do any of this without your support.
And Remember...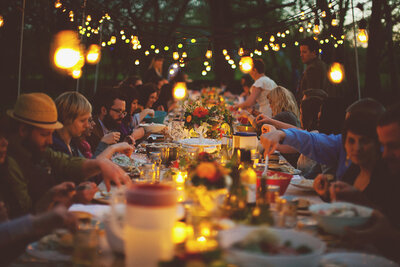 We have plenty of room at the table. So help us expand our reach & our impact by telling a friend about what we're doing.
Also, if you are not yet connected with us @ http://www.Faithlife.com then click the link & make a profile (please use your full name so we know who you are). ​Once you have that done, just search for The Community Church of Pine Run EMC and click on the FOLLOW button.
This will give you access to our directory & calendar. Plus you'll be able to see all the stuff we're doing, participate in the conversations, and be a part of an online Community of Faith that will encourage, equip and empower you to know God, to love God, and to live fully-alive through Him.
*******
The Community Church of Pine Run was originally established in 1861 in the Historic Alle-Kiski River Valley, on the outskirts of the town of Apollo, in Washington Township of Westmoreland County Pennsylvania.
We are a Community of Faith that is biblically-based, family-oriented, naturally diverse, and multi-generational; committed to loving God and others in real and practical ways.
*******
This Is What Coming Home Feels Like!
One Last Thing!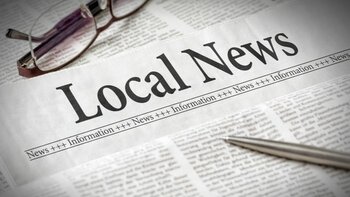 For many, this newsletter is a solid reminder of their part in our Community. There are so many talented people, we would love to include your contributions, stories, celebrations, praise reports, prayer requests, photos, and whatever you would like to share with the community. It's easy, just send an email to office@pinerunemc.org & we will take it from there.
God. Family. Community.
Our address is: 190 Pine Run Church Rd, Apollo, PA 15613, USA