March 2021 Newsletter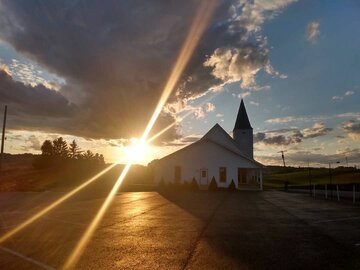 Greetings in the Grace and Peace of our Heavenly Father, whom, through the work of our Lord Jesus Christ and the Fellowship of the Holy Spirit, has brought us together.
It is becoming more and more apparent every day, that ​Social media can be really toxic, especially when you have been isolated from the joy of real, face-to-face community, for an entire year. This is, in part, what led us to Faithlife. If you have not made your account yet, we really want to encourage you to do so. The online community platform is fantastic, but the best part is that unlike most social media, this is a platform is designed to help you and to grow you in the Faith. In addition to integrating our website, videos, communications, teams, and giving; with your Pine Run EMC Faithlife account, you will have access to online Logos Bible study tools [http://www.app.logos.com] & to Faithlife TV [http://www.faithlifetv.com], an "Amazon Prime" style streaming service that contains thousands of hours of family-friendly, faith-building entertainment & educational videos.
It looks more and more like things are going to start opening up again soon, but the reality is that nothing ever stays the same or goes back to what it used to be. Our world, our nation, our local communities are different, but these changes don't have to paralyze us. When we walk humbly with our God (cf. Micah 6:8) we can smile in the face of whatever comes next knowing that His strength will be ours.
Blessings.
This is what the Lord says, He Who makes a way in the sea, a path in the mighty waters, Who brings forth chariot and horse, army and warrior; they lie down, they cannot rise, they are extinguished, quenched like a wick: "Remember not the former things, nor consider the things of old. Behold, I am doing a new thing; now it springs forth, do you not perceive it? I will make a way in the wilderness and rivers in the desert."
Isaiah 43:16-19, ESV
Upcoming Events
Download
We set aside the last Friday of each month for a day of intercessory prayer (9AM-6PM) & then end the evening with a time of congregational worship (6PM-7PM). Come & See what God is doing @ Pine Run EMC.
Friday, March 26th, 2021  •  9 am – 7 pm (EDT)
Download
First, we will gather in the Fellowship Hall to remember the Passover & how its promise was fulfilled through Jesus. Then, we will eat together. All are welcome. Bring a covered dish to share.
PLEASE NOTE: This is NOT a Seder Meal & it is NOT Kosher.
Friday, April 2nd, 2021  •  6–8 pm (EDT)
Reflections on the Way: Biblical Faith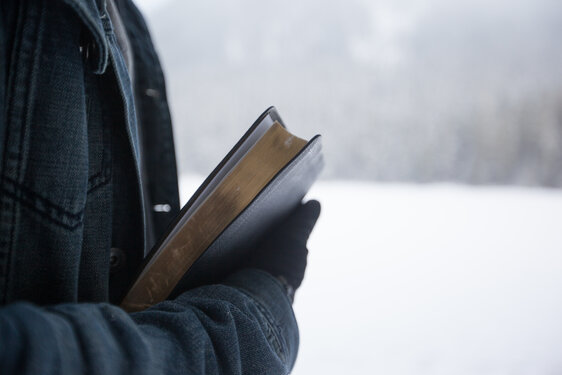 I have written and spoken on the false teaching that Christians should have Blind Faith, many times over the years that I have been blessed to be your pastor. Blind Faith appeals to our desire for simplicity, but in actuality it steals from us the Assurance of Salvation that comes from actual Trust and substitutes in its place a religious sentimentalism that will always fall in on itself when crisis comes.
Blind faith is not Biblical Faith. Blind Faith is trusting in something or someone, in spite of evidence to the contrary. Biblical Faith is trusting in God because of the evidence that He has given us in His Word, His Creation, Human History, and Our Own Personal History. Unfortunately, too few people are willing to think deeply about the multitude of ways in which God has actively revealed Himself in the past, and in which He is currently revealing Himself right now.
This is why so many, find it so easy, to walk away from the Faith entirely; their unwillingness to love God with their Minds results in stony hearts where the Gospel is not able to root down deeply (cf. Mark 4:1-20). This was on my mind when I came across a video on FaithlifeTV called Is God Just A Human Invention with Dr. Sean McDowell. In this series, Dr. Mcdowell confronts some of the most challenging arguments against the existence of God. I was so impressed that I have asked Pastor RJ to use it to teach a midweek bible study in April and May. I hope you will consider being apart of that study, because the way we become more than conquerors through Christ Jesus (cf. Romans 8), begins with allowing Him to transform our lives as He renews our Minds (cf. Romans 12) and establishes us in Biblical Faith.
So let us seek to Live Life to its fullest potential. Let us go on to maturity. Let us Love the Lord with All of our Heart, Soul, Mind, and Strength. With Eyes Wide Open...
SHALOM,
Pastor Joshua
Pastor RJ's Library: That Incredible Christian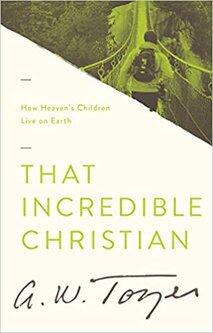 Aiden Wilson Tozer was a pastor, author, magazine editor, and spiritual mentor in the Christian Missionary Alliance Church during the early 20th century. He was born into a small farming community in western Pennsylvania but became a follower of Jesus Christ as a teenager in Akron, Ohio where he had gone to work at a tire company. In 1919, five years later, and without formal education in Christian theology, he accepted an offer to serve as pastor of his first church. That began 44 years of ministry, 33 of them serving as a pastor in several different congregations. Born into poverty, he was entirely self-educated and yet before the end of his ministry he had been awarded with honorary doctorates from both Wheaton & Houghton.
In the book That Incredible Christian A. W. Tozer sets forth to discuss the many facets and characteristics of the Christian life. The central conceit of the book however, is that each of these actually revolves around recognizing God for who He really is and honoring Him as such (p. 8). The book is relatively short and the chapters are likewise short, similar to what one might find in a modern devotional. As such the reader can move through the book as quickly or slowly as they prefer.
One of my favorite parts about the book personally, is the way that Tozer shows that we come to know truth through living it. It is reminiscent of the axiom of Dietrich Bonhoeffer, that only those who believe obey, and only those that obey believe (cf. The Cost of Discipleship). Bible doctrine, in the estimate of Tozer, is utterly useless until it is actually practiced in the life of the individual. Essentially, Tozer's assertion is that a theological fact only becomes a life-saving truth, when it is coupled with the act of obedience (pp. 92-93). Our righteousness can never save us, but if we are truly in covenant with Christ, then we will walk in His Righteousness.
Someone will say, "You have faith and I have works." Show me your faith apart from your works, and I will show you my faith by my works. You believe that God is one; you do well. Even the demons believe—and shudder! Do you want to be shown, you foolish person, that faith apart from works is useless? Was not Abraham our father justified by works when he offered up his son Isaac on the altar? You see that faith was active along with his works, and faith was completed by his works; and the Scripture was fulfilled that says, "Abraham believed God, and it was counted to him as righteousness"—and he was called a friend of God. You see that a person is justified by works and not by faith alone. And in the same way was not also Rahab the prostitute justified by works when she received the messengers and sent them out by another way? For as the body apart from the spirit is dead, so also faith apart from works is dead.
James 2:18-26, ESV
Other suggested reading:
"The Pursuit of God" by AW Tozer
"Knowledge of the Holy" by AW Tozer
Ministry Spotlight On Education Scholarships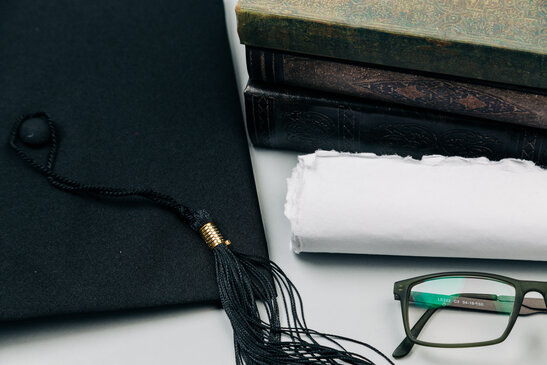 ​Every year we raise money to help nurture the dream of further education for future Christian leaders in our Local Kiski Valley Communities. Over the years the Pine Run EMC Educational Scholarships have grown to include students from the Apollo, Kiski, and Leechburg school districts.
In October of 2005, the Women's Ministry started the first Scholarship fund with just $153. With a handful of donations and a few small fundraisers, they were able to give the first scholarship of $500 in the spring of 2006 to a local high school graduate. At this point, we have given over $57,000 to a total of 82 students over the course of the last 15 years.
Christians often talk about how bad things are and how they wish things were better. Well, this is one way that we are helping to make things better. Because these scholarships help make it possible for young men and young women to pursue careers that bring their faith, and consequently the love of God, into the world in tangible ways.
This year, even with the way COVID has set our fundraising efforts back, we've almost reached our goal of $5,500 for scholarships. You can help us reach that goal by sharing this ministry with any family and friends you might have who are also passionate about creating educational opportunities and investing in local communities. Additionally, should you feel so led, you can donate specifically to this ministry @ https://pinerunemc/support and designating your gift for Educational Scholarships.
In case you haven't had the opportunity to be apart of one of our Scholarship Sunday Celebrations, you can check out 2020's here:
2020 Educational Scholarship Awards Presentation | Rev. Dr. Joshua C. Strunk
Finances @ A Glance
Budgeted Income Year To Date
Opportunities for Kingdom Investments
The Board of Stewards has designated the following Focused Giving Opportunities:
Worship Ministries.
Discipleship Ministries.
Children's Ministry.
Student Ministry.
Men's Ministry.
Women's Ministry.
Outreach Ministries.
Educational Scholarships.
Kiski Area Youth Network.
Rise Against Hunger.
EMC World Missions.
Special Project: Roof Replacement
The following are the 4 Primary Giving Options available. If you would like more information about these options, please speak to Pastor Joshua.
Weekly Offering.
Online Giving.
A Gift-in-Kind.
Legacy Giving.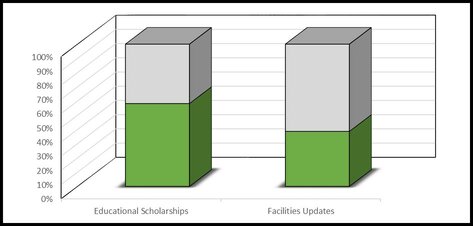 Facilities Care: Roof Project
At the Congregational Meeting in January, we decided to put a new roof on the church. This is going to cost upwards of $50,000-$60,000. If you would like to help us raise these funds in addition to your regular offerings, please make a note of it on your gift (Building Fund: Roof Replacement) so that we can make sure the funds have been allotted properly.
Watch Care & Intercessory Prayer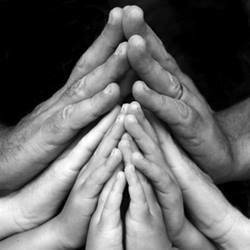 Access the Full Prayer Board On Faithlife Here.
MARCH PRAYER LIST
For our Leadership.
Pastor Joshua & Allissa.
Pastor RJ & Kylee.
Eve Alexandria Strunk
Our Board of Stewards & their Families.
Jim & Kathy Johnson.
Mike Marangoni.
Brian & Kim McCollim.
Mike & Michelle Kushner.
Our EMC Superintendents & their Families.
(International) Max & Judy Edwards.
(North-East) Brian & Tammy Hammond.
(West) Wes & Lorrie Mackey.
(South) Kevin & Carolyn Brouillette.
For our Missions and Outreach Partners:
Jeff Zito, Missionary w/Jacob's Hope.
Jim & Emma Dunmire, Kiski Valley Habitat for Humanity.
Cathy Sloan, Regional Director of Child Evangelism Fellowship.
Joshua & Amanda Westurn, Director of Kiski Area Youth Network.
Kiski Area Association of Churches.
For the Needs of our Family and Friends:
Altman, Ann
Black, Mckenna
Brank, Sharron
Busshaus, Ann
Cairns, Doug & Kathy (& her mom)
Carroll, Dave & Penny
Chase, Elliot
Clark, Tim & Cathy
Cloud, Jim & Family
Cook, Bob
Crawford, Frank & Ann
Dillon, George
Domiano, Chris & Beth
Doverspike, Boyd & Sandy
Dunmire, Jim & Emma
Edmondson, Faith
Elwood, Rose Mary
Frick, Loretta
George, Brian
Gibson, Joe & Johanna
Grimm, David
Guthrie, Dwight
Hamilton, Dave & Diane
Hutchinson, Matt & Caiden
Illar, David
Kestner, Chris & Family
Klisavge, Ted
LaPierre, Tracy
Lomb, Helen
Long, Jen & Abigail
McIlwin, Mary
Megee, Helen
Miller, Robert Sr. & Shirley
Pisarcik, Cindy
Reidel, Spencer
Sellers, B. & Family
Serwinski, Martha
Shirey, Emma > Cancer
Shirey, Mark & Cheryl & Matthew
Sloan, Kimmy
Sofaly, Gayle
Smeltzer, Bill
Swenson, Harry > Spinal Cancer.
Wolfgang, Kelly
Widmer, Ray & Cynthia
Young, Jimmy
Zerby, Bud
Pray for our Service Men:
(E-6) Tech Sergeant Travis Pauly – US Airforce Reserve
Airman Daniel Stiffler – Active Airforce
Airman Nicolas Stiffler – Active Airforce
Pray for our College Students:
Daniel Johnson
Words of Praise & Thanks
From Joe & Johanna Gibson:
"Brothers & Sisters in Christ, we want to thank all of you for the Christmas Greetings. We really appreciate the cards & love shown to us. We were not attending services at the time because of COVID & Joe's health issues. It was nice to know that people were thinking of us. Thank you again & God bless you all."
And Remember...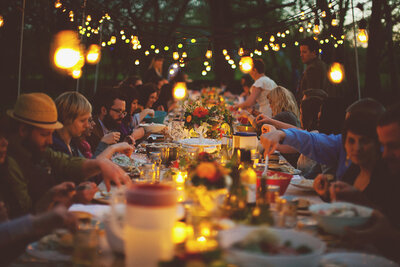 We have plenty of room at the table. So help us expand our reach & our impact by telling a friend about what we're doing.
God. Family. Community.
Our address is: 190 Pine Run Church Rd, Apollo, PA 15613, USA