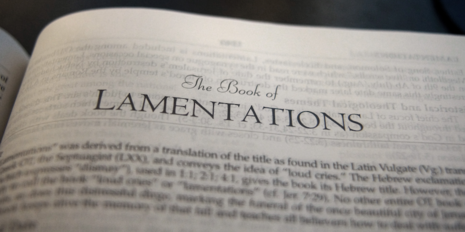 Lament Psalms
I want to share some additional things I've learned about the lament Psalms to go with what I preached on last week. Let me know if you have any questions or additional thoughts!
Lots of Laments in the Bible
As I mentioned in the sermon this past Sunday, the Psalms can be categorized and put into various buckets. Here is a visual representation of all 150 Psalms in their various categories. The categories are just labels that theologians use so it isn't always perfect. And some theologians have slightly different categories.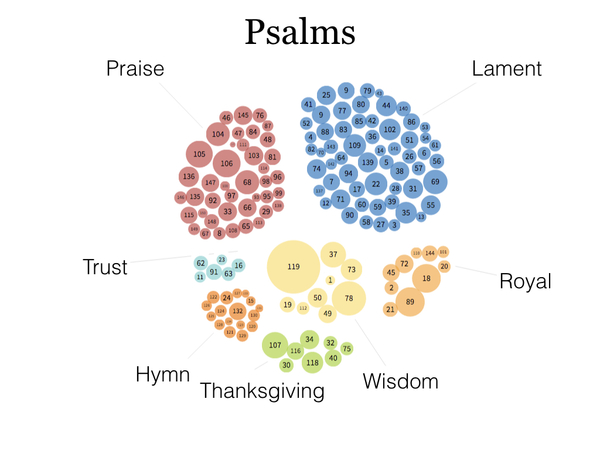 As you can see the largest category is the Laments. What can we learn from that detail? God has a lot to say to us about the hard times of life. (And don't forget that laments are in other parts of the Bible too. Most of Job is a lament and there is an entire book called Lamentations.)
I find it encouraging that even if Christians aren't always super open to that kind of honesty in trial, God is very open and real about hardship! Christian radio may be limited to "positive hits" but God knows that life isn't always "positive and uplifting."
Lament Pattern
For the most part, the laments follow the below pattern or outline. There are some exceptions, but as you read a lament it can be helpful to look for this pattern in the lament.
Introductory Cry — "O, my God!" See the opening of Psalm 22 for the classic example of, "My God, my God..." The lament is vertically oriented. The cry is toward God, not at someone else.
Lament proper — Three pronouns (I am hurting, You don't care, They are winning). This the expression of the problem. Psalm 22:2: "I cry by day, but you do not answer and by night, but I find no rest." Psalm 13:1–2: "How long, O LORD? Will you forget me forever? How long will you hide your face from me? 2 How long must I take counsel in my soul and have sorrow in my heart all the day? How long shall my enemy be exalted over me?" The Psalmist just lays it all out. No filtering or cleaning up, just raw and real. This is how he feels.
Confession of truth — "No one cares about this as much as you" "You love me." Here is the Psalmist lays down some truth that he knows. It may not fit perfectly with what he feels or is experiencing but he's putting it down to remind himself of those bigger truths. Psalm 4:3: "But know that the LORD has set apart the godly for himself; the LORD hears when I call to him."
Petition — "Hear me!" "Save me!" "Punish them!" This is the part where the lament makes the request. What do you hope will happen? How do you want God to work? Just ask. Psalm 6:4: "Turn, O LORD, deliver my life; save me for the sake of your steadfast love."
Motivation — Why God should answer. This is an interesting one. The Psalmist will often give God reasons for why it is in God's best interest for Him to answer. I remember praying many times that God would send people to help build our core team in the early days of our plant so that people would not doubt that you are at work in church planting. Sometimes it might seem a little simplistic, but it does orient us and our needs in line with God's glory and what he wants. Here is a great example of that in Psalm 6:5. Right after asking God to save his life, the Psalmist gives God a reason to save his life: "For in death there is no remembrance of you; in Sheol who will give you praise?" In other words, "If I'm dead I won't be able to praise you."
Vow of praise — I will praise you for what you will do. It is saying, "God, I am ready to credit you for what you will do in my life." Psalm 13:6 (ESV) — 6 I will sing to the LORD, because he has dealt bountifully with me.
Write your own lament
As you read laments in the Bible you can look for that pattern. But you can also use that pattern to write your own lament. I've done it a few times in my life and have found it to be extremely helpful in processing through pain and suffering.