Giving Team, I'm having some trouble adding gifts manually through our Finance Team group. I'm an Administrator, so I do not think it is a permissions issue. The steps I take are: Open the Finance Team group; Navigate to the Gifts link on the ADMIN sidebar; Click on the Add button to add a gift manually. At this point the Gifts section (middle column) disappears and nothing else happens. I've tried these steps with Firefox 63.0.1 and Safari 12.0.1 on mac OS High Sierra 10.13.6 and the results are the same. Am I missing any steps or configurations to enable us to add gifts manually?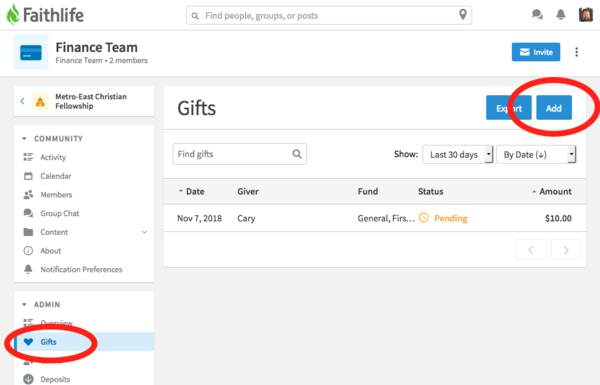 Hi

Cary

, thanks for the report. We'll look into it and follow up with you!

Kyle, I noticed last night the Add button brings up an entry form rather than blanking out the middle column as I originally reported. Is this considered fixed now, or are you all still working on a solution?

Cary

, the issue you reported has been fixed. Thanks again for the report.