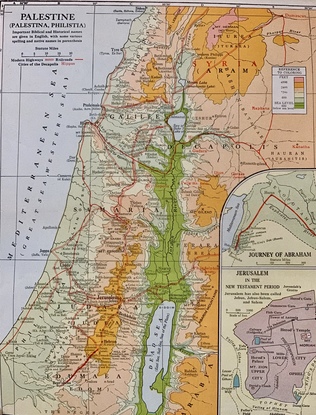 Palestine: Where Did The Name Come From?
I was looking through an old family Bible circa 1940's and noticed this map in the back. Maybe you have heard the name "Palestine" before? Read on.
In 1948 A.D. Israel became a single independent self-governing nation after nearly 3,000 years. This map was printed before that prophetic day, May 14, 1948. But notice the label, Palestine. Where did the name come from? Carol and I have done some study on the name and here is what we found out.
Some think Palestine is the real name for Israel. The problem is, it is a made up name by someone who hated the Jews. The Roman emperor Hadrian, who ruled from 117 to 138 A.D., went into Israel and renamed it Palestine.
Look at the name closely. Does it remind you of another name in the Bible? Try Philistine. The Philistines were the ancient enemies of the Jews. Hadrian made a slight change to the name, and came up with Palestine. He did it to humiliate and mock the Jewish people--and in the process tried to revise history.
I love the detail of the map, but it's labeled incorrectly. The Bible never uses the name Palestine, and we shouldn't either.
Works cited:
Tsarfati, Amir The Last Hour: An Israeli Insider Looks at the End Times. Chosen Books, Bloomington, MN, 2018
Wood, Andy. Ever Reforming Dispensational Theology and the Completion of the Protestant Reformation. Dispensational Publishing House. Taos NM, 2018.