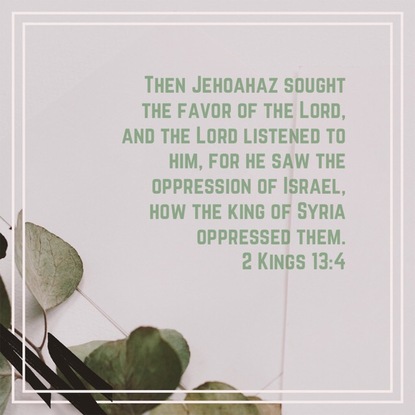 2 Kings 13: "Israel Delivered"
Here we see the brief story of Jehoahaz, the son of Jehu, king over Israel. As expected, he did evil in the eyes of the Lord, but he cried out to God. Of course, this happened after the Lord gave them over to Syria because they continued to worship other gods. Do you see this? The Lord, despite the evil of His people, He still answered the cry of the king. He did this because He loves His people, and when we call out to Him, He will answer. The Lord is no stranger to sending deliverers to His disobedient people, as that was the pattern we saw in the book of Judges.
We then see his son, Joash (also called Jehoash), who also did evil in the eyes of the Lord. His 16 year reign was followed by his son, Jeroboam, who was also an evil king. We're not told too much about them here.
Despite the record of the kings in this chapter, the next event really steals the show. Here we see the death of Elisha. When Elisha was sick, he got a visit from Joash. He performed more signs for Joash, but Joash failed to trust the Lord enough. We also see Elisha perform 1 more miracle, even after his death. When a man that was being buried touched the bones of Elisha, he was made alive.
Ben-hadad, Hazael's son reigned in Syria after his father's death, and continued to oppress Israel, but true to the sign by Elisha when he was sick, Israel overtook them 3 times.
Once again, we see here that Lord was faithful to His unfaithful people. It's also hard to overlook the parallels with our country today. But, there is hope, and we see it right here. The Lord will sustain us once we repent and turn back to Him. Would you join me in praying for our nation?
#jesus #biblestudy