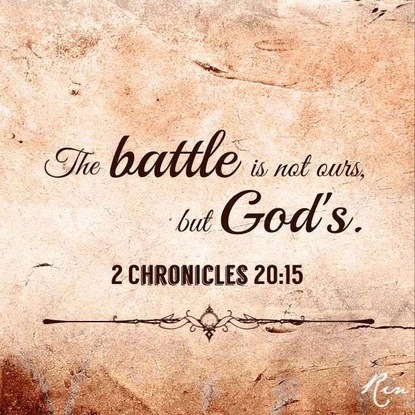 2 Chronicles 20: "Jehoshaphat Seeks the Lord in Time of Need"
It appears as though Jehoshaphat has learned his lesson. Some Moabites and Ammonites came against Judah, so Jehoshaphat prayed to the Lord. Even the people fasted and assembled together to seek the Lord. What a great response to the failure we saw in chapter 19! Jehoshaphat's prayer is recorded here, and the Lord answered through the prophet Jahaziel assuring him that he should not fear. He followed this with some great words: "the battle is not yours but God's." Isn't that incredible? The Lord proclaimed the same thing with His Son Jesus, as He took on the punishment we deserve. You can probably guess the result of the battle. Yes! The Lord delivered Judah. Unfortunately, we see the Chronicler add another unfortunate event to end his reign. He formed another alliance, this time with Ahaziah, another wicked king of Israel. This alliance included boats to get to Tarshish, but they were destroyed because the alliance was wicked in the eyes of the Lord. Sometimes the Lord will allow events to occur, and other times, He will stop it.
Jehoshaphat was a good king, but he had his moments of rebellion, sin and poor decisions. Doesn't that sound just like you and I? While the apostle Paul would argue that no one is good, we are indeed made clean before the Lord because of the precious blood of Jesus, that is if you confess Him to be Lord. If you haven't done that yet, I urge you to do that today.
#jesus #biblestudy
Amen, Ryan! The battle is not yours but God's! Today is a meditation day for me in Matthew 3 through 7. In 6:8 it says your Father knows exactly what you need even before you ask him! That is why we pray because all through 6 it says v4 you Father will reward, v6 your Father will reward, v18 your Father will reward, v26 And aren't you far more valuable to him than they are? v30 he will certainly care for you. Why do you have so little faith? v32 your heavenly Father already knows all your needs, v33 he will give you everything you need. 7:7 Keep on asking, seeking and knocking and you will receive. God is interested in blessing us and like Jehoshaphat, who was not perfect just like us, saw this over and over in his life. But God is more interested in blessing us than we are to receive all the blessings! What a wonderful God we have who blesses all us imperfect people! All praise, honor, glory and power to our heavenly Father!