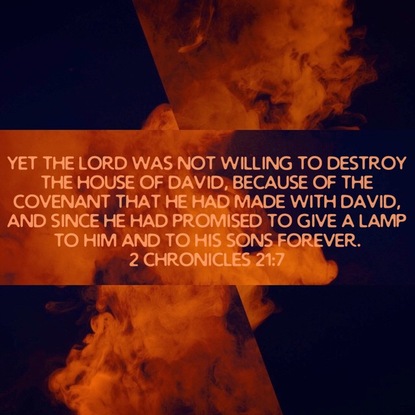 2 Chronicles 21: "Jehoram"
Jehoram, son of Jehoshaphat was named the next king of Judah. Unfortunately, he is categorized as a bad king. We see this immediately as we read in verse 4, where we read that he killed all of his brothers. He didn't want any threat to his throne. Verse 6 tells us that he walked in the ways of the kings of Israel, because he married Ahab's daughter. This influence from Ahab's family was enough for the Lord contemplate destroying the nation, but He remembered His promise to David. Prior to his reign, Edom was subject to Judah, but here we see that they revolted against Judah. Libnah also revolted, all because Jehoram forsook the Lord. How did the Lord respond to all of this? A letter was sent by the prophet Elijah, and in this letter, it was prophesied that the lord would plague him, causing his a severe disease that will affect him daily. When he died, because of this plague, no one honored him. He was not only considered a historically bad king, even his own people could not honor him in death.
It's quite interesting that we see time and time again that these alliances, marriages and others agreements with the ungodly only leads to death. That's what we all are in desperate need of a savior. One has already made Himself available, and is patiently waiting for you (see 2 Peter 3:8). Also remember that the Lord gave Israel many chances through the prophets, including Elijah. Anytime you hear the gospel and refuse to respond, you are betting your life on the fact that the Lord is a liar, and I don't recommend you do that. Seek the Lord today.
#jesus #biblestudy