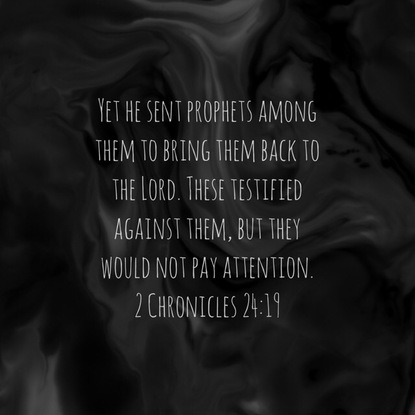 2 Chronicles 24: "Joash Repairs the Temple"
Here we see that Joash and Jehoiada set out to restore the temple. We don't know for sure what condition the temple was in, but apparently it was in need of great repair. The contributors for the ESV Study Bible suggest that Athaliah didn't take care of the temple, and likely the kings before him neglected it as well. This project however was going to take some money, so they planned to raise the money from gathering it from the people. Joash made a chest and collected the taxes. Each time it filled, it was brought to the king, and used for the materials needed to restore the temple. When Jehoiada was leading them spiritually, we read in vers 14 that they worship and sacrificed regularly. When Jehoiada died, he was honored and was buried in the City of David with the kings. With his death came the loss of a spiritual leader, and we see that the boldness and strength of Joash led the people to turn away from the Lord. But the Lord was not finished with them, He sent prophets to warn them, "but they would not pay attention" (24:19). Jehoiada's son, Zechariah rebeuked Joash and the people, but instead of listening, Joash had him killed. After this, the Syrians came against Judah, and Joash was killed. When he was buried, he did not lay with his fathers. Even though he reigned for 40 years, he wasn't as revered as Jehoiada was. Why was that? Jehoiada was the one who kept them close to the Lord, the one who influenced the people. We need people like him in our lives to keep us on track. Don't you think?
#jesus #biblestudy
Yes, we need people like Jehoiada and Pastor Pat and you to keep us on track! I was reading in Matthew 8 and a leper came up to Jesus and asked to be healed and Jesus reached out and touched him and his leprosy and of course he was healed. But he wasn't healed until Jesus touched him. The lepers went around calling out "Unclean!" so nobody would accidentally touch them. Jesus could have just said the word and he would have been healed, but he chose to touch him! Jesus did this to show us that he loves us so much that he is willing to 'touch' us!

Today I was reading in Matthew 9. The disciples of John the Baptist asked Jesus why he and his disciple didn't fast. The Lord first talked about wedding guests. Then he said "Besides, who would patch old clothing with new cloth? For the new patch would shrink and rip away from the old cloth, leaving an even bigger tear than before. And no one puts new wine into old wine skins. For the old skins would burst from the pressure, spilling the wine and ruining the skins. New wine is stored in new wine skins so that both are preserved." So how did this answer the question? New cloth shrinks and tears as it does. New wine ferments and causes the old skins to burst. I looked on line because I couldn't figure this out. A good commentary called this syncretism or the mixing of beliefs. You can't mix a lot of fasting under the law with the new teaching from Jesus. Maybe Joash's problem after Jehoiada died was this same thing. Mixing true Jewish teaching and the law with the idols. He thought he could get away with it but God saw it differently and not only had him killed but also buried without honor to show his disgust with syncretism.