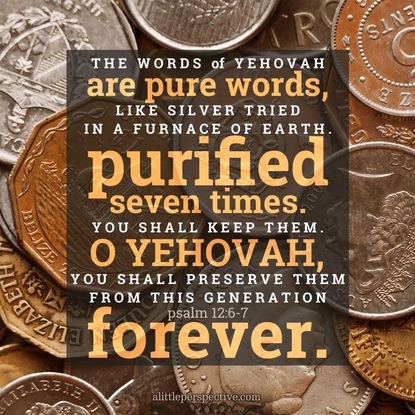 Psalm 12: "God is Faithful"
This is another lament from David. The exact moment and background of the psalm is unknown, but we see that David, once again, was dealing with adversity. We know from this text that there were "flattering lips" a "double heart" and adversaries full of lies. David pleas for God to cut these men off. Because it speaks so generally, the principles found here can really be applied, even today. Beginning in verse 5, wee see the Lord's response, and can be made confident that the Lord will provide safety and the poor will be cared for. In verse 6, we are reminded that the Lord's Word - His promises - is reliable and trustworthy, unlike the words that are from flattering lips. David closes the psalm in verse 7-8, with these words, "you, oh Lord, will keep them; you will guard us from this generation forever. On every side the wicked prowl, as vilenes is exalted among the children of man." This is a confirmation of David's understanding of God's faithfulness. He remains faithful, even we we don't. David, in his lament, in the end, still praised the Lord. May we remember too, that no matter how difficult things get, we have a Father who is faithful.
#jesus #biblestudy
Thanks again, Ryan! Way to go! We have a faithful Father. Today, I am reviewing and meditating on the chapters I have read last week and the passage that stands out over everything is 8:6 "There is one God, the Father, by whom all things were created, and for whom we live. And there is one Lord, Jesus Christ, through whom all things were created, and through whom we live." We live through the Lord Jesus Christ and we live for the Father. He is faithful. The mighty Trinity, alone is worthy of all our praise, all honor, all glory, all power, all majesty belong to our God! "No matter who difficult things get."

"No matter how difficult things get."