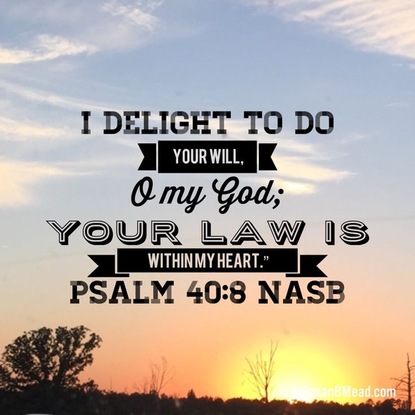 Psalm 40: "David is Delivered"
Up to this point, we've seen a lot of the Davidic Psalms where he is crying out to the Lord. Here, seemingly, we see a psalm in which David has been heard. David has been delivered and has been given a new song to sing. In verses 4-5, we see the personal correction that David has with the Lord. We see that thenLord thinks about us (verse 5) and that He blesses those who trusts in the Lord (verse 4). When we get to verses 6-8, we recognize that this psalm is one of the Messianic psalms, and speaks regarding the Bond Servant, Jesus Christ. In verse 6 alone, you see 4 types of offerings, including those that do and don't require bloodshed, as well as specific offerings, such as the burnt offering and the sin offering. David says that God does not desire that type of sacrifice, but rather obedience. We see this passage in the book of Hebrews, chapter 10, so we see that it speaks of Jesus, and the crucifixion. Finally, in verses 9-12, we see that in addition to obedience, the response to this is to tell others about the "glad news of deliverance" (9), His mercy (11) and His justice (12). David finishes the psalm with some specific requests and praise of the Lord, particularly around forgiveness and deliverance from his iniquities. If nothing else, we can learn that we have victory in Jesus. If you cannot say that, then you may not be a child of God. God is patient, and desires that all are able to enjoy this deliverance (see 2 Peter 3:9). Are you victorious?
#jesus #biblestudy
Thank you again, Ryan! A good Messianic psalm speaking of Christ and the sacrifice of Christ like in the book of Hebrews. In my chapter for today, the title in my version says "Instructions about worship". It has a lot to do with prayer. But I like verses 5 and 6 best. "For" which refers to 1 - 4 which urges us to pray to enjoy "lives marked by godliness and dignity. This is good and pleases God our Savior, who wants everyone to be saved and to understand the truth" (2b - 4) "For, There is one God and one Mediator who can reconcile God and humanity---the man Christ Jesus. He gave his life to purchase freedom for everyone." (v. 5 & 6) This talks about the sacrifice of Christ, too, like David and the writer of Hebrews. Like the song says, "I'm free", we are free in the true sense of the word because of the sacrifice of Christ on the cross! So to the One who died on the cross to bring us freedom, I praise and exult his name and give him the honor due his name, and the majesty that characterizes him now in heaven at the right hand of the Father who is seated on the heavenly throne with majestic glory with cherubim flying and calling out Holy! Holy! Holy!