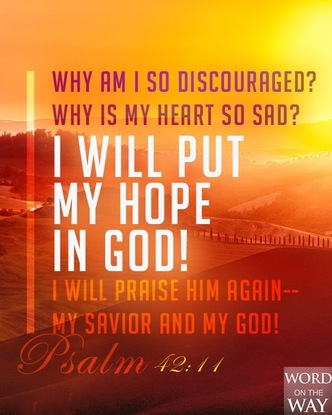 Psalm 42: "Longing for the Lord"
As stated yesterday, we come now to the 2nd book in the psalms. It begins with a psalm from the sons of Korah. Back in Numbers 26, Korah rebelled against Moses and failed, leading to his death, but his sons were spared. In 2 Chronicles 20:19, we see that the sons of Korah were part of a group, along with the Levite's that sang praises to the Lord. This is also another Maskil song, a song of wisdom and learning. The psalmist opens up with a vivid picture of what it looks like to long for the Lord, saying they they long for the Lord in the same way a deer longs for water. The psalmist says that their souls thirsts for the Lord, just as the deer was thirsty. We see another lament of sorts here as well, as the psalmist reveals a period of pain and suffering, perhaps it refers to its ancestry, and the revolt against Moses. Israel likely turned their backs to Korah's sons and made them the enemy. But despite this, they shouted songs of praise to the Lord. Anytime faith began to waiver due to these circumstances or memories, a quick return to the Lord resulted. This happens to us when we remember what He has done, what He is doing, and what He has planned for us. We again see the Lord's steadfast love and His salvation. The Lord is always good. When we suffer, many times it is due to the circumstances that we put ourselves in. Other times, it may be a result of testing. Nevertheless, we know that the Lord is in full control and cares for us and under all circumstances, we must turn to the Lord. That is what the sons of Korah remembered here, and that is what you and I should remember too. Do we long for the Lord, as the deer longs for water?
#jesus #biblestudy
Thanks Ryan! This is one of my favorite Psalms, and as you say it was written by the sons of Korah. No matter my past is, I look to the Lord and desire Him like a deer longs for water. Yesterday I read 1 Tim. 2 and today 3. 2 is about worship and 3 is about leaders in the church. 3:15 says this is the "church of the living God, which is the pillar and foundation of the truth." (Yesterday we drove past a sign that had this phrase on it, and today I am reading it in 1 Tim. It was for a church that was built like building blocks laid out to be a tower. I don't know what that church teaches, but they have a good verse on their sign outside!) Paul ends by praising Christ: "Christ was revealed in a human body and vindicated by the Spirit. He was seen by angels and announced to the nations. He was believed in throughout the world and taken to heaven in glory."