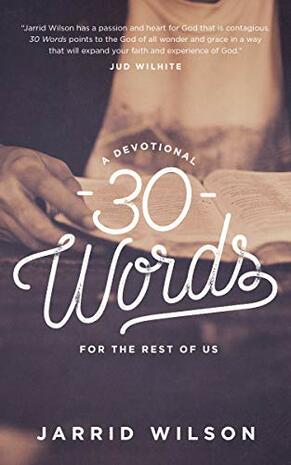 30 Words Daily Devotion
WORD 10 - PURPOSE
"You cannot fulfill God's purposes for your life while focusing on your own plans."
—Rick Warren
All throughout Scripture, we see Jesus using broken people to spread hope to a broken world. He didn't use the popular, rich, or successful, but rather the poor, broken, and faithful.

It doesn't matter where you've been, what you've done, or who you used to be. God can use all people for the good of his will. Just look at our heroes from the Bible:
Abraham was prone to lying out of fear (Gen 12:11–13; 20:2).
Moses had a speech problem that left him insecure (Exod 4:10).
Gideon was afraid and skeptical (Judg 6:11–27).
Rahab was a prostitute (Josh 2:1).
Noah got drunk (Gen 9:20–21).
Jacob was a liar (Gen 27:1–29).
David was a murderer (2 Sam 11:1–26).
Jonah ran from God (Jonah 1:3).
Peter denied Christ—three times (Matt 26:69–75).
Zacchaeus was hungry for money (Luke 19:1–10).
The disciples couldn't stay awake while praying (Matt 26:36–46).
Paul was once a persecutor of Christians (Acts 8:1–3).

If ever you feel like you aren't good enough, remember that Jesus used broken people to spread hope to a broken people. Remember the old adage: Jesus didn't call the equipped; he equipped the called.

Romans 8:28 states, "And we know that God causes everything to work together for the good of those who love God and are called according to his purpose for them." It doesn't matter how you grew up. It doesn't matter what you did or didn't do. It doesn't matter if you've been told, "You're too young," or "You're just like your dad." What matters to the world doesn't matter to God. And it's time you weave this very truth into the fabric of your heart.

Stop listening to the foolish lies of this world, and start appreciating and accepting the truth of God's word. He wrote the Bible for a reason … for you to act on it!

I'm sure you've struggled with flaws, failures, and mistakes in your life. But that doesn't mean you have to stay that way. The people we listed above changed. God can change you, too. He can fill your life with a purpose so amazing you can't even imagine it yet.

If you consider yourself a follower of Jesus Christ, you are called to overcome the things that are holding you back from your purpose. You don't have to go it alone, either. God will help you fight off your stumbling blocks if you ask him to. This isn't to say you will find perfection, but you will undoubtedly find progress on the path of righteousness.

The person you once were doesn't have to define the person you will become. With Christ comes renewal and a new way of living. If God is your director, you won't be disappointed with the story called your life.

VERSE OF THE DAY
"And I will give you a new heart, and I will put a new spirit in you. I will take out your stony, stubborn heart and give you a tender, responsive heart" (Ezekiel 36:26).

CHALLENGE
Share: "My purpose is found in the name of Jesus. #30WordsBook"

DISCUSS
What do you believe God's purpose is for your life?
Discuss the driving forces in your life.
According to Jesus, how do we find our life purpose? What is required of us?

Wilson, J. (2016). 30 words: a devotional for the rest of us. (2nd Edition, Ed.) (pp. 56–59). Bellingham, WA: Kirkdale Press.