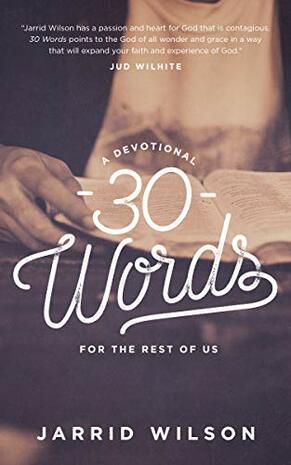 30 Words Daily Devotion
WORD 16 - TRUST
"Never be afraid to trust an unknown future to a known God."
—Corrie ten Boom
Each of us has goals, dreams, and ideas of what we want our futures to look like. But what happens when those things don't fall into place at the times that we want? It's really easy to love God when things are going just the way we want them to. But what happens when things don't work out that way? Do our faith, love, and trust in God decrease? Or do we stand strong, trusting all things are in his timing?
Sometimes God will contradict our expectations for our own benefit.
I think we sometimes forget that God is all powerful, all knowing, and all capable. He isn't just a God of sometimes, but a God of always. As humans, we naturally feel let down when things don't go the way we want. But when did God ever promise to fulfill our desires in our time? He didn't.
In Mere Christianity, C.S. Lewis describes trusting in God in this way:
To trust Him means, of course, trying to do all that He says. There would be no sense in saying you trusted a person if you would not take his advice. Thus if you have really handed yourself over to Him, it must follow that you are trying to obey Him. But trying in a new way, a less worried way.
God's promises are fulfilled in his time, his way, and for his purpose. And until we can let go and allow God's timing to reign number one in our lives, our relationship with him is nothing more than shallow and transactional. It's time to put your trust in the only one you can always count on.
It's time to let go and let God be God. Trust in him.
VERSE OF THE DAY
"Trust in the Lord with all your heart; do not depend on your own understanding. Seek his will in all you do, and he will show you which path to take" (Proverbs 3:5–6). https://biblia.com/bible/esv/Pr3.5-6
CHALLENGE
Share: "I will put my trust in God. #30WordsBook"
DISCUSS
Is it possible to consider yourself a Christian without trusting God?
Discuss why trust is such an important aspect to any relationship.
In what ways are you showing God that you trust him with your life?
Wilson, J. (2016). 30 words: a devotional for the rest of us. (2nd Edition, Ed.) (pp. 92–95). Bellingham, WA: Kirkdale Press.